October 17, Vol. 24, No. 15
And the Andys Go To ...
Romayne Botti, Samuel Boyer, Jeffrey Harris, Helen Wang
(DC'99)
, Anne Witchner
(DC'73) and the
Tepper School Marketing and Communications Team
were named winners of the 19th annual Andy Awards before a standing-room-only crowd in McConomy Auditorium last week. The university-wide awards program honors staff for outstanding job performance, commitment and impact on the university.
Botti, associate dean for Finance and Operations in the College of Engineering (CIT), won the University Citizenship Award.
Boyer, senior director of Organizational Development in CIT, earned the Culture Award.
Harris, chemical safety specialist for Environmental Health & Safety, was honored in the University Contributions category.
Wang, director of First-Year Student Life, received the award for Commitment to Students.
Witchner, assistant dean of Student Affairs, earned the Andy for Dedication.
The Tepper School team of Stephanie Armbruster (A'06), Karen Boucher, Mark Burd, Barbara Donehue, Deb Lantz (DC'06), Susan Limoncelli, Joey Mancuso and Martha Sproul earned the award for Innovation.
Top Photo: President Subra Suresh (sixth from right) poses with this year's award winners.
Read about this year's winners
.
Former Faculty Member Wins Nobel Prize
Lars Peter Hansen
(right), a faculty member at Carnegie Mellon's Graduate School of Industrial Administration - now the Tepper School of Business - from 1978 to 1981, has won a share of the 2013 Nobel Prize in Economic Sciences.
Hansen, the David Rockefeller Distinguished Service Professor of Economics at the University of Chicago, and his research colleagues,
Eugene F. Fama
, the Robert R. McCormick Distinguished Service Professor of Finance at the University of Chicago, and
Robert J. Shiller
, the Sterling Professor of Economics at Yale University, are being honored "for their empirical analysis of asset prices."
Dennis Epple
, the Thomas Lord University Professor of Economics and head of economics at the Tepper School, said Hansen's research has provided new, groundbreaking methods for testing the practical relevance of economic theories. In addition to financial markets, Epple says Hansen's methods have been used to study consumer behavior, labor markets, markets for energy and exhaustible resources, and the effects of taxes on the economy.
Hansen is the
19th Nobel Prize winner affiliated with CMU
.
Read more.
CMU-Q Celebrates First Decade
Carnegie Mellon's Qatar Campus hosted a party last week to celebrate its 10th anniversary. Students, faculty and staff enjoyed cake and received branded items to celebrate CMU's first decade in Doha.
In recognition of the milestone, a special website has been created that includes a timeline of historic moments, beginning with the July 17, 2003, resolution formally establishing the undergraduate campus in Qatar. The first classes were held on Aug. 25, 2003.
The campus has grown from 41 students in two programs to 400 students in five programs - biological sciences, business administration, computational biology, computer science and information systems.
See the timeline
. |
See photos from the 10th anniversary party.
Building a Smarter Silicon Chip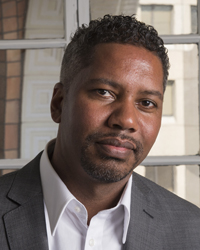 Carnegie Mellon's Center for Silicon System Implementation (CSSI) has received a $2.6 million grant from the National Science Foundation (NSF) to develop next-generation ultra-efficient silicon chips that could trigger a revolution in how chips are designed and operated.
The three-year initiative led by
Shawn Blanton
(right) involves faculty members from the Electrical and Computer Engineering (ECE) Department and Robotics Institute, who have expertise in circuit design, computer architecture, integrated circuit chip manufacturing, cybersecurity and statistical learning.
"This grant will help us give silicon chips the ability to learn more from their own big data so they can change their mission to better match the needs of the user," said Blanton, head of the CSSI and an ECE professor.
Blanton says today's chips actually waste a significant fraction of the power they burn, leading to shorter battery lives, higher data center power demands, and ultimately less efficient use of the energy supply.
Read the full story.
Driving Transportation and Roadway Safety
The U.S. Department of Transportation has awarded a $5.65 million grant to Carnegie Mellon to establish a national research center to help make driving and roadways safer.
"This two-year grant for a national Department of Transportation center will help us apply high-tech to make transportation systems smarter and reduce crashes," said
Raj Rajkumar
, center director and a professor of electrical and computer engineering at CMU. Rajkumar also serves as co-director of two General Motors-CMU Collaborative Research labs.
Carnegie Mellon's team includes researchers from the University of Pennsylvania. The CMU-Penn partnership will use information, communication and sensing technologies to enhance transportation safety, improve the efficiency of roadways and reduce travel time.
Read the full story.
Help ensure the safety and well-being of the CMU community:
University Police: 412-268-

2323




Ethics Hotline: 1-877-700-7050
Personal Mention

R. Ravi and Andris A. Zoltners

Ed Schlesinger
Nathan Michael
Ricky Law
Abhishek Alla

Baruch Fischhoff, Julie Downs and Gabrielle Wong-Parodi

Obituaries:
Imero Fiorentino (A'50)
Robert J. Cosgrove Jr.


News Briefs
Submit News
Email