September 12, Vol. 24, No. 10
CMU's Mind-Reading Research on PBS Series
The second part of an innovative two-part television series, "Brains on Trial with
Alan Alda
," will feature Carnegie Mellon's seminal neuroscience research that combines brain imaging with machine-learning techniques to identify a person's thoughts and emotions.
Part two of the series, titled "Deciding Punishment," will air from 10-11 p.m., Wednesday, Sept. 18 on PBS.
The show centers around the trial of a fictional crime: a robbery staged in a convenience store that has been filmed by the store's security cameras. As the trial unfolds, Alda visits with leading neuroscientists whose research has begun to influence court decisions.
CMU's
Marcel Just, Tom Mitchell
and
Karim Kassam
spent a day last spring explaining and demonstrating their "mind-reading" research to Alda, specifically how they use functional magnetic resonance imaging (fMRI) and machine learning to measure brain signals to precisely identify a letter a person sees and the emotion a person experiences.
Filming took place in CMU's Scientific Imaging & Brain Research Center, which uses cutting-edge imaging and computing technology in cognitive, developmental and social neuroscience research.
Pictured above are Alan Alda (left) and Marcel Just.
Read the full story.
Erica Fuchs Honored at World Economic Forum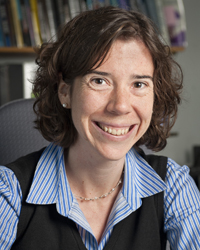 Carnegie Mellon's
Erica Fuchs
(right) has been named a "Top 40 under 40 Young Scientist" by the World Economic Forum and the InterAcademy Panel on International Issues, a global network of the world's science academies.
Fuchs, an associate professor of engineering and public policy, is a pioneer in rethinking national innovation systems, and is playing a key role in national meetings on the future of U.S. advanced manufacturing. She received the award yesterday in China at the World Economic Forum's Summer Davos.
The Young Scientists are selected from nominations by 100 academies of science throughout the world. They convene once a year during the World Economic Forum's Annual Meeting of the New Champions. Fuchs also spoke at the meeting on strategic shifts in the manufacturing ecosystem.
President Suresh a Driver of Smart Development


President
Subra Suresh
(right) participated on two panels at Summer Davos yesterday, "Driving Smart Development" and "Global Agenda on Science, Technology and Innovation: Setting Priorities."
Today, President Suresh and
Justine Cassell,
director of the Human Computer Interaction Institute, are participating in a discussion on "Future of Universities: Role of Technology, Knowledge Creation, Values.
"


View the webcast of "Driving Smart Development."
Read more about CMU's involvement in Summer Davos.
Read more about Erica Fuchs.
Get a Peek at Plans for the University Center
The university community is invited to get a preview of plans to expand the fitness, recreational and student life spaces in the University Center during open-house sessions today and tomorrow. Both sessions will be held in the Wright Room of the UC.
Sept. 12, 4 - 6 p.m.
Sept. 13, 12 - 2 p.m.
Representatives from Athletics and Recreation, Student Affairs, Campus Affairs, Campus Design & Facility Development, Cannon Design of Baltimore and Lami Grubb Architects of nearby Swissvale, Pa., will be on hand to discuss the $22 million, 45,000 square-foot project.
Project components include:
More than 8,000 square feet of fitness space, including free weights, weight machines and cardiovascular equipment;
Three exercise studios, including a dedicated spinning studio with a video screen to simulate biking trails;
Additional locker rooms;
A black box theater for student performance groups;
An administrative office suite;
An improved circulation and equipment desk area;
A pool balcony with HVAC improvements;
And a new entrance and lobby area off of Forbes Ave.
Read more in the Piper.
Opportunities Await Students at BOC

More than 600 students seeking jobs and internships are expected to attend the Career and Professional Development Center's annual Business Opportunities Conference (BOC), Thursday, Sept. 19, to network and interview with corporate recruiters from companies such as BNY Mellon, Chrysler, Deloitte, IBM, Johnson & Johnson and Procter & Gamble.
"Our students are world-class, and each year we recognize their value to the marketplace as more companies come to recruit them," Associate Dean for Career and Professional Development
Kevin Monahan
said. "We welcome regional, national and international employers from all industries to the BOC. Organizations attending this event gain a competitive advantage in the on-campus recruiting process by being given direct access to CMU students before the start of formal on-campus interviews."
Read more about the BOC.
Help ensure the safety and well-being of the CMU community:
University Police: 412-268-

2323




Ethics Hotline: 1-877-700-7050