September 19, Vol. 24, No. 11
Michael Tarr To Head Psychology Department
Carnegie Mellon has selected
Michael J. Tarr
to head its world-renowned Department of Psychology, which is recognized for its leadership in cognitive science, cognitive neuroscience, artificial intelligence, and social, developmental and health psychologies.
Tarr, the George A. and Helen Dunham Cowan Professor of Cognitive Neuroscience and CMU director of the Center for the Neural Basis of Cognition, will officially take the helm on Jan. 1, 2014. He succeeds
Michael Scheier,
who has served as department head since 2003.
"Michael Tarr is an outstanding scientist who has spent the past four years advancing Carnegie Mellon's impact on the brain and behavioral sciences," said John Lehoczky, dean of the Dietrich College of Humanities and Social Sciences. "The Department of Psychology is a critical component of two of the university's important initiatives - brain science and the science of learning - and I am certain the department will continue to excel under his leadership."
Tarr To Moderate First Symposium in Inauguration Series
Tarr will moderate The Impact of Brain and Mind Research Symposium at 10:45 a.m., Saturday, Sept. 28 in McConomy Auditorium. The symposium, part of Ceilidh Weekend, kicks off the "Crossing Boundaries, Transforming Lives" Series being held in celebration of President Subra Suresh's inaugural year at CMU.
Twitter Can Help You Beat the Spread in the NFL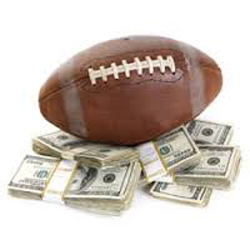 Analyses of Twitter feeds have been used to track flu epidemics, predict stock market changes and do political polling, but now that the National Football League season is underway, the natural question is: Can Twitter help you beat the spread on NFL games?
The answer, say computer scientists at Carnegie Mellon, is yes. Or, at least it can help a little bit at certain times during the season. They will report their findings Sept. 27 at the Machine Learning and Data Mining for Sports Analytics conference in Prague, Czech Republic.
What they found was that their analysis of tweets didn't help much when it came to predicting winners or the over/under score. But when it came to winning with the spread, the researchers said their method was 55 percent accurate. That doesn't offer a huge advantage, CMU's
Christopher Dyer
acknowledged, but it might be enough to be profitable.
Read the full story.
Get Ready for Flu Season; Clinics To Begin
In anticipation of flu season, University Health Services will be conducting flu vaccination clinics on campus starting next week. The schedule is as follows:
Sept. 25: 9 a.m. -12 p.m., University Health Services
Oct. 1: 9 a.m. -12 p.m., National Robotics Engineering Center in Lawrenceville
Oct 7: 3 - 6 p.m., Tepper School of Business, GSIA 109
Oct 10: 2 - 4 p.m., PPG, downtown
Oct 17: 2 - 6 p.m., Hamburg Hall
Oct 21: 12:30 - 4:30 p.m., Rangos 2, University Center
Please bring your CMU ID card. Human Resources will cover the vaccine cost for staff and faculty; the CMU student insurance plan will cover the vaccine cost for students on the plan. For spouses/partners and students on other plans, the cost is $17 (payment by student account or check only; no cash, please).
For additional clinics and information
go to the University Health Services website.
Opportunity Knocks: Employers Come Calling
Carnegie Mellon students are highly sought after by companies around the world. That was quite evident this week as recruiters from nearly 300 companies set up shop in the University Center to tap the talents of about 3,000 Carnegie Mellon students at the university's annual Technical Opportunities Conference, hosted by the College of Engineering and The Society of Women Engineers.
"This is the largest job fair on the CMU campus and it really draws some outstanding companies and career opportunities for all of us," said
Christy St. John
, a TOC co-director and a senior mechanical engineering major. "It really makes me feel like I've accomplished something when I hear and see how productive this conference is."
The conference was created more than 40 years ago to help students talk to recruiters, network and learn about job and internship opportunities with large and small companies.
Some of the companies attending this year's conference included Accenture, Amazon, Adobe Systems, Alcoa, Bayer Technology Services, BNY Mellon, Dow Jones, General Motors, Procter & Gamble, Texas Instruments, Intel Corp., Northrop Grummen Corp., Microsoft, Motorola, Morgan Stanley and Verizon.
Read more about the job fair.
Help ensure the safety and well-being of the CMU community:
University Police: 412-268-

2323




Ethics Hotline: 1-877-700-7050
Personal Mention

Gary Fedder
Marlene Behrmann
Eric Nyberg
Kelvin Gregory
Eric Werner
Steve Awodey

Alex John London, Jay Aronson and Lisa Parker

James Swartz, Patrick Macedo, Jon Kinol and Geoff Entress

Manuel Blum, Edmund Clarke, Raj Reddy and Dana Scott

Jason Richard Koenig, Anuj Kumar, Gabriela Marcu, Ishan Misra and Mrinmaya Sachan

News Briefs
Submit News
Email