August 29, Vol. 24, No. 8
Study Sets Premium, Economy Street Parking
Street signage differentiating "premium" and "economy" parking has been added to several streets adjacent to the Carnegie Mellon campus in conjunction with a parking study being conducted by Tepper School professors
Stephen Spear
and
Mark Fichman
.
The signage coincides with the most recent adjustment in parking rates, identifying Tech and Frew streets as "premium" parking at an hourly rate of $2.25, and classifying Margaret Morrison Street and part of Schenley Drive as "economy" parking at a rate of 50 cents per hour.
The study, which got underway this past January, seeks to let the marketplace identify hourly rates at which parking spaces are more than three-quarters full during regular business periods. This establishes a reasonable level for usage and revenue while allowing for some parking availability throughout the business day.
Street parking along Tech and Frew streets have been identified as "premium" spots with an hourly rate of $2.25.
Read the full story.
Explaining "Old Dog, New Tricks" Adage
Neuroscientists are beginning to explain the science behind the old adage, "you can't teach an old dog new tricks."
For years, neuroscientists have struggled to understand how the microcircuitry of the brain makes learning easier for the young, and more difficult for the old. New findings published in the journal Nature by Carnegie Mellon, UCLA and the University of California, Irvine show how one component of the brain's circuitry - inhibitory neurons - behave during critical periods of learning.
"When you're young you haven't experienced much, so your brain needs to be a sponge that soaks up all types of information. It seems that the brain turns off the inhibitory cells in order to allow this to happen," said CMU's Sandra J. Kuhlman, assistant professor of biological sciences. "As adults we've already learned a great number of things, so our brains don't necessarily need to soak up every piece of information. This doesn't mean that adults can't learn, it just means when they learn, their neurons need to behave differently."
New techniques are allowing researchers to visualize inhibitory neurons (red), pictured above.
Download the CMU Mobile Alert App
Environmental Health & Safety has released a free iPhone mobile app for the university community that provides information on what to do in the first few minutes of many emergency situations - from having an active shooter on campus and fires to bomb threats and cardiac arrest.
The mobile app, available at the iTunes Store, provides:
Emergency procedures and guidance for 21 different emergencies;
Information regarding crimes and crime prevention;
Links to important Carnegie Mellon websites;
Interactive maps that provide information about locations of Automatic External Defibrillators (AEDs);
Automatic dialing for University Police, Safety Escorts and 911.
The app for Android smartphones is under development.
Please note that the CMU Mobile Alert App is not the same as the CMU Alert emergency notification system, which sends voicemail and text messages to registered subscribers if there is an event/incident that threatens public safety.

Win-Win: Students Intern Across Africa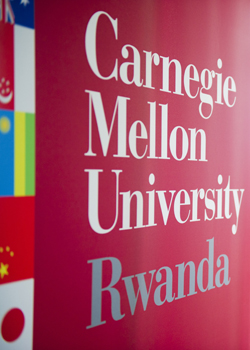 Twenty-three students from the CMU-Rwanda Master of Science in Information Technology program crisscrossed Africa this summer plying their tech skills at companies like IBM, Microsoft, Visa and Marriott.
"As more companies set up shop in Africa, Asia and the Middle East, we see our students as invaluable resources to improve the region's economic growth," said
Michel Bezy
, associate director at CMU-Rwanda and distinguished service professor in engineering and public policy.
"We see these internships as an important part of our educational package because operating in a global market requires students who are familiar with international business acumen. An international internship is a win-win, because leading companies get to see new talent they may want to hire and the students learn from working in different countries and new environments," said
Bruce Krogh,
head of the CMU-Rwanda program and professor of electrical and computer engineering.
Read the full story.
Help ensure the safety and well-being of the CMU community:
University Police: 412-268-

2323




Ethics Hotline: 1-877-700-7050