August 22, Vol. 24, No. 7
A New Tradition Continues at Playfair
The Class of 2017 continued what may be a new tradition for first-year students in PIttsburgh during Orientation Week's "Playfair" this past Monday night.

Last year at "Playfair," the first time the freshman class comes together as one big group, the Class of 2016 formed the letters CMU on the Cut. This year's class formed the Scotty Dog.

What will next year bring?

Read more about Orientation.
See an Orientation slideshow from Pittsburgh and Qatar.
Peter Cooke Re-appointed To Head Drama School
P
eter Cooke
h
as been re-appointed to a second five-year term as head of the School of Drama.


"The School of Drama has experienced a true renaissance - regionally, nationally and internationally - thanks to Peter's strong vision, his work ethic, his aesthetic, and his positive impact on the school," wrote College of Fine Arts Dean Dan Martin in an email to the Drama School community.
"He deserves high praise for his accomplishments during his first term as head, including the successful recruitment of promising new faculty, for generating significant support for capital and operating needs, for encouraging collaboration with other units at Carnegie Mellon and in the community, for the school's bold steps forward in embracing and integrating technology in the creative processes, and for the heightened visibility and stature of the School of Drama," Martin wrote.
CMU Leads NSF Project To Help People Understand Web Privacy Policies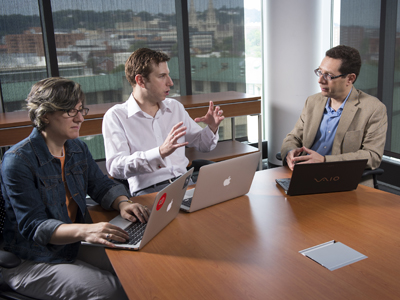 Figuring out what information websites are gathering about its users can be daunting, but a new privacy research project led by Carnegie Mellon will make that task easier with computer tools that leverage the power of crowdsourcing, machine learning and natural language processing.
Working with researchers at Fordham and Stanford universities, computer scientists and behavioral economists at CMU will teach computer systems how to read and evaluate the lengthy, often-confusing and subject-to-change privacy policies now posted by major websites. These systems, together with crowdworkers, will then create user-friendly digests that highlight policy elements that matter most to people.
"People are increasingly aware that information about them - the sites they visit, the products they buy - is being collected, used, shared and recombined in all sorts of ways," said CMU Computer Science Professor Norman Sadeh. "But they feel helpless. They have no practical way of finding out about these practices and making informed decisions."
The project team includes CMU's Lorrie Cranor, Noah Smith and Norman Sadeh (pictured above, l-r).
Riot Grrrl Movement Coming to Miller Gallery
The Miller Gallery at Carnegie Mellon will present "Alien She," the first exhibition on the lasting impact on artists and cultural producers of the pioneering punk feminist movement Riot Grrrl, before touring it nationally.
The exhibition focuses on seven contemporary artists working in a wide range of disciplines, and provides a view into the passion and diversity of the original Riot Grrrl movement.
Formed in reaction to violent sexism, racism and homophobia in the punk music scene and in the culture at large, Riot Grrrl emerged in the early 1990s and inspired many people around the world to pursue socially and politically progressive careers as artists, activists, authors and educators.
The exhibition opens Friday, Sept. 20, with a reception, "Revolution and Reception," from 6 - 8 p.m., preceded by a tour at 5 p.m., led by the curators and many of the artists. Free and open to the public.
Pictured: I'm With Problematic, Allyson Mitchell, framed shirt, 2012

Read more about the exhibition.
Help ensure the safety and well-being of the CMU community:
University Police: 412-268-

2323




Ethics Hotline: 1-877-700-7050