Drama Team To Perform at NYC Festival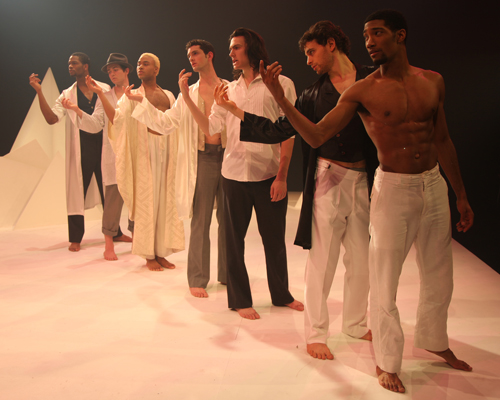 Current students and alumni from Carnegie Mellon's School of Drama will join forces to present "Gertrude Stein SAINTS!" at the 17th Annual New York International Fringe Festival, Aug. 9 - 25, in New York City.
FringeNYC is the largest multi-arts festival in North America, with more than 200 companies from around the world performing more than 1,200 shows in 16 days at more than 20 venues.
When Stein's work debuted in 1934, it revolutionized how the world viewed opera. This presentation builds on the original production of "Four Saints in Three Acts" that CMU presented in spring 2013, which emphasized language and rhythm, plus the fusion of hip-hop, rap, spoken word and gospel music. The updated "SAINTS!" features an original score developed by 15 of the CMU troupe members and adds a sermon, a New Orleans parade, bluegrass and jazz, among other musical genres.
Daniels' "Birth Marks" Captures Urban Life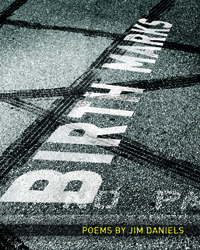 In his new poetry collection "Birth Marks," CMU English Professor Jim Daniels captures the gritty culture of working-class urban life. He uses the 39 poems to take readers on a tour of post-industrial Detroit and Pittsburgh to tell the tales of cities and their residents who came out swinging when the economy collapsed around them.
"I have always been interested in ordinary people in ordinary circumstances and the small moments in their lives that create a subtle shift in perspective," Daniels said.
"Place has consistently been a big part of my work, and it is again. I hope the title 'Birth Marks' reflects this - hope we are marked by the places we come from. I try to bring these cities and people to life in a way that may make readers see beneath our cultural stereotypes."
HERB Video Wins for Innovative Technology
"Do Robots Dream of Cookies?" a video starring the Carnegie Mellon Robotics Institute's
HERB,
the Home Exploring Robot Butler, won top honors at the Robot Film Festival, July 20-21, in San Francisco.
The video features HERB's newly acquired ability to separate Oreo cookies and was created as an online component of this year's "Cookie vs. Creme" advertising campaign for the popular brand.
Sidd Srinivasa, associate professor of robotics and head of the Personal Robotics Laboratory, and Pras Velagapudi, project scientist, had supporting roles.
The festival jury selected the video as the winner of the "Botsker" award for "Most Innovative Technology." The theme of this year's festival, "Form vs. Function," made that a significant award, said Heather Knight, a Ph.D. student in robotics and the festival's executive director.
Alumni House Renovation Underway
The Alumni House is being renovated to improve the building's overall conditions and efficiencies and to re-establish it as a welcome center for visiting alumni, alumni volunteer meetings, and as available, other university gatherings. The work will include exterior and interior renewals, including a reconfiguration of the existing floor plan to better accommodate alumni activities. Once completed, Alumni House also will be home to the offices of Alumni Relations and Annual Giving.
The project, expected to be completed by late fall 2013, is being managed by Turner Construction and the architectural design firm Perfido Weiskopf Wagstaff & Goettle (PWWG). PWWG's team includes two Carnegie Mellon alumni from the School of Architecture, Sheldon Goettle (A'79) and David Kennedy (A'09).
Help ensure the safety and well-being of the CMU community:
University Police: 412-268-

2323




Ethics Hotline: 1-877-700-7050