Bob Iannucci To Head Silicon Valley Campus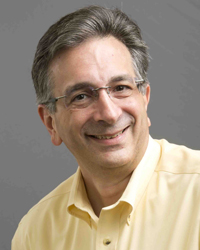 Distinguished Service Professor
Bob Iannucci
has been named associate dean and director of Carnegie Mellon's Silicon Valley campus, effective Sept. 1. He succeeds
Martin L. Griss
, who is stepping down after serving as director since 2009.
"I am honored to be named head of CMU's innovative and entrepreneurial campus that sits in the middle of Silicon Valley, the worldwide hub of technology innovation," said Iannucci, director of the CyLab Mobility Research Center. "CMU's international reputation for research and academic excellence, coupled with the entrepreneurial opportunities here in Silicon Valley, make this campus a truly unique place."
College of Engineering Dean James H. Garrett, Jr. said Iannucci's stellar research reputation and his experience as an interdisciplinary educator and researcher at CMU-Silicon Valley make him ideally suited for the position.
Big Mac? Putting Calorie Information to the Test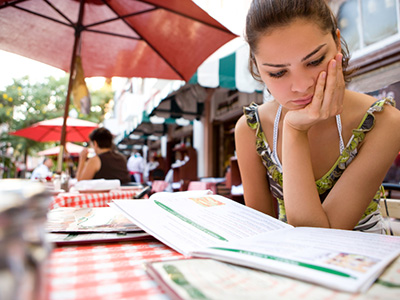 Does providing diners with recommended daily calorie intake information along with the menu items caloric content improve their food choices? Not according to a CMU study published in the American Journal of Public Health.
"Unfortunately, this approach [menu labeling] doesn't appear to be helping to reduce consumption very much, even when we give consumers what policymakers thought might help: some guidance for how many calories they should be eating," said the study's lead author Julie Downs, associate research professor of social and decision sciences in the Dietrich College.
For the study, Downs and the research team analyzed the purchase behaviors of 1,121 adult lunchtime diners at two McDonald's restaurants in New York City.
Revealing Key Mechanism for Herpes Infection
Herpes viruses are like tiny powder kegs waiting to explode. For more than 20 years scientists suspected that herpes viruses were packaged so full of genetic material that they built up an internal pressure so strong it could shoot viral DNA into a host cell during infection. No one had been able to prove that theory until now.
Carnegie Mellon biophysicist Alex Evilevitch together with his graduate student David Bauer and University of Pittsburgh collaborators Fred Homa and Jamie Huffman have measured, for the first time, the pressure inside human herpes simplex virus 1 (HSV-1).
The study, published online in the Journal of the American Chemical Society, provides the first experimental evidence of high internal pressure within a virus that infects humans. This phenomenon was previously only attributed to viruses that infect bacteria, called bacteriophages.
Pictured above is an electron micrograph of herpes simplex virus type 1 infecting a cell.
CMU Chemicals for Clean Water Pass Safety Test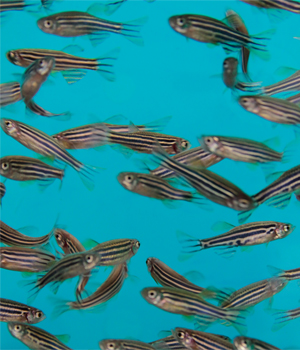 A family of molecules developed at Carnegie Mellon to break down pollutants in water is one step closer to commercial use. Study results published online in the journal Green Chemistry show that the molecules, which are aimed at removing hazardous endocrine disruptors from water sources, are non-toxic to developing zebrafish embryos (right).
Created by CMU green chemist Terry Collins, the molecules, called TAMLŽ activators, provide an environmentally friendly method for breaking down toxic compounds that contaminate water, including endocrine disruptors. Endocrine disrupters, which are found in almost 25 percent of our streams, rivers and lakes, can disrupt the normal functions of the endocrine system by mimicking or blocking the activities of hormones in wildlife leading to impaired development.

Animal studies suggest that endocrine disruptors may be involved in a host of modern-day health epidemics including cancers, learning disabilities, obesity, and immune and reproductive system disorders.
Scientists Make Impressive Showing at SIGGRAPH
From artistic apps to animation to internal tagging, scientists from CMU presented their research this week at SIGGRAPH, the International Conference on Computer Graphics and Interactive Techniques in Anaheim, Calif., where more than 20,000 professionals from five continents saw the latest developments.
Alex Limpaecher
, a Ph.D. student in computer science, and his adviser,
Adrien Treuille, associate professor of computer science and robotics, presented an app created by CMU and Microsoft researchers that automatically corrects a person's drawing strokes on a touchscreen while preserving the user's artistic style. This novel application of Big Data was enabled by an iPhone drawing game the researchers conceived (pictured at right), which generated a database of more than 17,000 drawings of faces. The database could also be used to develop better object recognition or scene analysis for computer vision systems.

Treuille also led a study by CMU and University of California, Berkeley, scientists on a data-driven technique that will improve real-time animation of complex phenomena for video games, such as a naturally flowing robe or a team of galloping horses. Their findings are based on six months of computation that generated a detailed portrait of the behavior of a piece of cloth.
And in light of the age of 3D printing,
Karl Willis
, a Ph.D. graduate in computational design, and Microsoft's
Andy Wilson
demonstrated several possible internal tag designs and the Terahertz imaging and data processing steps necessary to read them. The tags could be used for a number of applications beyond keeping track of inventory or making point-of-sale transactions.
Read more about
internal tagging
,
real-time animation
and the
drawing assistance app.
Help ensure the safety and well-being of the CMU community:
University Police: 412-268-

2323




Ethics Hotline: 1-877-700-7050