CMU's CHIMP To Compete in DARPA Challenge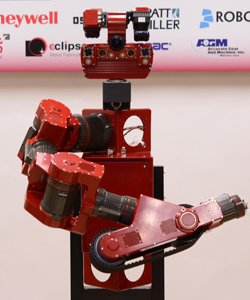 The Defense Advanced Research Projects Agency (DARPA) has selected a team from Carnegie Mellon's
National Robotics Engineering Center
(NREC) to compete this December in trials for the
DARPA Robotics Challenge
, a competition aimed at spurring the development of robots that can assist humans in mitigating and recovering from natural and man-made disasters.
The NREC team is now assembling its four-limbed robot, called the CMU Highly Intelligent Mobile Platform, or CHIMP. The human-size robot is designed to perform tasks, such as climbing ladders, driving vehicles and closing valves, that must be accomplished during the competition.
"Designing and building a robot as sophisticated as CHIMP in a matter of months is an enormous undertaking, but we're accustomed to meeting that kind of challenge at Carnegie Mellon," said Tony Stentz, NREC director and leader of the Tartan Rescue Team. "DARPA's decision is a big vote of confidence and our team is excited. We can't wait to get on with it."
ICES Gives Girls Engineering Experience
Twenty-two middle school students from Pittsburgh area schools are getting a taste of engineering in a free, two-week program hosted by the Institute for Complex Engineered Systems (ICES).


The Summer Engineering Experience for Girls (SEE), which runs through Friday, July 26, is designed to encourage more women to consider engineering as a career choice. The girls are participating in a variety of multidisciplinary engineering activities, from building wind turbines and solar cells to learning about alternative forms of energy and transportation.
"The program is offered for free in order to provide opportunities for girls who love science, technology, engineering and math (STEM) regardless of their socioeconomic backgrounds," said Alicia Angemeer, external relations and outreach coordinator at ICES. "There is also a mentoring component provided as CMU women engineering faculty and students offer themselves as models and encourage girls to continue pursuing STEM throughout their education and their career."
Molecular Crowding Helps Gene Expression
The interior of a living cell is a crowded place, with proteins and other macromolecules packed tightly together. A team of scientists at Carnegie Mellon has approximated this molecular crowding in an artificial cellular system and found that tight quarters help the process of gene expression, especially when other conditions are less than ideal.
As the researchers report in an advance online publication by the journal Nature Nanotechnology, these findings may help explain how cells have adapted to the phenomenon of molecular crowding, which has been preserved through evolution. And this understanding may guide synthetic biologists as they develop artificial cells that might someday be used for drug delivery, biofuel production and biosensors.
Cheemeng Tan, a Lane Postdoctoral Fellow and a Branco Weiss Fellow in the Lane Center for Computational Biology, said crowding in a cell isn't so different from a crowd of people. If only a few people are in a room, it's easy for people to mingle or even to become isolated. But in a crowded room where it's hard to move around, individuals often will tend to stay close to each other for extended periods. Tan, who led the study, said the same thing happens in a cell. If the intracellular space is crowded, binding between molecules increases.
The research team included Russell Schwartz, professor of biological sciences; Philip LeDuc, professor of mechanical engineering and biological sciences; Marcel Bruchez, associate professor of biological sciences and chemistry; and Saumya Saurabh, a doctoral student in chemistry.

Read the full story
.
Help ensure the safety and well-being of the CMU community:
University Police: 412-268-

2323




Ethics Hotline: 1-877-700-7050