President Subra Suresh Takes Office
Carnegie Mellon President Subra Suresh officially took office July 1, succeeding Jared L. Cohon who stepped down after 16 years at the helm.
In an email to the university community on his first day, President Suresh said he would be engaging in a "listening tour" and that his first job "is to listen and learn." He said he would be scheduling meetings with alumni, students, faculty and staff. "My aim is to hear about you, your work, and your vision for CMU," he wrote.

He also encouraged members of the university community to send him their thoughts and comments at http://www.cmu.edu/president-suresh.
"I am eager to get to work and to begin to explore with you how we will together create the future at this great university," President Suresh said.
Provost Mark Kamlet's Term Extended
In consultation with the deans and the chair of Faculty Senate, President Suresh has extended Mark Kamlet's appointment as provost and executive vice president.

"I believe that Mark is one of the most thoughtful and experienced leaders in U.S. higher education today," President Suresh wrote in an email announcement to faculty and staff. "This was evident to me long before I was appointed president and has been substantiated by all of my interactions with him. ... I have already relied greatly on Mark and am very pleased that I will be able to continue to do so."
Read more about President Suresh. | Participate in his listening tour.
SMART Card Distribution Begins Monday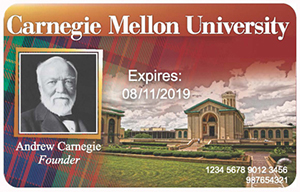 New SMART Carnegie Mellon ID cards, which will track PAT ridership more efficiently, will be distributed to Pittsburgh campus staff beginning Monday, July 15 at Andy's Alcove on the lower level of the University Center. Staff can pick up their card between 9 a.m. and 4:30 p.m. according to the following schedule. You must turn in your old ID to receive a SMART card.
Last names A-F:

Monday, July 15

Last names G-L:

Tuesday, July 16

Last names M-R:

Wednesday, July 17

Last names S-Z:

Thursday, July 18

All remaining:

Friday, July 19
To facilitate schedules and to simplify the process for faculty, new SMART Cards will be delivered to departments. A coordinator from each department will be appointed to handle the distribution process for faculty members. SMART Cards will be sorted and delivered to departmental designates on Friday, July 12.
New cards will be distributed to students Sept. 23-27.
A Special Time for Robotics Institute
Carnegie Mellon's revolutionary Robotics Institute (RI) is featured in a five-page spread in a special issue of Time magazine that recently hit newsstands. Time's "Rise of the Robots" includes "Welcome to Roboburgh" by Gary Belsky, who writes, "To see the future of robotics as it is being dreamed up, head over to Carnegie Mellon University. Better yet let us save you the trip."

Belsky takes readers on a tour of CMU's National Robotics Engineering Center (NREC), Newell-Simon Hall - home of the Human Computer Interaction Institute (HCII), the Personal Robotics Lab and the Soft Robotics Lab - the Planetary Robotics Lab in the Gates Center and Robot City.

Readers hear from RI Director Matt Mason, HCII Professor Sara Kiesler, Drama Professor Anne Mundell, Professor Siddhartha Srinivasa, Research Scientist David Wettergreen, NREC Director Anthony Stentz and Raj Rajkumar, co-director of the GM-CMU Autonomous Driving Collaborative Research Lab.

And readers meet robots such as HERB (The Home Exploring Robotic Butler, pictured above), TANK (the roboreceptionist), Zoe (a prototype solar powered vehicle for space exploration), Victor (a scrabble-playing robot), a snake robot for search and rescue operations, and a self-driving Cadillac SRX.
"Rise of the Robots" will be on newsstands through September.
Archive Chronicles Life in Pittsburgh's Jewish Community Since 1895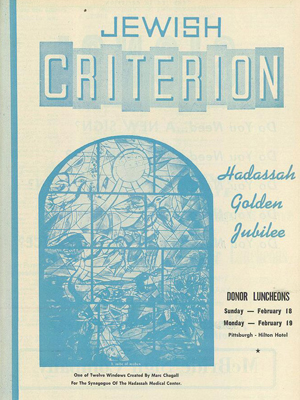 Carnegie Mellon Libraries have completed the Pittsburgh Jewish Newspaper Project, a digital archive documenting daily life in the Pittsburgh Jewish community from 1895 to the present. The full text archive is fully searchable, free and open to the public at http://ptfs.library.cmu.edu/pjn.
Three weekly newspapers and a weekly newsletter are archived: the "Jewish Criterion" (1895-1962), "The American Jewish Outlook" (1934-1962), "The Jewish Chronicle" (1962-present), and the Y-JCC newsletter series published by the Young Men and Women's Hebrew Association, the Y-IKC and the Jewish Community Center (1926-1976).
The six-year project was proposed by CMU Trustee Anne Molloy, executive director of the Posner Fine Arts Foundation and librarian at Rodef Shalom Synagogue.
Gabrielle Michalek
, head of archives and digital library initiatives for CMU Libraries, said the site has become a mecca for historians, genealogists,
Ancestry.com
and people around the world.
Read the full story.
SnakeBot: An Inspector for Nuclear Plants
Scientists in CMU's Biorobotics Lab recently tested their
modular snake robot
in an Austrian nuclear power plant, proving that the multi-jointed robot with a camera on its head can be a valuable inspection tool.
The snake robot was able to maneuver through multiple bends, slip through open valves and negotiate vessels with multiple openings. With a video camera and LED light on its head, the snake was able to peer into holes and get multiple views of items inside the pipes.
"Our robot can go places people can't, particularly in areas of power plants that are radioactively contaminated," Robotics Professor Howie Choset said. "It can go up and around multiple bends, something you can't do with a conventional borescope, a flexible tube that can only be pushed through a pipe like a wet noodle."
Help ensure the safety and well-being of the CMU community:
University Police: 412-268-

2323




Ethics Hotline: 1-877-700-7050
Personal Mention
This issue features:
Richard Scheines and the late Steven Klepper;
Linda Argote;
Joseph (Jay) Kadane;
Martin Griss;
Pulkit Grover;
Jay Aronson, Baruch Fischhoff and Taylor Seybolt;
Maggie Burke;
Michael Campayno;
Vivian Wang, Justin Edmund, Sabrina Majeed, Julius Tarng; David Yen and Albert Yih.
News Briefs
Submit News
Email