Bravo! CMU Alumni Top Tony Awards
Carnegie Mellon stole the spotlight at the 67th Annual Tony Awards as six alumni took home Broadway's coveted prize in five categories, from acting to costume design and lighting design.
Peter Cooke
, head of CMU's
School of Drama
, said the evening was a wonderful celebration of CMU's talent. "Artists from across many disciplines and years won Tony Awards in their specialized categories, which in turn speaks to the strength of conservatory training - the hallmark of the CMU School of Drama."
And the winners are:
Jules Fisher (A'60, H'13) and Peggy Eisenhauer (A'83) for Best Lighting Design of a Play for "Lucky Guy";
Judith Light (A'70) for Best Performance by an Actress in a Featured Role in a Play for her role in "The Assembled Parties";
Patina Miller (A'06) for Best Performance by an Actress in a Leading Role in a Musical for "Pippin," penned by Stephen Schwartz (A'68) while a student at CMU;
Billy Porter

(A'91) for Best Performance in a Leading Role in a Musical for "Kinky Boots"; and

Ann Roth

(A'53, H'00) for Best Costume Design of a Play for "The Nance."
Peter Hylenski
(A'97) also was nominated for Best Sound Design of a Musical for "Motown The Musical."
In addition, several alumni were presenters and performers during the ceremony, including "Newsies" lead
Corey Cott
(A'12),
Zachary Quinto
(A'99),
Andrew Gehling
(A'05) and
Megan Hilty
(A'04).
Read the full story
. |
Read President Cohon's congratulatory letter
.
Pictured above are (l-r) Judith Light, Patina Miller, Billy Porter, Jules Fisher and Peggy Eisenhauer.
Robot Returns to Chile on NASA Mission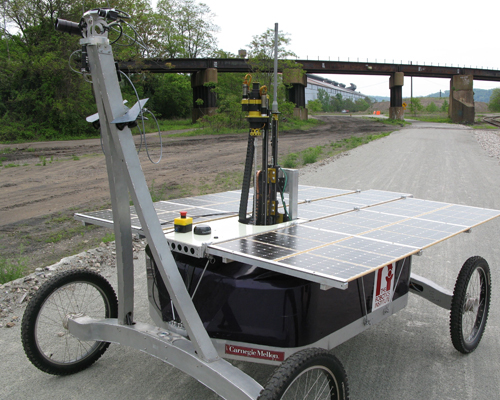 The autonomous, solar-powered ZoŽ, which became the first robot to map microbial life during a 2005 field expedition in Chile's Atacama Desert, is heading back to the world's driest desert this month on a NASA astrobiology mission led by Carnegie Mellon and the SETI Institute. This time, ZoŽ is equipped with a one-meter drill to search for subsurface life.
As before, ZoŽ will be testing technologies and techniques that will be necessary for exploring life on Mars.
"Direct evidence of life, if it exists, is more likely underground, beyond the current reach of rovers," said
David Wettergreen
, research professor in CMU's
Robotics Institute
and the principal investigator for the
Life in the Atacama
project.
Read the full story.
CMU Cited for Excellence in Cyber Operations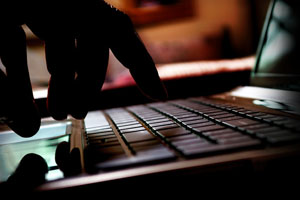 Carnegie Mellon has been designated for the first time as a National Center of Academic Excellence in Cyber Operations by the National Security Agency (NSA) and the U.S. Cyber Command.
The honor is reserved for institutions such as CMU that feature technical, interdisciplinary, higher education programs grounded in computer science, computer engineering, electrical engineering and extensive hands-on lab work. The NSA reviewed and approved the curriculum specifically for the Master of Science in Information Security Technology and Management Program offered by the Information Networking Institute (INI).
"Through our academic and research strengths, in addition to our applied knowledge, we're educating the workforce in specialized cyber operations that are critical to the nation's security," said Dena Haritos Tsamitis, director of the INI and director of education, training and outreach for Carnegie Mellon CyLab.
Tracking People in Complex Indoor Settings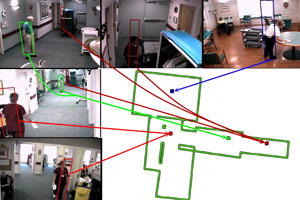 Researchers at Carnegie Mellon have developed a method for tracking the locations of multiple individuals in complex, indoor settings using a network of video cameras, creating something similar to the fictional Marauder's Map used by Harry Potter to track comings and goings at the Hogwarts School.
The method was able to automatically follow the movements of 13 people within a nursing home, even though individuals sometimes slipped out of view of the cameras. The researchers made use of multiple cues from the video feed: apparel color, person detection, trajectory and, perhaps most significantly, facial recognition.
The researchers -
Alexander Hauptmann
, principal systems scientist in the Computer Science Department (CSD);
Shoou-I Yu,
a Ph.D. student in the Language Technologies Institute; and
Yi Yang
, a CSD post-doctoral researcher - will present their findings June 27 at the
Computer Vision and Pattern Recognition
Conference in Portland, Ore.
Read the full story.
Help ensure the safety and well-being of the CMU community:
University Police: 412-268-

2323




Ethics Hotline: 1-877-700-7050