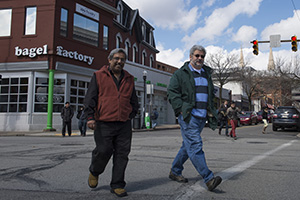 With an eye toward the west and northwest of the Pittsburgh campus, Carnegie Mellon's Simonds Commission has established 10 guidelines for future growth and development.
The principles, authored by the 14-member committee of trustees, faculty and senior administrators chaired by university trustee
J. Lea Hillman Simonds
and Vice President for Campus Affairs
Michael Murphy
, will guide new projects and renovations to CMU properties to the west of Morewood Avenue along Forbes and Fifth avenues, and to the north on Craig Street and its Henry, Winthrop and Filmore street arteries.
The 10 principles, which were approved by the Board of Trustees at its May meeting, cover the areas of building, community context, space and movement.
In addition, the commission has formed ongoing task forces to discuss a CMU-affiliated hotel and conference center, Forbes Avenue traffic flow, Craig Street development and CMU's community partners.
Pictured above is the busy corner of Forbes and Craig. A task force is looking into further development of the Craig corridor.