Recapping Commencement: Core Values, the Will To Love and Entrepreneurship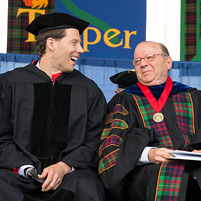 Much has changed since
Jared L. Cohon
took office as president of Carnegie Mellon in 1997, but what's most important to him is what hasn't changed - the university's core values of problem-solving, hard work, innovation and collaboration.
"These values have infused your experiences here, and they will be guideposts and important touchstones for you throughout your lives," Cohon told the Class of 2013 in his final commencement address as president.
Cohon, who will be stepping down on June 30, was surprised during the ceremony when he was awarded an honorary Doctor of Humane Letters in recognition of his successful tenure at CMU.

In his keynote address Aron Ralston (E'97), who unveiled a Kiltie Band uniform under his commencement robe, said it was his will to love that drove him to amputate his own right arm to free himself from being trapped under a boulder in a Utah canyon.


"If you doubt for one second that you would do it for yourself, ask: what wouldn't you do to get back home to your closest loved ones. Because the will to love says we're not just here on this earth to enrich our own lives; we're here to enrich the lives of others. So get out there and save the world."

Student speaker Brian Groudan (DC'12), a co-founder of the startup PayTango, a fingerprint-based payment and ID system, thanked President Cohon for "building a community where learning meets entrepreneurship." He expressed his gratitude for the help and advice he and his co-founders received from CMU faculty and alumni.

Pictured above is President Cohon and Aron Ralston.
President Cohon Says "Thank You"
At yesterday's staff picnic on the Pittsburgh campus, President
Jared L. Cohon
thanked staff for supporting him and his wife,
Maureen
, for the past 16 years. He also thanked them in advance for supporting and assisting incoming President
Subra Suresh
, who will assume his duties on July 1.
"One message I have to staff is that Carnegie Mellon is a very important institution. What we do is important to the city of Pittsburgh, the commonwealth of Pennsylvania, to the nation and to the world," he said.
He emphasized that what the university does every day and the impact it has is made possible by the dedicated and hardworking staff members. "You should be proud by what you have achieved," Cohon said.
Cohon also extended his thanks to faculty and staff in a front-page letter in the May issue of the Piper.
Read his letter.
Look back at President Cohon's legacy of leadership
.
Webster To Succeed St. Clair as Dean of Libraries
Keith Webster
, vice president and director of academic relations and strategy for the global publishing company John Wiley and Sons, has been named to succeed
Gloriana St. Clair
as Dean of the Libraries, effective July 1. St. Clair is stepping down as dean on June 30 after 15 years at the helm.
Webster was dean of libraries and university librarian at the University of Queensland in Australia, one of the largest libraries in the southern hemisphere, where he supervised a staff of 250. Previously he was university librarian at Victoria University in New Zealand and head of information rights at HM Treasury in London.
In announcing Webster's appointment, Provost and Executive Vice President
Mark Kamlet
praised St. Clair for her seminal contributions and in leading a transformational time for the libraries.
Read the full announcement.
UC Addition To Expand Fitness, Rec Space
The design phase is underway for a 45,000 square foot addition to the University Center that will include enhanced fitness and recreation space, a black box theater for student performance groups and a new front door and lobby area facing Forbes Avenue.
Leading the design is Cannon Design of Baltimore, an architectural firm that has designed more than 250 projects for more than 200 higher education institutions.
The design phase will continue through 2013. Construction is expected to begin in spring 2014.
CMU Joins Alliance To Mentor African-American Computer Scientists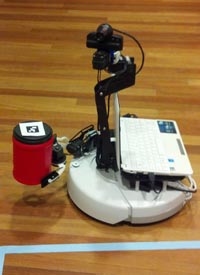 Carnegie Mellon has joined Clemson University and five other university partners to launch the Institute for African-American Mentoring in Computing Science (iAAMCS), a U.S. resource for increasing African-American participation in computing.
A member of the leadership team is CMU Research Professor of Computer Science David Touretzky, who will direct a robotics competition at the annual meeting of students, educators and computing professionals that promotes diversity in computing. In the competition students will use a robot developed by Touretzky's lab and RoPro Design, called the Calliope2SP (pictured above.)
The alliance is supported by a $5 million grant from the National Science Foundation.
Help ensure the safety and well-being of the CMU community:
University Police: 412-268-

2323




Ethics Hotline: 1-877-700-7050