April 18, Vol. 23, No. 38

Campaign Success Adds to Carnival Celebration
This year's Spring Carnival (April 18-20) will be bigger than usual as the university community begins celebrating the outstanding success of the Inspire Innovation Campaign.

The campaign has several notable achievements already benefiting the university: an even stronger global alumni and volunteer network, increased financial resources for education and research (the campaign has raised $1.16 billion as of April 1), and a greater level of visibility for the university worldwide.
This year's Carnival will be more memorable as well. You can visit any of four Welcome Areas - the University Center and tents at Midway, the Fence and Frew Street - throughout the weekend to receive a free gift bag and be able to take, share and post photos to the interactive wall at we.cmu.edu, which launched earlier this week.

The University Center will feature a "green screen" photo booth with digital backdrops of the campus. You'll be able to take photos with friends and family, receive a free printed photo and post images to the interactive wall.
A new smartphone app, CMU Celebration Tour, which will showcase fun facts and videos about various campus landmarks and the Inspire Innovation Campaign, can be downloaded by viewing we.cmu.edu through a smartphone.
And don't forget the Alumni Association All Campus BBQ from 11:30 a.m. - 2 p.m. on Friday, April 19 in Merson Courtyard, University Center (rain location: Wiegand Gym).
Drama Presents Modern-Day "Romeo & Juliet"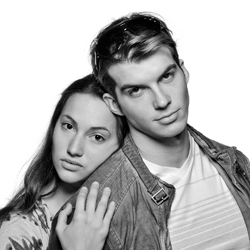 The
School of Drama
presents William Shakespeare's "Romeo & Juliet" April 27-May 4. All shows begin at 8 p.m. with 2 p.m. matinees on April 27 and May 4 in the Philip Chosky Theater in the Purnell Center for the Arts.
This production of the classic play is geared toward a young audience. Directed by Don Wadsworth, professor of voice and speech in the School of Drama, Shakespeare's most-beloved romantic tragedy comes to life in a brutally modern American setting amidst civil unrest and street brawls.
"It's a timeless story, really," Wadsworth said. "Love, loyalty and sensuality have been part of our lives forever. Our take on this 400-year-old love story will surprise even the most rabid Romeo and Juliet fans."
Read the full story. | Purchase tickets.
Seniors Grace Rao and Adam Hagenbuch (pictured above) star in CMU's production of "Romeo & Juliet."

CMU Honors Extraordinary Educators
Give them an A+.
Faculty and staff who have achieved university-wide acclaim for their exceptional contributions to Carnegie Mellon education programs, effective and enthusiastic classroom teaching, compassionate and influential advising, and profound impact on others will be honored at a Celebration of Education beginning at 4:30 p.m., Tuesday, April 30 in Rangos 1 and 2 of the University Center. The events are free and open to the public.
Among the people being recognized this year are:
John Lehoczky,

Robert E. Doherty Award for Sustained Contributions to Excellence in Education

John Mackey,

The William H. and Frances S. Ryan Award for Meritorious Teaching

Ty Walton,

The Award for Outstanding Contributions to Academic Advising and Mentoring

Natalie Ozeas,

Mark Gelfand Service Award for Education Outreach
In addition, five up-and-coming junior faculty members will receive Wimmer Faculty Fellowships, faculty will receive College Teaching Awards and graduate students will be presented with the Graduate Student Teaching and Graduate Student Service awards.
Buhl Lecturer To Discuss Particle Accelerators
While the best-known particle accelerators are enormous, bigger isn't always better.
Norbert Holtkamp
, associate laboratory director for the accelerator directorate at the SLAC National Accelerator Laboratory, will provide a look at the future of accelerator technology when he delivers the Buhl Lecture in Theoretical Physics.
His lecture, titled "Particle Accelerators: Ships of discovery - Tools for a better life - Technologies for the future," will be at 4:30 p.m., Tuesday, April 23 in the Mellon Institute Auditorium. The lecture is free and open to the public, and will be followed by a reception in the Mellon Institute Auditorium.
Read the full story.
Help ensure the safety and well-being of the CMU community:
University Police: 412-268-

2323




Ethics Hotline: 1-877-700-7050