$30M Gift Galvanizes CMU's Energy Efforts
Carnegie Mellon has received a $30 million gift from the Richard King Mellon Foundation to dramatically expand its strategic initiative to address energy research, education and innovation.
The gift - the largest private foundation grant in CMU's history - will propel the Wilton E. Scott Institute for Energy Innovation to coordinate university-wide activities with the overall goals of improving energy efficiency and developing new, clean, affordable and sustainable energy sources.
The announcement of the gift coincides with a CMU symposium today on shale gas and its implications for regional manufacturing. Read more about the symposium.



Funds from the gift will be used to support various energy research projects, faculty and student recruitment and construction of the Sherman and Joyce Bowie Scott Hall (rendering above), which will house the Scott Institute. The gift follows the Richard King Mellon Foundation's previous record-setting $25 million grant to CMU in 2007 to fund life sciences initiatives.
Read the full story.
CMU Celebrates National Robotics Week

Carnegie Mellon will celebrate
National Robotics Week
with a lecture by author and Robotics Institute alumnus
Daniel H. Wilson
, the annual
Mobot
mobile robot races and robot exhibits and demonstrations by Robotics Institute researchers.
These public events will be April 18-19, coinciding with Spring Carnival.
Wilson, who earned his Ph.D. in robotics at CMU in 2005, is the author of the best-selling "Robopocalypse," a techno-thriller about a robot uprising that is slated to be made into a movie directed by
Stephen Spielberg
, and "Amped," a thriller set in Pittsburgh's Allderdice High School involving students with neural implants that give them superior intelligence.
Wilson will present the annual Teruko Yata Memorial Lecture with the talk, "Sci-fi Destroys the Future, Science Builds It." The lecture is at noon, April 18 in Rashid Auditorium in the Gates and Hillman centers.
Read the full story.
|
Register for the Wilson lecture and tours
.

Students Win Better Buildings Competition
A multidisciplinary team of Carnegie Mellon students took top honors among 14 university teams in a Department of Energy competition that challenged participants to create strategies to cut energy waste and improve the efficiency of commercial buildings nationwide.
The CMU team was awarded "Most Innovative" for its plan to help the city of Fort Worth, Texas, and local utilities and industry work together to make commercial and industrial buildings 20 percent more energy efficient by 2020. The team also won "Best Proposal" for its "Everything Store" case study, in which students recommended options to increase the cooling efficiency in big retail store rooftop air conditioning units.
The CMU team members are: Jie Yee Chan, a master's degree student in electrical and computer engineering; Adrian Chong and Chao Ding, doctoral students in the School of Architecture; Donald Johnson, a School of Architecture alumnus and current MBA student in the Tepper School of Business; and Alan Jenn, Mili-Ann Tamayao and Allison Weis, Ph.D candidates in engineering and public policy (EPP).

wats:ON? Festival Explores "The Realm of Noise"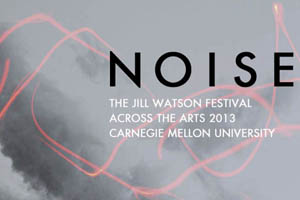 The Jill Watson Festival Across the Arts, or wats:ON? Festival, will open at 5 p.m. today (Thursday, April 4) in Kresge Theater, in the College of Fine Arts building. The festival features six events, ending April 6 with a physical electronic music performance.
Curated by
Golan Levin
, professor and director of the Frank-Ratchye STUDIO for Creative Inquiry, and
Spike Wolff
, an adjunct assistant professor of architecture, the festival will explore the realm of noise through a variety of analog, digital and apparatus-enhanced sound music performances. The event is free and open to the public.

Join 1000plus in Community Service, April 6
For this year's 1000plus, CMU's day of service on Saturday, April 6, volunteer opportunities are available for faculty, staff, students and alumni in Pittsburgh and around the world.
In Pittsburgh, volunteers can sign up for a morning shift that starts at 9 a.m., or an afternoon shift that starts at 1 p.m. Each begins in Rangos Ballroom with a kickoff event. Transportation to and from the worksites will be provided.
Read more.
|
Sign up for 1000plus.
Help ensure the safety and well-being of the CMU community:
University Police: 412-268-

2323




Ethics Hotline: 1-877-700-7050