March 14, Vol. 23, No. 33

HERB Stars in Oreo Cookie Campaign
The Robotics Institute's Home Exploring Robot Butler, better known as HERB, is feeling pretty sweet these days. He's featured in a
YouTube video
that is part of Oreo's ongoing
"Cookie vs. Creme" ad
campaign.
HERB, a two-armed, mobile robot, twists an Oreo apart and scrapes off what it terms "the precious creme" in the video. HERB is the fourth and final "Oreo Separator" machine in the online series, but the only actual research robot. The other three machines were custom-made for the videos.
A humorous behind-the-scenes video of HERB's Oreo debut has been created as well as his own first-person webpage.
HERB, a research project in the Personal Robotics Lab directed by
Siddhartha Srinivasa
, is a testbed for technology that will enable robots to perform challenging manipulation tasks in places where people live and work. It is a project of the Quality of Life Technology Center, a National Science Foundation Engineering Research Center dedicated to applying robotic and information technologies to the everyday lives of people.
Read more.
|
Watch the Oreo video
. |
Watch the behind-the-scenes video
. |
Visit HERB's webpage.
Oscar Winner Opens Film Festival March 21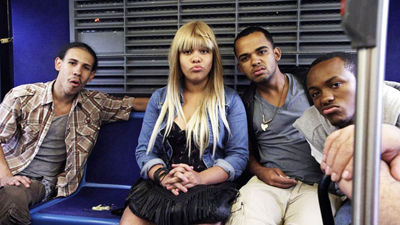 Carnegie Mellon's 2013
International Film Festival
, which opens with Oscar winner
Michel Gondry's
latest film, "
The We and the I,
" will bring 16 award-winning independent films from 14 countries to various locations throughout Pittsburgh, March 21 through April 13. This year's festival theme, "Faces of Media," uses the films to explore how new media impacts society.
Gondry, who won a 2005 Academy Award for Best Original Screenplay for "Eternal Sunshine of the Spotless Mind," will Skype into the 7 p.m., March 21 opening at the Melwood Screening Room. He will introduce his film, which looks at a group of teenagers who ride the same bus route, and how their relationships change and evolve on the last day of school.
"
Faces of Work
," a tribute to the late filmmaker and CMU Professor
Paul Goodman,
is one of the new components added to the festival this year. "Faces of Work" will be a permanent festival feature and will pair Goodman's films with other festival films to highlight the theme of work across different cultures, Goodman's professional focus.
Read the full story.
|
See the festival schedule and purchase tickets.
Pictured above is a scene from "The We and the I."
Merger Boosts Entrepreneurship Efforts
Carnegie Mellon is bolstering its leadership in turning university research and ideas into commercial enterprises
by establishing the Carnegie Mellon
Center for Innovation and Entrepreneurship
(CIE), which merges the strengths of
Project Olympus
and the
Donald H. Jones Center for Entrepreneurship
.
The CIE will be led jointly by Lenore Blum, founding director of Project Olympus and professor of computer science, and Dave Mawhinney, executive director of the Don Jones Center and assistant teaching professor of entrepreneurship.
The CIE has three goals:
Defining CMU as the "destination of choice" for individuals interested in entrepreneurship;

Fostering an "inside-out" approach of creating winning commercial ventures from cutting-edge research; and

Developing an extensive, vibrant network of alumni entrepreneurs.
With financial support from the McCune Foundation's Big Idea program, the CIE will continue the successful programs of the Don Jones Center and Project Olympus, including seasonal Show & Tell events, the Open Field Entrepreneurs Fund, incubator space for fledgling companies, entrepreneurship workshops and business competitions.
The Center for Innovation and Entrepreneurship is part of Carnegie Mellon's Greenlighting Startups initiative, which employs the university's "inside-out" approach to speed advances from the lab to the marketplace. More than 300 businesses have been launched from Carnegie Mellon in the last 15 years, thanks in part to its innovative tech-transfer process that ensures no university interference with startup operations.
This CHIMP Could Be a Champ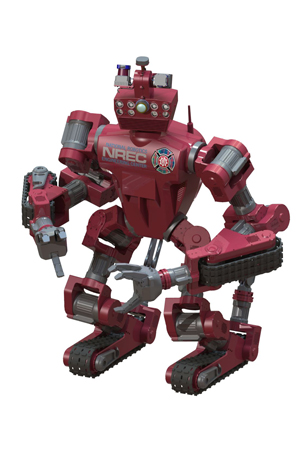 A team from Carnegie Mellon's
National Robotics Engineering Center
is building CHIMP, a human-size robot that moves on rubberized tracks on each of its four limbs, to compete in the Defense Advanced Research Projects Agency's (DARPA) Robotics Challenge. The competition challenges robots to respond to calamities such as the 2011 Fukushima nuclear plant disaster.
Though the appearance of the CMU Highly Intelligent Mobile Platform (CHIMP), is vaguely simian, its normal mode of locomotion will be much like that of a tank, with the tracks of all four limbs on the ground. This configuration offers a particular advantage when moving over debris and rough terrain. CHIMP also can move on the treads of just two limbs when needed, such as when it must use one or more limbs to open a valve, or to operate power tools.
NREC Director
Tony Stentz
said CHIMP is designed with static stability, so it won't fall down even if it experiences a computer glitch or power failure. When necessary the operator can control CHIMP's individual joints, enabling it to adapt its motion in particular situations or extricate itself from tight spots.

"In a pinch, it can do anything," Stentz said.
Help ensure the safety and well-being of the CMU community:
University Police: 412-268-

2323




Ethics Hotline: 1-877-700-7050