February 7, Vol. 23, No. 28

Welcome CMU's 9th President Thursday, Feb. 21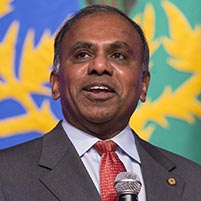 The university community is invited to welcome Carnegie Mellon's ninth president, Subra Suresh, Thursday, Feb. 21, during a late afternoon event on the Pittsburgh campus. Joining President-elect Suresh will be his wife, Mary (Delmar), and their daughters, Nina and Meera. The event is for CMU students, alumni, faculty and staff only. See next week's 8.5 x 11 News for further details.
Suresh, director of the National Science Foundation and former dean of the School of Engineering at MIT, succeeds President Jared L. Cohon, who has led CMU to unprecedented growth over the last 16 years. Suresh was officially named CMU's next president this past Tuesday in an email to the university community from Ray Lane, chairman of CMU's Board of Trustees. Suresh will assume the presidency July 1.
"Dr. Suresh possesses the strategic vision, international expertise and commitment to technology research and education that will continue to build CMU's reputation as a world leader in higher education," Lane said.
Suresh said he was "truly honored" to lead Carnegie Mellon. "The extraordinary ability of the CMU faculty and students in bringing together cutting-edge research and education across multiple disciplines positions CMU uniquely to address national and global challenges. I look forward to working with the CMU community to further our global impact," he said.
President Barack Obama praised Suresh for his service at the NSF.
"We have been very fortunate to have Subra Suresh guiding the National Science Foundation for the last two years," Obama said. "Subra has shown himself to be a consummate scientist and engineer - beholden to evidence and committed to upholding the highest scientific standards. He has also done his part to make sure the American people benefit from advances in technology, and opened up more opportunities for women, minorities and other underrepresented groups. I am grateful for his service."
Photo by Sandy Schaeffer.

Celebrate the Humanities Friday, Feb. 15
Over the past 10 years, Carnegie Mellon has strengthened its standing in the humanities thanks to distinguished faculty in the English, History, Modern Languages and Philosophy departments, as well as generous support from numerous foundations, corporations and individuals.

To celebrate CMU's excellence in the humanities, the Dietrich College and the Center for the Arts in Society will host a program and reception beginning at 4:30 p.m., Friday, Feb. 15 in the Giant Eagle Auditorium in Baker Hall. The program will feature:
Read more about the celebration.

Database, App To Provide Poisonous Plant Guide

Carnegie Mellon researchers and a botany expert from Carnegie Museum of Natural History are developing a digital system for identifying poisonous plants.
Working with Cynthia Morton, head of the botany section of Carnegie Museum of Natural History, researchers identified 35 poisonous plants and created profiles of each plant.
"We are still building the system, which will be available as a smartphone app or tablet app, which we eventually want to make available to every hospital emergency room in the nation," said Marios Savvides, director of the CyLab Biometrics Center at CMU.
The researchers want to make the app as simple to use as taking a smartphone picture of a leaf. The app would identify the plant and list the plants' appearance, toxicity and remedy/antidote for health care professionals to administer.

CMU Day at the Children's Museum is Saturday
Join CMU alumni, staff and their families for a day of fun at the Children's Museum of Pittsburgh from 10 a.m. to 5 p.m., Saturday, Feb. 9. Come for an hour or stay for the whole day and enjoy fascinating exhibits for kids and adults alike. The day starts with a bagel and coffee reception from 10 to 11 a.m. in the Museum Café. Jessica Bowser (HNZ'12) will lead an art, architecture and museum history tour at 11:30 a.m.
The event is part of a cultural series planned across the U.S. to celebrate the 25th anniversary of the Master of Arts Management program at the Heinz College. The cost is $10 per person, which includes the bagel and coffee reception.
Register online
.
Questions can be directed to
Leah Worbs
at
leahw@cmu.edu
.
Help ensure the safety and well-being of the CMU community:
University Police: 412-268-

2323




Ethics Hotline: 1-877-700-7050