January 24, Vol. 23, No. 26

And the Oscar Goes To...

The Academy of Motion Picture Arts and Sciences has announced that Drew Olbrich (CS '92) will receive an Academy Award for his role in creating a computer graphics lighting system, which has been used for "Shrek," "Madagascar" and other animated DreamWorks features.

Olbrich, along with fellow honorees Lawrence Kesteloot and Daniel Wexler, created Light for PDI/DreamWorks, part of DreamWorks Animation, where he worked until 2006. They will be honored at the academy's annual Scientific and Technical Awards Presentation at The Beverly Hills Hotel Feb. 9.
Former faculty member Doug James also will receive an award. James, who was an assistant professor of computer science and robotics at CMU from 2002-2006 and now an associate professor at Cornell University, will be honored, along with Theodore Kim, Nils Thuerey and Markus Gross, for the invention of Wavelet Turbulence software.

PNC Announces Center for Financial Services Innovation at CMU
Speaking to a standing-room-only crowd of students, faculty and administrators at Carnegie Mellon's Tepper School of Business, PNC Financial Services Group chairman and CEO James E. Rohr announced his company's support for the creation of the PNC Center for Financial Services Innovation at Carnegie Mellon. Rohr made the announcement during his presentation as part of the Tepper School's W.L. Mellon Speaker Series.

The PNC Center for Financial Services Innovation will initially focus on research and education pertaining to the retail banking sector, seeking to capitalize on new technologies and the effective use of data to advance the functionality of banks and the services they offer to customers. Sunder Kekre, the Bosch Professor of Operations Management, has been chosen to lead the new center as its director.

The center will conduct research that addresses emerging consumer banking topics, such as the integration of data and technology to help customers better manage their money, and the use of new channels such as mobile devices and social media to deliver banking services when and where customers need them.

Students To Analyze "Big Data" with New Degree
A first-of-its-kind program will help create the learning engineers of the future by using "big data."
The new Learning Science and Engineering Professional Master's Degree Program at CMU will teach students how to use and analyze "big data" to develop and evaluate educational programs in a variety of settings, including schools, workplaces, museums and other locations. Through the use of data, the program's students can better understand human learning and create educational technologies that increase student achievement.
"Technology has really transformed how we teach," said
Ken Koedinger
, professor at CMU's
Human-Computer Interaction Institute
and director of the
Pittsburgh Science of Learning Center.
"The availability of data on how people learn provides us with the opportunity to create more engaging and effective instruction. We want to create learning engineers - people who not only understand their subject area, but the science behind learning."

Fitness Challenge Begins Jan. 28
An effort to get the Carnegie Mellon community moving at the gym could take you places. At least on paper.
"CM-YOU" is the theme for this year's Department of Athletics' Fitness Challenge, an annual effort that aims to get people to exercise 20 minutes a day for four times a week. This year's challenge runs Monday, Jan. 28 through Friday, March 8.

Pattye Stragar, operations manager for Fitness & Aquatics, said she hopes to get participation from other CMU locations around the world.
To visualize progress, a large world map has been hung near the University Center Equipment Desk marked with CMU locations. Participants will choose a destination, and as they complete their exercise each day, they'll earn blocks that will get them and others with the same destination a little closer to their goal.

EPP Student Recognized by Forbes "30 Under 30"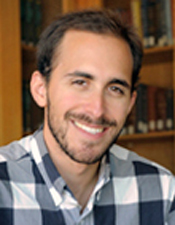 Carnegie Mellon's Daniel Schnitzer is helping to reinvent the world. That's the headline describing his recent honor as one of Forbes Magazine's innovators in its "30 Under 30" listing of tomorrow's brightest stars.

Schnitzer, 27, a Ph.D. student in CMU's Department of Engineering and Public Policy (EPP), is one of 30 entrepreneurs under age 30 listed in the magazine's January feature about impressive up-and-comers in the energy sector.

"Being named on the Forbes 30 Under 30 list for energy was humbling and a tremendous honor. It's validating to see EarthSpark's work in Haiti being recognized in such a way," said Schnitzer, co-founder and executive director of EarthSpark International, which creates retail businesses that sell inexpensive solar lighting products and energy-efficient stoves.
Help ensure the safety and well-being of the CMU community:
University Police: 412-268-

2323




Ethics Hotline: 1-877-700-7050