December 20
, 2012 · Vol. 23, No. 23
Jim Daniels' Film Makes TV Premiere Saturday
"Mr. Pleasant," a film written and produced by Carnegie Mellon English Professor
Jim Daniels
, will make its television premiere at 10 p.m., Saturday, Dec. 22, when it airs on Pittsburgh PBS affiliate WQED.
The film tells the story of "Red," a college student from a working-class Detroit family who mistakenly thinks that simply escaping his hometown is enough to fix his life and open opportunities for him.
"The theme of 'Mr. Pleasant,' similar to many of my other stories, poems and screenplays, is the working-class stereotype that the goal for everyone should be to get out," said Daniels, the Thomas Stockham Baker Professor of
English
in the Dietrich College. "I want to turn that stereotype on its head and instead portray the idea that people shouldn't spend all of their time working towards other people's definition of success."
"Mr. Pleasant" includes music from
Creative Writing Program
alumni
Billy Price, Jesse Kates, Michael Gabriel
and
Michael Kaniecki
, and music from the School of Music's
Benjamin Opie
.
Read more about Daniels and "Mr. Pleasant."

Frazer Briefs Congress on African Security
Jendayi Frazer, Distinguished Service Professor in the Dietrich College and Heinz College, briefed the House Armed Services Committee this week on the evolving security situation in the Democratic Republic of the Congo (DRC).
Frazer, the leading architect of U.S.-Africa policy over the last decade and director of CMU's Center for International Policy and Innovation, provided her insights into the conflict in the DRC and spoke to the diplomatic and other policy options that U.S. Policy makers should consider to address the situation in the Congo and across the region.
Oscar winner Ben Affleck (pictured with Frazer), founder of the Eastern Congo Initiative, and other African policy experts joined Frazer at the briefing.

Helping Robots With Social Interactions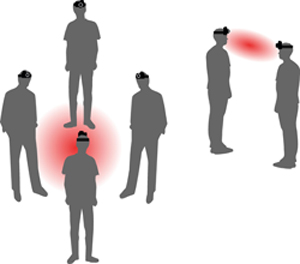 Researchers at the Robotics Institute used head-mounted video cameras to develop a method for detecting where people are looking. They believe the insights someday will be essential for robots to interact with humans.

By noting where people's gazes converged in three-dimensional space, the researchers could determine if they were listening to a single speaker, interacting as a group, or even following the bouncing ball in a ping-pong game. The system thus uses crowdsourcing to provide subjective information about social groups that would otherwise be difficult or impossible for a robot to ascertain.

The researchers' algorithm for determining "social saliency" could ultimately be used to evaluate a variety of social cues, such as the expressions on people's faces or body movements, or data from other types of visual or audio sensors.

"This really is just a first step toward analyzing the social signals of people," said Hyun Soo Park, a Ph.D. student in mechanical engineering, who worked on the project with Yaser Sheikh, assistant research professor of robotics, and Eakta Jain of Texas Instruments, who earned a Ph.D. in robotics last spring. "In the future, robots will need to interact organically with people and to do so they must understand their social environment, not just their physical environment."

Product Development Program Plans Expansion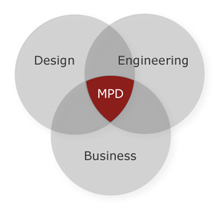 The Tepper School of Business has officially joined the School of Design and the Department of Mechanical Engineering as a third partner in oversight of the Master of Product Development (MPD) program.
The one-year program takes a holistic approach toward innovation, emphasizing the importance of an interdisciplinary perspective for successful product development. With increased interest from students with business backgrounds and new opportunities for capstone projects supplied by industry sponsors, the program is expected to grow from 20 students to 30-40 students in the near future.
"It is not feasible to design in a vacuum, approaching innovation from a single perspective. Today's great products and services are the innovations of teams of professionals that understand the intersection of form, functionality, logistics, marketing and consumer behavior," said
Jonathan Cagan
, MPD co-director and the Tallman and Florence Barrett Ladd Professor of Mechanical Engineering.
Joining Cagan as co-directors are
Eric Anderson
, associate professor in the School of Design and associate dean of the College of Fine Arts, and
Peter Boatwright
, the Carnegie Bosch Associate Professor at the Tepper School of Business.
Read the full story.
Happy Holidays!
Happy Holidays from the Internal Communications Team. The 8.5 x 11 News will resume on Thursday, Jan. 10, 2013.

Help ensure the safety and well-being of the CMU community:
University Police: 412-268-

2323




Ethics Hotline: 1-877-700-7050