December 13
, 2012 · Vol. 23, No. 22

Introducing New Online, Onsite Format for MBA
Carnegie Mellon's
Tepper School of Business
will offer its world-class MBA in a new blend of
online and onsite formats
beginning next fall.
The FlexMBA program creates a new model for online business education, combining in-person sessions, online classes and self-paced learning to deliver the same coursework, faculty, team interaction, personal leadership coaching and career services found in the school's highly-acclaimed full- and part-time MBA programs.
In contrast to current trends that are building increasingly larger online classes, the FlexMBA approach delivers the MBA program to focused sections of 20-30 students, who will interact frequently with faculty, alumni, school resources, and each other online and in person.
"By utilizing diversified channels, we will offer the flexibility of online education while maintaining the high-quality interaction of the MBA student experience found in our traditional programs," said
Michael Trick
(pictured above), senior associate dean for education at the Tepper School.
Read the full story.

Inspire Innovation Campaign Update
As of December 1, 2012, Carnegie Mellon's Inspire Innovation campaign had reached $1.09 billion. Since November 1, 2012, the campaign raised $7,940,877.
For the latest progress, visit http://www.cmu.edu/campaign/about/progress.html.

Students Set Table for Tasty Post-Gazette Blog
Six students in the Master of Arts in Professional Writing program have spent the semester cooking up a way for the Pittsburgh Post-Gazette to increase readership through social media.
They decided to create a new blog with a focus on food, titled PGPlate.com.
"Food seemed smaller and more manageable than something having to do with sports or the Steelers but still has a very wide appeal," said James Berndt, who is expected to complete his degree this semester.
"I would joke in class that the number of people who eat in Pittsburgh is greater even than the number of Steelers' fans, though perhaps by a narrow margin, so the choice of food as a blogger category made sense," said Tom O'Boyle, an adjunct English professor who is senior manager of audience and associated strategies at the Post-Gazette.
Read the full story.

Scientists Call for Chemical Safety Testing System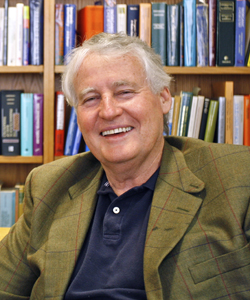 Carnegie Mellon's
Terry Collins
(right) is part of a group of scientists from North America and Europe that has developed a five-tiered testing system that manufacturers can use to ensure that the chemicals and consumer products they produce are free of harmful endocrine disrupting chemicals like DDT.
Their study, "Designing Endocrine Disruption Out of the Next Generation of Chemicals," will be published in the January 2013 issue of the Royal Society of Chemistry journal Green Chemistry,
and is currently available online.
Endocrine disrupting chemicals, which are commonly used in consumer products, can mimic hormones and lead to a host of modern-day health epidemics including cancers, learning disabilities and immune system disorders. The new testing system can help manufacturers avoid creating products that contain the harmful chemicals.
"Endocrine disrupting chemicals are a clear and present danger to the welfare of all living species," said Collins, the Teresa Heinz Professor in Green Chemistry and director of the
Institute for Green Science
at CMU. "It is important for people everywhere and especially for future generations that we strive to design chemicals that are not endocrine disruptors themselves and materials that are inherently free of endocrine disruptors."
Read the full story
.
Help ensure the safety and well-being of the CMU community:
University Police: 412-268-

2323




Ethics Hotline: 1-877-700-7050