November 29
, 2012 · Vol. 23, No. 20

Drama Performs "Angels in America"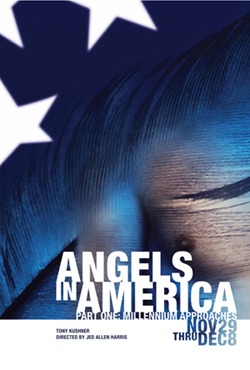 The
School of Drama
presents
"Angels in America: Millennium Approaches,"
a Pulitzer Prize- and Tony Award-winning play that focuses on the HIV/AIDS epidemic in New York City during the 1980s. The performances run Nov. 29 through Dec. 8 in the Purnell Center for the Arts' Philip Chosky Theater on the Pittsburgh campus. Shows begin at 8 p.m. with additional 2 p.m. matinees on Dec. 1 and Dec. 8.
Directed by Jed Allen Harris, the play, which depicts the politics and social failures surrounding the disease and its emergence in the U.S., still resonates today.
"Many in our society today still confront HIV and AIDS with fear and bigotry, but the play shows us how compassion plays an integral part in the healing or grieving process," said Peter Cooke, head of the School of Drama.
Purchase tickets online
at the Box Office in the Purnell Center lobby or by phone at 412-268-2407. Visa and MasterCard are accepted.

CMU Partners To Develop Paint-stripping Robots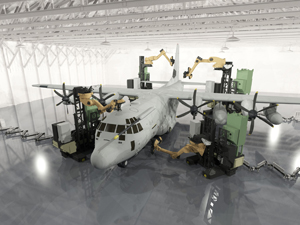 Carnegie Mellon's
National Robotics Engineering Center
(NREC) and
Concurrent Technologies Corporation
of Johnstown, Pa., are working with the
U.S. Air Force
to develop and demonstrate a robotic system that uses high-powered lasers to remove coatings from fighter and cargo aircraft.
As a subcontractor on the project, the NREC will build six autonomous mobile robots, each with a laser coating remover. The robots built under the direction of NREC Director
Tony Stentz
will make extensive use of commercial, off-the-shelf parts to reduce costs, simplify maintenance and make future upgrades easier.
Trans-Q TV Premieres Friday; Online Variety Series Explores Gender and Sexuality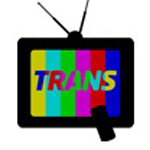 Trans-Q Television, a new online video variety series, supported in part by
The Center for the Arts in Society
and CMU's
School of Art
, premieres Friday, Nov. 30, at 6119 (6119 Penn Ave., Pittsburgh).
The first episode will be accompanied by a launch party with live performances and a DJ/dance party featuring talent from Pittsburgh's queer arts and music community. Doors open at 8:30 p.m. The event is free and open to people 18 years of age and older.
Executive Producer and CMU Art Professor
Suzie Silver
describes Trans-Q as "a truly warped fusion of Lawrence Welk, Sonny and Cher, Andy Warhol's TV, Ernie Kovacs, Flip Wilson, Carol Burnett and Wigstock." She said Trans-Q Television's goal is to offer a humorous and provocative series that highlights queer and transgender issues and themes.
Read the full story.
Program Teaches Women To Negotiate
Women hold far fewer leadership roles than men. One reason may be they often wait to be promoted rather than negotiate the conditions for their success. A new Heinz College program is working to break down this barrier by teaching effective negotiation skills to women.
"The
Heinz College Negotiation Academy for Women
is the first program for women that looks at leadership through a negotiation lens," said
M.J. Tocci,
director of the academy. "Every component of leadership involves some sort of negotiation, whether it's dealing for resources to improve job performance, resolving conflicts or promoting collaboration with teams."
The academy was co-founded by Tocci and CMU Economics Professor
Linda Babcock
, co-author of two highly regarded books about women and negotiation, "Women Don't Ask: The High Cost of Avoiding Negotiation-and Positive Strategies for Change" and "Ask For It: How Women Can Use the Power of Negotiation to Get What They Really Want."
Read the full story.
Training Teachers To Improve Science Education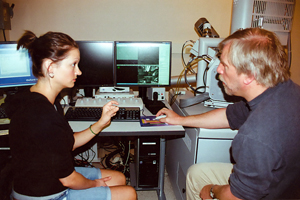 Carnegie Mellon's
Marc De Graef
and
Judith Hallinen
are planning and implementing a program enabling middle and high school teachers to integrate scanning electron microscopy into their classroom curricula.
"We have created a program designed to help high school science teachers improve their content and skill knowledge," said De Graef, a professor of
materials science and engineering
. "We need to pay more attention to math, science and engineering as U.S. student test scores in these fields continue to lag behind other advanced countries."
Hallinen, assistant vice provost for educational outreach and director of the
Leonard Gelfand Center for Service Learning and Outreach
, said the new program, called TACTILS (Teaching Advanced Characterization Tools in Local Schools), is working to stem the tide of declining competitiveness.
Read the full story.
Help ensure the safety and well-being of the CMU community:
University Police: 412-268-

2323




Ethics Hotline: 1-877-700-7050