November 15
, 2012 · Vol. 23, No. 19

CMU Partners With China's Sun Yat-sen University To Develop Graduate Engineering Programs

This past Monday (Nov. 12), Carnegie Mellon and Sun Yat-sen University celebrated the launch of a new and innovative joint graduate engineering degree program, the Joint Institute of Engineering, in Guangzhou, an important economic and technology hub of the Asia-Pacific rim.
SYSU President Xu Ningsheng said they selected CMU because its great academic and research reputation is well suited to China's vision of transitioning its economy from mass labor to technology-driven initiatives within the next decade and fostering future technology leaders with an innovative and entrepreneurial mindset. The mission of the Joint Institute of Engineering (JIE) will be to further world-class education in engineering and perform cutting-edge research in China.
Jimmy Zhu, the ABB Professor of Engineering and head of CMU's Data Storage Systems Center, and Professor Li Wenjun, the assistant to the president of SYSU, will lead the JIE.
Inspire Innovation Campaign Update
As of Nov. 1, 2012, Carnegie Mellon's Inspire Innovation campaign had reached $1.09 billion. Since October 1, 2012, the campaign raised $10,583,221.

For the latest progress, visit
http://www.cmu.edu/campaign/about/progress.html
.
Students Win Sustainable Design Competition

A team of three
School of Architecture
students,
Dan Addis, Eui Song "John" Kim
and
Jensen Ying
, has won the
International Sustainable Laboratory Student Design Competition
for their design proposal for a Salt River Bay Marine Research and Education Center on the island of St. Croix in the U.S. Virgin Islands.
The competition encourages students from around the world to develop innovative ideas for energy-efficient and environmentally sustainable laboratories.
Of the 120 submitted projects, their work, titled "Modular Sustainability," stood out as one of the two winning designs because it "shows a well-documented and thorough sustainable systems analysis and demonstrates a thoughtful, integrated approach to the design process," the judges said. "The proposed laboratory systems, particularly the HVAC systems, are practical and site specific, while the design of the community space is creative and inviting."
CMU Dominates Regional Programming Contest


Nathaniel Barshay, Yan Gu
and
Jonathan Paulson
took first place in the regional competition for the Association for Computing Machinery's International Collegiate Programming Contest (ACM-ICPC), with the remaining four CMU teams placing 4th, 5th, 6th and 23rd out of 131 teams.
Under Head Coach
Danny Sleator
, Barshay, Gu and Paulson, solved all nine problems in under four hours at Youngstown State University, one of four sites for the ACM-ICPC East Central North American Regional Programming Contest.
NREC To Help Develop Sub-Tracking Vessel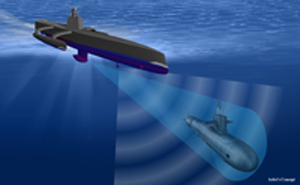 Carnegie Mellon's
National Robotics Engineering Center (NREC)
is part of a team assembled by prime contractor Science Applications International Corporation (SAIC) to design, build and test an unmanned autonomous surface vessel that can track a diesel-electric submarine for months and over thousands of kilometers with minimal supervision.
The Defense Advanced Research Projects Agency awarded SAIC a three-year, $58 million contract for the Anti-Submarine Warfare (ASW) Continuous Trail Unmanned Vessel program. The NREC will develop the vessel's autonomous capability, with
John Dolan
, principal systems scientist at the Robotics Institute, as principal investigator and
Pete Rander
, NREC associate director of operations, as co-PI.
Hear Ye, Hear Ye, Madrigal Dinner is Dec. 1
Celebrate the holiday season at the Madrigal Dinner, a unique dining and entertainment tradition featuring the CMU School of Music Chamber Singers, on Saturday, Dec. 1 in Rangos Ballroom, University Center.
The menu includes wassail; roasted water chestnut salad; hearty breads; chicken strudel; rustic roasted vegetables; warm triple chocolate figgy pudding; coffee and tea. A reception at 6:30 p.m. precedes the dinner at 7:30 p.m.
Tickets are $10 for students and children under 10, and $20 for all other guests. CMU Students can purchase tickets with Plaid Ca$h, Meal Blocks, DineX or Cash. Tickets are on sale at the University Center Information Desk.
Guests are invited to dress in their best 16th century style or contemporary finery. Sponsored by the Office of Orientation, Student Affairs, Alumni Relations, Student Senate, School of Music, Student Dormitory Council and CulinArt. For more information, call 412-268-4886.
Read the Piper story.
Happy Thanksgiving!
There will not be an 8.5 x 11 News next week due to Thanksgiving. We'll return on Thursday, Nov. 29.

Help ensure the safety and well-being of the CMU community:
University Police: 412-268-

2323




Ethics Hotline: 1-877-700-7050