November 1
, 2012 ∑ Vol. 23, No. 17
It's Time To Select Your Benefits for 2013
This year's Open Enrollment period has begun for CMU employees to select their health care benefits for 2013. Employees can select their options for next year up until noon, Monday, Nov. 12, using the
HR Connection website.
Staff Council recently held its annual Benefits Open Forum, in which
Mary Oler
, director of benefits, and her team from Human Resources gave an overview of the changes for 2013. If you were unable to attend the forum, you can
download Oler's powerpoint slides
.
Information also will be available at the Benefits & Fitness Fair from 11 a.m. to 4 p.m., Wednesday, Nov. 7 in Rangos Ballroom, University Center. Questions should be directed to Human Resources at 412-268-2047 or
HRhelp@andrew.cmu.edu
.
Read more about Open Enrollment.
Today's Humanities Celebration Postponed
The Celebration of the Humanities event scheduled for 4:30 - 6 p.m., today, Thursday, Nov. 1, has been postponed.
Keynote speaker
MariŽt Westermann
of the Andrew W. Mellon Foundation was unable to travel due to the aftermath of Hurricane Sandy. The event will be rescheduled for a later date.
Entrepreneur, Alum To Star on Reality Show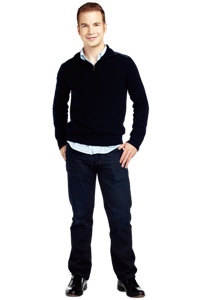 When
David Murray
was an undergrad, his friends used to kid him that he'd never find a job that combined all three of his majors -
computer science
,
human-computer interaction
and voice performance.
Six years later, after stints with Google, Atari and Raptr, and performances with Opera San Jose, he may have found something that integrates all of his talents: a spot on Bravo's new reality show, "Start-Ups: Silicon Valley."
In the series, which premieres at 10 p.m. ET, Monday, Nov. 5 on Bravo,
Murray
, 29, is one of six young entrepreneurs whose lives unfold before the cameras as they try to launch tech businesses. In Murray's case, that's
GoalSponsors.com,
a company he started six months ago that matches people with an online mentor or coach who provides daily support to help lose weight, learn a language or achieve other personal goals.
Read the full story.
Research Showcase Hits 1 Million Downloads
Carnegie Mellon's institutional repository, Research Showcase, created in 2008 to provide open access to CMU's scholarly output, has surpassed a million downloads with more than 650,000 downloads in the past year.
On Oct. 21, an undergraduate honors thesis, "Motivation in Foreign Language Learning: The Relationship between Classroom Activities, Motivation, and Outcomes in a University Language-Learning Environment," written by Jaclyn Bernard, (DC'10), became the one-millionth download.
The most downloaded paper to date is a pre-print of a 1997 article co-authored by Robotics Institute Professor David Bourne. "Design and Manufacturing of Sheet Metal Parts: Using Features to Aid Process Planning and Resolve Manufacturability Problems" has been accessed more than 10,000 times.
Questions? Contact Katie Behrman, Research Showcase Coordinator, at kbehrman@andrew.cmu.edu or 412-268-2536.
Donate to Food Drive Through Friday, Nov. 9
Stop by the Cut today to check out this year's "Cans Across the Cut," part of Carnegie Mellon's 19th annual Food Drive, driven by Staff Council.
The drive extends through Nov. 9. Look for collection bins or boxes in your area or building. You also can find two blue collection barrels on the first floor of the University Center.
In addition, you can bring your donation to Staff Council's Food Drive table during the "One Day, One Can" event from 11 a.m. - 4 p.m., Wednesday, Nov. 7 in Rangos Ballroom during the Benefits & Fitness Fair.
CMU's Food Drive benefits the Greater Pittsburgh Community Food Bank. Questions? Contact Staff Council Food Drive Committee Chair
Carole Panno
at
cp1g@andrew.cmu.edu
.
CMU Teams To Compete in DARPA Challenge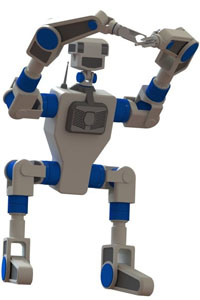 Carnegie Mellon

roboticists

will field two teams in the Defense Advanced Research Projects Agency (DARPA) Robotics Challenge, a competition in which robots will perform complex, physically challenging tasks as they respond to disaster scenarios in human-engineered environments, such as nuclear power plants.

DARPA officials announced that it had selected "Tartan Rescue Team," headed by Tony Stentz, director of the National Robotics Engineering Center (NREC) and research professor of robotics, and "Team Steel," led by Christopher Atkeson, professor in the Robotics Institute and Human-Computer Interaction Institute, to receive funding in the competition. A team from a Robotics Institute spinoff company, RE2 Inc. of Pittsburgh, also was selected.
ECE Starts Partnership with Portuguese B-School

A two-year program gives participants the opportunity of studying one year in Portugal at the University of Porto and another year in the U.S. at Carnegie Mellon.
Students are required to meet academic requirements from both universities to receive a masters of science degree in electrical and computer engineering from Carnegie Mellon and a masters of business administration from Porto Business School.
Help ensure the safety and well-being of the CMU community:
University Police: 412-268-

2323




Ethics Hotline: 1-877-700-7050