October 18
, 2012 ˇ Vol. 23, No. 15
And the Andy Award Winners are ...
President
Jared L. Cohon
and Provost and Executive Vice President
Mark S. Kamlet
announced the 2012 Andy Award winners this past Tuesday during a noon ceremony before a standing-room-only crowd in McConomy Auditorium.
The winners are:
Dedication: Judy Abrams, Cyert Center for Early Education
Commitment to Students: Maxine Leffard, Civil & Environmental Engineering
Innovation: The iTunes U Course Team, including Amanda Berneburg, Stephen Chabassol, Carrie Chisholm, Dan Jenkins, Brian Parker and John Przyborski
Culture: Christina Cowan, Institute for Complex Engineered Systems
Citizenship: Sonya Bell, University Police
Community Contributions: Warren "Chuck" Whittaker, Robotics Institute
In addition to the above winners,
Rich Lyons
, a longtime copy center technician who died earlier this year, received a posthumous Andy Award for Dedication. The award was presented to his sister,
Maureen Twigg
.
Additional honorary Andy Awards were presented to Cohon and Kamlet.
Read more
.
CMU Kicks Off United Way Campaign

Carnegie Mellon's 2012 United Way Campaign launched Oct. 9 and will run through Dec. 21.
Last year, the university community raised more than $180,000 for United Way and the health and human service organizations it supports. Help make this year a success by
donating
.
To join the campaign effort or share a story of your involvement with a United Way agency, contact
Megan Worbs
.
New Degrees Offered in Robotics, IT-Privacy
Starting this fall students have an additional undergraduate major and graduate program to choose from in the School of Computer Science.
Students pursuing computer science, engineering or other undergraduate degrees have the option to include an
additional major in robotics
in addition to its established minor, master's and Ph.D. programs in robotics.
Read more.
A new master's degree program for people tasked with safeguarding privacy - the Master of Science in Information Technology-Privacy (MSIT-Privacy) - will provide a combination of technological know-how and policy-savvy expertise.
Read the full story
.
Technology, Music & Culture Focus of Symposium

"Listening Spaces: 21st Century Explorations of Music, Technology and Culture," a symposium and workshop hosted by the Center for the Arts in Society, will explore whether technology has improved our experiences with music.
The event will be held in two parts on Friday, Oct. 19 - from 11 a.m. to 1:30 p.m. and from 3 to 5:30 p.m. in the College of Fine Arts' Frank-Ratchye STUDIO for Creative Inquiry and Alumni Hall.
New Edition of "Breakthrough Products" Released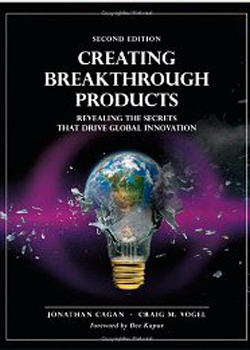 Innovation moves at a rapid pace. Yet few companies know how to keep the process effective, efficient and repeatable.
Jonathan Cagan
and
Craig M. Vogel
, authors of the recently released second edition of
"Creating Breakthrough Products,"
identify that innovation in the 21st century is spurred by the integration of technology with lifestyle desires.
The authors said the book is based on the notion that there is a critical need to explain how to navigate the "fuzzy front end" of product development.
Help the Hungry; Food Drive Begins Oct. 29
Carnegie Mellon's annual food drive, driven by
Staff Council
, begins Oct. 29 and runs through Nov. 9. Collection containers will be placed in many campus buildings.
Bring donations to
Cans Across the Cut
Nov. 1 and to the One Day One Can event during the Benefits and Fitness Fair on Nov. 7 in Rangos Hall, University Center.
Last year CMU donated 8,667 pounds of non-perishables along with $3,982.90 to the Greater Pittsburgh Community Food Bank.
Help ensure the safety and well-being of the CMU community:
University Police: 412-268-

2323




Ethics Hotline: 1-877-700-7050