Celebrate Hug Your Cat Day on May 30


Our feline friends deserve daily doses of TLC -- that stands for Tender Loving Cuddling!
In honor of
National Hug Your Cat Day,
treat your favorite feline to an available lap, healthy meals served on time, chin scratches and a litter box filled with high-quality litter. Win a voucher for a 7-pound bag of the new
Swheat Scoop
litter by emailing
Arden
with an example of how you pamper our cat.
Swheat Scoop
is giving away three vouchers!
Not all litter is made the same and cats can be fussy about their bathroom "toilet paper."
Swheat Scoop
is a natural, clumping litter made from 100-percent wheat that is biodegradable and chemical free. Nice! Click
here
to learn more.
Stop. Sniff. Shop.
Yes, our pets are priceless, but now you can fetch quality pet products at bargain prices! How? Just dash over to the newly revamped
Coupaw
site.
Tune into the
Oh Behave Show on Pet Life Radio
hosted by
Arden Moore
and learn how you can save even more! Listen for the special
Coupaw
discount code word mentioned in this episode and save $5 on orders placed. Hurry! This special offer ends on June 12.
Did Someone Say, Treats?
Doggies, get ready to drool ... with delight!
One Rewards
are savory 100-percent freeze-dried meat treats packed with essential natural vitamins and nutrients.
These treats come in four yummy varieties:
Chicken Breast, Duck Breast, Chicken Liver
and
Ocean Fish
. Free of any grains, fillers of additives, these treats are high in protein and low in fat.
Score a four-pack for your canine pal. Be the 25th and 50th person to email
Arden
with the code words, One Rewards. Learn more about
One Rewards'
tasty line of treats by clicking
here.
Paws up to Patches!
Meet Patches, an adorable little dog with a big wet nose. He takes you on rhyming adventures in the pages of the new book,
Patches' Awesome Day
by
James Martinez
and
Timothy Civick
of
Helping Tales Publishers.
Martinez is also a volunteer at
Operation Kindness
, the oldest and largest no-kill shelter in Texas. A portion of each book sale aids Operation Kindness' Grooming fund to get shelter animals looking their best to land happy homes.
Win an autographed copy by being the 40th person to email
Arden
with the code word, Patches. And, be sure to hear more about Patches and his canine crusade on
Arden's Oh Behave Show on Pet Life Radio
by clicking
here.
Beneful Readies for Third Dream Dog Park
Angela Bauman
loves
Beau
, her energetic German Shorthaired Pointer. So much that she entered a video and won a $500,000
Beneful Dream Dog Park!
Construction is underway in Angela's hometown of
Lancaster, PA
.
Arden Moore
teams up with
Jason Cameron
, host of
DIY's Desperate Landscapes
show, to create these parks in America that cater to dogs of all sizes, ages and playfulness. Paws up to Angela and Beau!
We promise not to keep you in suspense any longer! We are unleashing the names of the winners of prizes from the last Arden Moore Knows Pets e-newsletter.

Congratulations to:
* Gerald McClendon, winner of an autographed copy of the New York Times best-selling book, Underwater Dogs! by renowned pet photographer Seth Casteel.
* Sarah McCoy, winner of Arden Moore's newest book, What Dogs Want. She correctly knew that the newest Irish breed recognized by the American Kennel Club is the Irish Red-and-White Setter. Sarah hails from Marsfield, Australia, proving this e-newsletter is truly global!
* Kristine Vickery, winner of the book, Happy Cat, Happy You by Arden Moore. Kristine correctly identified the Manx cat as originating from the Isle of Man.
* Barbara Pelletner, winner of the Healing Companions book by the compassionate Jane Miller.
Sign Up for Pet First Aid Classes
Calling all pet lovers and pet professionals! Show how much you truly love your dogs and cats by enrolling in a pet first aid class. Pet Tech master certified instructor Arden Moore customizes these hands-on training classes with her dog-cat teaching team of Chipper and Zeki. Sign up for a pet first aid, safety, CPR and wellness class taught by Arden and earn a two-year certificate. Register today by contacting Arden and visit her pet first aid site called Pet First Aid 4 U. Play it safe - for your pet's sake!
Let Arden 'edu-tain' you!
Looking for a professional speaker, MC or workshop leader for your next event - one guaranteed to "edu-tain" your audience? Your best pick: Arden
Moore --The Pawsitive Coach.™ Arden informs and delights audiences all over North America on pet trends, pet behavior, pet safety and more. Click HERE to book Arden at your next pet event!





Like what you see? Email
Arden
about creating an email marketing and social media campaign for your business or non-profit group!
Take a Hike and Hit the Road with Your Canine Pal!

Convert those canine couch potatoes into happy hiking pals and travel mates! Team up to sniff out new places and get a good workout.
Pictured at right is
Dawn Celapino,
founder of
Leash Your Fitness
, with her cool Cairn terrier,
Jack.
Visit her site to discover inspiring ways to stay active and stay healthy. And catch Jack's Blog -- he "woofs" great advice in each post!
If you are planning a road trip with your dog, we encourage you to heed great travel tips found on Fido Friendly's online site. This magazine is the best when it comes to showcasing true pet-welcoming places.
And, to keep your trip safe, our friends at Petmate are offering two products: the new Petmate Travel Harness (smartly modeled by this adorable Corgi) and the Petmate Palm Retractable leash. Be the 30th person to email Arden with the code word, harness, and the 40th person with the code words, palm retractable to win. Good luck!


Woof! Woof! June 21 is a Double Dog Day Celebration!
We are about one month away from June 21 -- the special Double Dog Day in which we "work like a dog by day and party like a pup at night." Start this day by participating in the annual Take Your Dog to Work Day sponsored by Pet Sitters International. Then come home and put on your party clothes and join us for the 3rd annual National Dog Party Day.
This year, we will be partying like a pup in Austin, TX; Dewey Beach, DE; Orlando and San Diego.
Join us as we play Snoopy Says, K9 Karaoke, Four Legged Life Tunnel of Love and much more. All attendees will receive wag bags full of paw-some gifts from our sponsors and vendors.
This year, all net proceeds will benefit these grrr-eat pet charities: Austin Pets Alive, Faithful Friends (Dewey Beach), Dogs 4 Disabled Veterans (Orlando) and Second Chance Dog Rescue (San Diego). There's still time to be a sponsor! For details, click here or contact Arden Moore, creator of National Dog Party Day.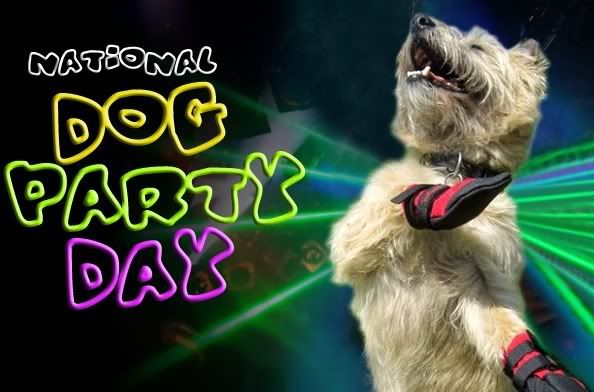 Zeki the Feline First Aid Cat says,"It's a Wrap"
Pet Tech's
first feline teaching assistant
Zeki
has been traveling the country to help people gain invaluable hands-on experience in learning pet first aid. She often teams up with her canine sibling,
Chipper
. This cat-dog teaching duo teams up with
Arden Moore
, master certified pet first aid/CPR and safety instructor.
Look at the above photo closely. After being wrapped in a towel -- an ideal safety restraint to use on injured cats -- it seems like
Zeki
is meowing about something. Let's have fun. Share what you think
Zeki
is saying and
Arden
will send you an autographed copy of her book,
Happy Cat, Happy You
. Just email
Arden t
oday - don't delay! And click
here
to see the
short video of Zeki
being towel wrapped by a student in a recent class.
And, be sure to contact
Arden
if you or your pet group is ready to learn pet first aid and earn a two-year certification. Learn more by visiting
Pet First Aid 4 U. Zeki
and
Chippe
r look forward to being your four-legged teaching team!
Spotlight: Trish Penick

Each month, Arden spotlights people who make this planet a better place for pets and people. This month, she proudly honors Trish Penick, founder of Cutting Edge K9 Rehab in San Diego County. This registered physical therapist dedicates her life to bringing out the healthy best in dogs through water therapy. She works closely with veterinarians to aid dogs recovering from surgeries and injuries.

She is a pioneer in this field, becoming one of the first in Southern California to open a K9 rehab center in 1999 and is now a top dog expert in deep water swimming. Contact her today for more details on her services. We salute Trish for making a healthy splash in the lives of so many dogs!
Lights, Camera...Fascinating Pets!
We're on the hunt for fun, funky and fascinating videos that spotlight cats, dogs and other animals. Please send your favorites to Arden to share in the next issue. This month, we feature a video submitted by Jack Stephens, DVM, founder of Pets Best Insurance. Aptly called, "And God Made A Dog," it is worth the look. Click here. And for our feline fans, check out this video about a dog who really, really, really wants a cat submitted by pet author Ramona Marek.
Arden is Unleashed on America! For "Mutts" More on Moore:
Paws Up!