Seth Casteel Makes a Splash with Underwater Dog Photos!
Famous pet photographer Seth Casteel is making a splash with his
New York Times best-selling book,
Underwater Dogs!
It contains 80 paw-mazing photos of diving Dachshunds, leaping Labs and more fetching balls and other toys in pools.
Win an autographed copy by being the 25th person to email
Arden
with the code words, underwater dogs. And, be sure to dive in and listen to
Seth Casteel's
guest appearance on
Arden's Oh Behave Show on Pet Life Radio
by clicking
here
. Learn more about Seth's pet causes by visiting his
site.
Tune in to Arden's New Call-in Pet Radio Show!
Frustrated by your feline? Confounded by your canine? Eager to share THE best pet tip? Then tune in to Four Legged Life with Arden Moore -- the live, weekly call-in show on Radio Pet Lady Network.
Arden and co-host Tracie Hotchner will field your perplexing pet queries and show you how to celebrate our wonderful -- and sometimes wacky world -- with our pets.
This show debuts March 20 and airs every Wednesday at 7 p.m. Eastern (4 p.m. Pacific). Just call 888-627-6007 or listen online here.
Henry and Tink:
A Remarkable Romance
Congratulations to Rachel Bolka, Sherri Scanlon and Mary Shafer! You are the terrific trio who won autographed copies of the inspiring book, Henry and Tink: A Remarkable Romance. Written by Cathy Conheim and BJ Gallagher the book is a can-do tale of hope and friendship between Henry, a 3-legged cat and Tink, a 2-legged dog. The book sells for $15 and all net proceeds go to charitable causes. Be inspired by tuning into the Oh Behave show episode about Henry and Tink, and learn more about their pet campaign by clicking here.
Litter Genie Makes Odor -- Poof! Disappear!
Wendy Christensen
is one happy pet parent! That's because she is the winner of the
Litter Genie™--
the must-have product that provides a hassle-free solution to scooping the litter box and keeping your home smelling fresh.
With
Litter Genie,
there are no more daily trips to the trash because waste is sealed inside its air-tight container for up to 14 days per cat. It offers the ultimate odor control. Learn more by clicking
here.
Serve in Style with the Bella Bowl
Paws up to Joan Tamen! You were the winner of the Loving Pets Designer Bella Bowl Set in Hearts plus two bags of Grill-icious USA-made dog treats. Check out other great pet products on this site.


Three Win Smoochies!
Cathy Archer, Alison Giese and Kelly Ann Thuet, your canines will be drooling with delight! You all win Smooches, handmade cookies from The Honest Kitchen.


Sign Up for Pet First Aid Classes
Calling all pet lovers and pet professionals! Show how much you truly love your dogs and cats by enrolling in a pet first aid class. Pet Tech master certified instructor Arden Moore customizes these hands-on training classes with her dog-cat teaching team of Chipper and Zeki. Sign up for a pet first aid, safety, CPR and wellness class taught by Arden and earn a two-year certificate. Register today by contacting Arden and visit her pet first aid site called Pet First Aid 4 U. Play it safe - for your pet's sake!
Let Arden 'edu-tain' you!
Looking for a professional speaker, MC or workshop leader for your next event - one guaranteed to "edu-tain" your audience? Your best pick: Arden
Moore --The Pawsitive Coach.™ Arden informs and delights audiences all over North America on pet trends, pet behavior, pet safety and more. Click HERE to book Arden at your next pet event!





Like what you see? Email
Arden
about creating an email marketing and social media campaign for your business or non-profit group!
Happy St. Paw-trick's Day!

Leaping Labrechaun! On St. Patrick's Day, it is fun to go green, kiss the Blarney stone and dance a jig. Everyone, including our pets, gets to be Irish for a day.
According to the American Kennel Club, there are seven dog breeds who hail from Ireland: the Irish Terrier, the Kerry Blue Terrier, the Irish Setter, the Irish Red-and-White Setter, the Irish Water Setter, the Soft-Coated Wheaten Terrier and the Glen of Imaal.
Let's test your dog breed knowledge: of these seven, which one is the newest one to be recognized by the AKC? Be the 15th person to email Arden with correct name and you will win an autographed copy of her best-selling book, What Dogs Want.
And for your feline fans, name the cat breed that originated in the Isle of Man -- along the Irish Sea between England and Ireland? Be the 20th person to email Arden with the correct answer and you will win an autographed copy of her best-selling book, Happy Cat, Happy You!
Zeki and Chipper Thrive as Arden's Pet First Aid Teaching Assistants!

Two of
Pet Tech's
hardest working pet first aid instructors love to purr and woof --
Zeki
and
Chipper
. This cat-dog teaching duo travels with
Arden Moore
, master certified pet first aid/CPR and safety instructor all over the country to give students the chance to practice hands-on skills.
Zeki and Chipper just returned from
Thousand Palms, CA
and are planning to travel to
Dallas
later this year. Here are they pictured with the newest Pet Tech instructor graduates (above, from left,
Diana Martinez
and
Machel Price
) and below with the latest PetSavers graduating class.
If you really want to learn pet first aid -- and wellness -- or have a pet group wishing to become certified, please contact Arden today! Learn more by visiting
Pet First Aid 4 U.
Zeki and Chipper look forward to being your four-legged teaching team!
Spotlight: Jane Miller

Each month, Arden spotlights people who make this planet a better place for pets and people. This month, she proudly salutes Jane Miller, founder of Healing Companions. She has dedicated her life as a licensed psychotherapist/clinical social worker to champion the healing power of pets for people. She is also certified as a canine massotherapist and animal behavioral consultant.

She is garnering much acclaim for partnering psychiatric service dogs with people with psychiatric disabilities, including post-traumatic stress and panic attacks. And, on April 8 in Cleveland, she is hosting the Healing Companions Fundraiser that will feature actress Mariel Hemingway as the keynote speaker. For more details about this event, please click here.

And, we also salute her powerful book, Healing Companions, Ordinary Dogs and Their Extraordinary Power to Transform Lives. Be the 30th person to email Arden with the code words, healing companions, and win an autographed copy.
National Dog Party Day: June 21, 2013!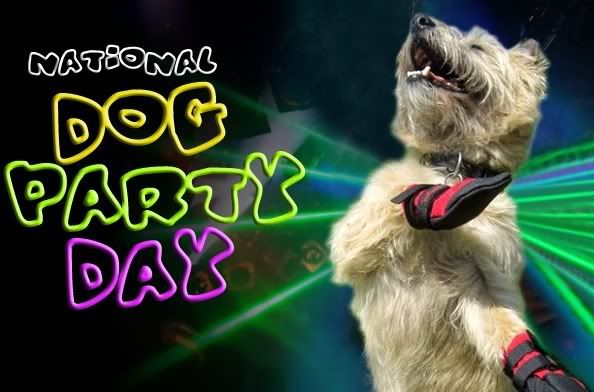 It's never too early to plan for a paw-tee! Mark your calendars for a Double Dog Day celebration on June 21, 2013. This is the day that you will "work like a dog by day and party like a pup at night" for two great events: Take Your Dog to Work Day - sponsored by Pet Sitters International and National Dog Party Day™ -- created by Arden Moore, founder of Four Legged Life.
We will stage paw-ties in 4 cities: Dallas, Dewey Beach (DE), Orlando and San Diego. For details on how you sponsor this national event and help raise money for four hard-working pet charities, please click here or contact Arden directly. It's time to party with a purpose, America!
Lights, Camera...Fascinating Pets!
We're on the hunt for fun, funky and fascinating videos that spotlight cats, dogs and other animals. Please send your favorites to Arden to share in the next issue. This month, we feature a video submitted by Casey Dean, publisher of San Diego Pets Magazine. It demonstrates the strong stubborn streak of one cat determined to announce his presence. Find out what we mean by clicking this video. And catch this Golden Retriever who conveys how much he really, really loves hearing guitar music by clicking this YouTube video.
Arden is Unleashed on America! For "Mutts" More on Moore:
Paws Up!