Henry and Tink:
A Remarkable Romance
Love comes in all looks. Just ask Henry the 3-legged cat and Tink the 2-legged dog. Together, they only have five legs, but this adorable cat-dog team is on a mission to better the lives of pets and their people all over the planet.

Their remarkable friendship and can-do tale of hope is captured in the pages of this new book written by Cathy Conheim and BJ Gallagher. Be the 1st, 10th and 20th person to email Arden with the code words, Henry and Tink, and you will receive an autographed copy. The book sells for $15 and all net proceeds go to charitable causes. Be inspired by tuning into the Oh Behave show episode about Henry and Tink, and learn more about their pet campaign by clicking here.
Tillman Lets the Stars Out on New Show!
The lovable and surprisingly agile Tillman, the skateboarding and surfing Bulldog, headlines the "Who Let The Dogs Out" television special Feb. 15 on the Hallmark Channel. His guests include legendary baseball players Jose Canseco, Steve Garvey and Steve Yeager. Catch the antics of the dog dubbed the fastest skateboarding canine on the planet!
Actress Katherine Heigl Unleashes Just 1 Pet Campaign
Emmy-winning actress Katherine Heigl popped in as a guest on Arden Moore's Oh Behave Show on Pet Life Radio and the she let the fur fly -- for a good cause! Heigl, who happily shares her home with three rescued dogs, just launched Just One Pet, which features a line of specially designed pet products. A portion of each sale will support animal welfare programs across the country.
Heigl and her mother,
Nancy,
are longtime animal advocates and co-founders of the
Jason Debus Heigl Foundation.
Heigl, who has co-starred with such hunks as
Gerard Butler
and
Josh Duhamel
, proclaims her love on the air for
Romeo,
her 17-year-old miniature Schnauzer. Tune in by clicking
here.
Litter Genie Makes Odor -- Poof! Disappear!
Keep your cat feeling fabulous and the air inside your home staying fresh by taking the 21st Century-smart approach to keeping a lid on litter box odors -- forever!
Litter Genie™ provides a hassle-free solution to scooping the litter box and keeping your home smelling fresh. With Litter Genie, there are no more daily trips to the trash because waste is sealed inside its air-tight container for up to 14 days per cat. It offers the ultimate odor control!
Be the 15th person to email
Arden
with the code words, Litter Genie, and you will win one for your lucky feline. Learn more by clicking
here.
Steve Dale Knows Pets!
Radio/Pet Personality
Steve Dale
speaks up for dogs, cats and other companion animals.
This syndicated pet columnist and host of Steve Dale's Pet World was a special guest on Arden's Oh Behave Show on Pet Life Radio where he discussed the release of his latest must-download e-books: "Good Dog!" and "Good Cat!" as well as his behavior insights and his one of his favorite pet pals, Betty White.
Sign Up for Pet First Aid Classes
Calling all pet lovers and pet professionals! Show how much you truly love your dogs and cats by enrolling in a pet first aid class. Pet Tech master certified instructor Arden Moore customizes these hands-on training classes with her dog-cat teaching team of Chipper and Zeki. Sign up for a pet first aid, safety, CPR and wellness class taught by Arden and earn a two-year certificate. Register today by contacting Arden and visit her pet first aid site called Pet First Aid 4 U. Play it safe - for your pet's sake!
Brush up on Pet Dental Care
Let's be down in the mouth of our pets for a good cause! February is National Pet Dental Month.

Need motivation to brush your pets' teeth regularly? The majority of dogs and cats have oral issues by age three! Arden advises you to:
* Select dental treats and toys endorsed by the Veterinary Oral Health Council. Look for the VOHC seal of approval on the product's packaging.
* Only use toothpaste specifically formulated for dogs or cats. Never use human toothpaste because pets can't tolerate fluoride.
* Practice patience when cleaning your pet' teeth. Make the experience fun and heap on the praise.


National Dog Party Day: June 21, 2013!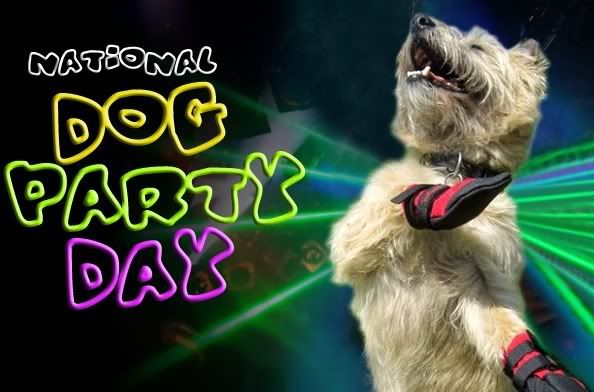 It's never too early to plan for a paw-tee! Mark your calendars for a Double Dog Day celebration on June 21, 2013. This is the day that you will "work like a dog by day and party like a pup at night" for two great events: Take Your Dog to Work Day - sponsored by Pet Sitters International and National Dog Party Day™ -- created by Arden Moore, founder of Four Legged Life
We will stage paw-ties in 5 cities in 2013. Stay tuned for more details on how you can paw-ticipate!
Let Arden 'edu-tain' you!
Looking for a professional speaker, MC or workshop leader for your next event - one guaranteed to "edu-tain" your audience? Your best pick: Arden
Moore --The Pawsitive Coach.™ Arden informs and delights audiences all over North America on pet trends, pet behavior, pet safety and more. Click HERE to book Arden at your next pet event!





Like what you see? Email
Arden
about creating an email marketing and social media campaign for your business or non-profit group!
Call it Puppy Love or Feline Friendship. Our pets unleash unconditional love on us 365 days a year. Heck, to them, every day is Valentine's Day!


They don't need to buy us a Valentine's Day card or box of candies to declare their heart-filled devotion to us. Arden Moore offers three special ways to embrace that special tail-wagger or purr machine in your life:


* Keep them healthy. Book twice-a-year wellness veterinary exams so you can catch conditions early when they can be treatable.


* Unleash the power of play. Treat your dog to a special walk that unleashes all his senses. Engage in a feather wand toy chase with your cat.

*
Pet with a purpose.
Fore go head taps and learn how to give your pet a therapeutic massage from head to tail. You ease muscle aches and improve blood flow in your pet.
To make this a special Valentine's Day, be the 20th, 30th and 40th person to email
Arden
with the code words,
Smooches,
and you will win a yummy box of these handmade cookies for pooches from
The Honest Kitchen.
Each 'Smooch" contains only 2.3 calories!
And be the 15th person to email
Arden
with the code words, Bella Bowl, and win the
Loving Pets Designer Bella Bowl Set in Hearts
plus two bags of
Grill-icious
USA-made dog treats.
Zeki the Cool Cat Delights Crowds in Dallas and Gives Thanks!


Zeki the Cool Cat is one spunky survivor! Before being adopted by Arden Moore, she was a hungry stray in Dallas. Ever trusting, she approached a man in hopes of being fed only to have her back skinned with a hunting knife. She managed to wrestle free and escape under a porch. A remarkable, pet-loving senior named Edwina Baxley on a fixed income wrote a $1,000 check to cover Zeki's emergency veterinary bills. Recovery took months.

This story has a happy ending. Zeki and Arden recently traveled to Dallas at the invitation of Park Cities Pet Sitter, Inc. to conduct classes in pet first aid and pet behavior. Thanks to the sleuthing skills of Dusty Rainbolt, Zeki's foster parent, we tracked down Edwina. We gave her flowers and expressed gratitude for saving Zeki's life. This is the reunion photo of us with Edwina's sons.

Zeki now thrives as America's Ambassa-cat and as the first feline teaching assistant in the entire Pet Tech program, but both Arden and Zeki will always hold a special place in their hearts for Edwina.

We also thank the following companies who generously donated paw-some products to our attendees:
* Lickety Stiks from Pet Safe
* Pet Correctors from The Company of Animals
* Wound Care Wash and Ear Care Rinse from Dr. Emmo's
* Mango Tango Shampoo and Grooming Wipes from Earthbath
* Tote Bags and Chewy Treats from Kong

Keep tabs on Zeki's adventures by becoming one of her feline fans on Facebook. Just dash over to Zeki the Cool Cat. And we hope you get to meet her in purr-son some day soon!
Below is a photo of Zeki, Arden and some of the students who earned two-year certification in pet first aid in Dallas!
Ahoy, Mateys!
Join Us On the Petitude Cruise
Cruise Planners
and
Dog Days Travel
invite you to cruise for a truly special pet cause. The
Petitude Cruise
is a 7-night Western Caribbean Cruise that leaves Fort Lauderdale on Oct. 26 and returns on Nov. 2 aboard the
Royal Caribbean Oasis of the Seas.
Come join us!
Arden Moore
will keep you edu-tained as the featured cruise speaker, unleashing pet talks on pet first aid, cooking for your pet, demystifying pet behavior and identifying the healing power of pets.
Book by March 19 and you have a chance to win $200 in on board credit! This fundraiser will benefit
2nd Chance 4 Pets
and
Fences for Fido.
Major sponsors are
Premier Pets
and
Pet Sitters International.
For more details, please visit
Petitude Cruise.
Lights, Camera...Fascinating Pets!
We're on the hunt for fun, funky and fascinating videos that spotlight cats, dogs and other animals. Please send your favorites to Arden to share in the next issue. This month, we feature a video submitted by Jocelyn Shannon. It illustrates the age-old debate: Are you a cat person or a dog person -- or both? Click this link and check out the doggone different purr-sonality traits!
Paws up to Santa Paws Product Prize Winners!
Arden Moore happily congratulates the following pet pals who won paw-mazing pet products by participating in her 4th annual Santa Paws contest staged in this e-newsletter and this episode of her Oh Behave Show on Pet Life Radio:

* Erika Searl gets to keep her dog in shape by winning the Pet Zen Canine Fitness Vest.
* Stef Scherenberg wins a Litter Genie to make litter box cleaning a breeze.
* Carol Hagen scores the gift basket full of healthy, nutritious goodies from The Honest Kitchen.
* Marie Eden nabs Tagg the Pet Tracker to keep tabs on her pet 24-7.
* Shara Smock claims the meow-va-lous Kitty s'cape Deluxe Kit Model from Solvit Products.
* Jacqueline Wong wins the innovative pet lawn toilet called the Pet Loo.
Arden is Unleashed on America! For "Mutts" More on Moore:
Paws Up!