A wonderful way to celebrate this holiday season is to give to others. Arden shines the spotlight on these nonprofit groups, big and small from all across America that can benefit by your acts of kindness. Consider donating your time, talent or monetary contribution to these groups that merit Arden's pawsome designation.
Henry and Tink's Mission of Compassion for Pets
Meet Henry and Tink. Together, they only have five legs, but this adorable cat-dog team is on a mission to better the lives of pets and their people all over the planet.

Paws through the pages of this charming book that tells their story and become inspired. Now until Christmas, the book is on sale for $15 with all net proceeds going to charities. Learn more by clicking here. And, take a few minutes to view Henry's special animated video by clicking
here.
It's captivating!
Help Surfdog Ricochet Salute Our Military!
When she isn't taming waves surfing, Ricochet is lending a paw to charities big and small. Please help this special Golden retriever and her pet parent Judy Fridono salute our injured members of the military by joining her in her 4th annual Santa Paws Military Giving Drive.
Your donation will benefit a host of military programs, including the Balboa Warrior Athlete/Recreational Therapy Program, The National Military Family Association, Warrior Canine Connection, The Jimmy Miller Memorial Foundation, The Wounded Warrier Project, The United States War Dog Association and The Military Working Dog Adoptions.
Join Ricochet through your generosity. For more details, please click here.
2nd Chance 4 Pets Gives Lifetime Care for Your Pet

Thousands of companion animals are euthanized in U.S. animal shelters each year simply because their human caregivers died or became ill and made no arrangements for the continuous care of their pets. What will happen to your pets if they outlive you?
Amy Shever created 2nd Chance 4 Pets to provide lifetime care solutions for our companion animals. This all-volunteer, nonprofit animal welfare organization is based in Los Gatos, CA, but its reach is throughout the United States. Arden happily serves on its board of directors.

Learn more on how you can help this group by clicking here.
Alley Cat Allies Get Catty
for a Good Cause!
Looking for a meow-va-lous to be a true friend to felines? Alley Cat Allies serves as the only national advocacy group dedicated to protecting and providing humane treatment to cats. Alley Cat Allies has aided feral cat colonies and millions of adopted cats through its grassroots organizing, hands-on activism and educational programs.

Led by Becky Robinson, this group now has more than 260,000 supporters, but can use your help! Please visit its site by clicking here and discover the different ways you can participate. Never underestimate the power of purrs!
Kids Against Animal Cruelty Prove You're Never Too Young To Help Pets in Need
Meet Kids Against Animal Cruelty -- a youthful group determined to save the lives of companion animals in shelters all across the country. Led by teen actor Lou Wegner, this group is spreading its adoption mission by using Facebook and other social media outlets.
Help Lou and his team of volunteers place pets in safe, loving homes. Learn more by clicking here.
Paws for You is THE Place
The Morris Animal Foundation does so much for so many animals on this planet. And MAF has a longtime friend and supporter in actress Betty White, who has served on its board for decades!.
As the global leader in supporting scientific research that advances veterinary medicine, the MAF has invested more than $70 million toward more than 2,000 studies that have improved the health and quality of life for dogs, cats, horses, and wildlife.
Arden encourages you to visit the MAF site and discover a wide variety of ways you can give. Learn more by clicking here.
Sign Up for Pet First Aid Classes
Calling all pet lovers and pet professionals! Show how much you truly love your dogs and cats by enrolling in a pet first aid class. Pet Tech master certified instructor Arden Moore customizes these hands-on training classes with her dog-cat teaching team of Chipper and Zeki. Sign up for a pet first aid, safety, CPR and wellness class taught by Arden and earn a two-year certificate. Register today by contacting Arden and visit her pet first aid site called Pet First Aid 4 U. Play it safe - for your pet's sake!
National Dog Party Day: June 21, 2013!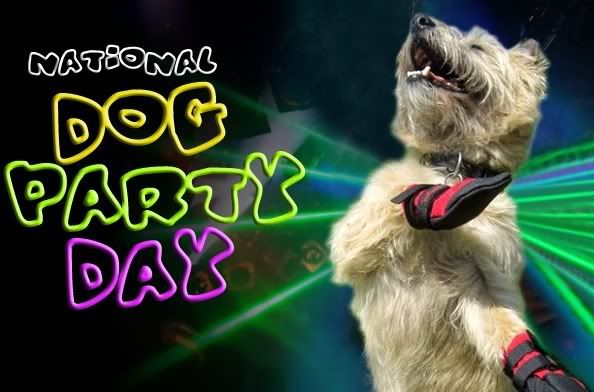 It's never too early to plan for a paw-tee! Mark your calendars for a Double Dog Day celebration on June 21, 2013. This is the day that you will "work like a dog by day and party like a pup at night" for two great events: Take Your Dog to Work Day - sponsored by Pet Sitters International and National Dog Party Day™ -- created by Arden Moore, founder of Four Legged Life
We will stage paw-ties in 5 cities in 2013. Stay tuned for more details on how you can paw-ticipate!
Let Arden 'edu-tain' you!
Looking for a professional speaker, MC or workshop leader for your next event - one guaranteed to "edu-tain" your audience? Your best pick: Arden
Moore --The Pawsitive Coach.™ Arden informs and delights audiences all over North America on pet trends, pet behavior, pet safety and more. Click HERE to book Arden at your next pet event!





Like what you see? Email
Arden
about creating an email marketing and social media campaign for your business or non-profit group!

From our fur-filled home to yours, Arden and her Furry Fab Four - Chipper, Cleo, Murphy and Zeki -- wish all of you a grr-eat holiday season! Our pets are truly gifts we should celebrate 365 days a year!

To keep the holidays safe and make them sensational for you and your pet, Arden offers these tips:
Select pet-friendly decorations. Replace flame candles with battery-operated ones to prevent burns to whiskers, paws and tails. Substitute poinsettias, holly and mistletoe with silk versions to avoid accidental poisoning.
Display your ornaments safely. Showcase your favorite - and fragile - holiday ornaments and keepsakes out of paw's reach. such as inside glass displays or on sturdy shelves.
Workout with your pet. Maintain your daily walks with your dog and indoor play sessions with your cat. Regular exercise does a body good - and helps fend off holiday stress.
Arden Plays Santa Paws!
If you are puzzled by what to get your favorite dog or cat or pet pal person, fret no more. Arden Moore happily presents the 4th Annual Santa Paws Gift Guide!
This holiday special e-newsletter is full of wonderful gift ideas. And, thanks to our pet product sponsors, you have the opportunity to win some paw-some giveaways that are up for grabs! So sniff around this e-newsletter and check out the products and be sure to visit their websites.

Please tune in to the Santa Paws episode of the Oh Behave Show on Pet Life Radio as Arden chats with "top dogs" from these grrr-eat pet companies who work tirelessly 365 days a year to bring out the best in pets.
The Potty Solution:
The Pet Loo
Is the weather nasty outside? Or do you want to sleep in? Tired of cleaning up pet puddles on your carpet?
The Pet Loo
delivers THE solution for all your pet's toilet issues. Think of The Pet Loo as your backyard in a box.
This new and innovative lawn toilet contains your pet's waste in one designated area and gives you peace of mind on those extended stays out of the home. Quite simply,
The Pet Loo
is a hygienic, convenient, simple and an environmentally friendly way to allow your pet the freedom to do its business without relying on you for an opportunity.
Paws up to
Tobi Skovron
for inventing this clever product. Be the 50th person to email
Arden
with the code words, The Pet Loo, to fetch this terrific product. And learn more by visiting
The Pet Loo.
Kitty'scape Provides the Ultimate Feline Playground!
Paws up to the Kitty'scape from Solvit Products for adding fun and adventure to your indoor cat.
Kitty'scape is an exciting new concept in cat play structures that provides plenty of mental and physical stimulation for your cat. And, this structure is super easy to assembly and requires NO tools! Yes, Kitty'scape is versatile, configurable, expandable and economical.
This kitty playground features multi-level platforms, a penthouse perch, scratching columns, a teaser toy and much more! Be the 40th person to email
Arden
with the code word, Kitty'scape, to win a
Kitty'scape Deluxe Kit Model
for your fantastic feline. Click
here
to learn more about the whole array of
Solvit Products.
TAGG The Pet Tracker Keeps Tabs on Your Pet 24-7
Thanks to
TAGG The Pet Tracker
, you can keep tabs on your pet 24-7. The lightweight, water-resistant TAGG fits on your pet's collar securely and uses GPS and wireless technology. This versatile device works on all smart phones, iPods, iPads, Mac and Windows-based computers. And,
TAGG
just unleashed its new Activity Tracking feature.
Arden
has tested it successfully on
Cleo
, her always-up-for adventure poodle-terrier mix. Be the 30th person to email
Arden
with the code word,
TAGG,
to win a pet. Learn more by visiting
www.tagg.com.
Yum! - Healthy Dining with The Honest Kitchen
Time for some healthy yummy for the tummy!
The Honest Kitchen
offers a full line of grain-free natural pet food diets made with love.
Lucy Postins
founded
The Honest Kitchen
a decade ago and her dehydrated pet foods are made from whole-food ingredients. No wonder your dog is drooling and your cat is purring!
The Honest Kitchen
donates a portion of profits to charities through its
Pawlanthropy Program
. The company also is active in protecting the planet by using recycled packaging.
One lucky person -- the 25th to email
Arden
-- will win a $169 gift basket full of goodies from
The Honest Kitchen.
Learn more about all the products created by this company by clicking
here.
Litter Genie Makes Litter Box Odor - Poof - Disappear!
Tired of stocking on supermarket plastic bags to use to scoop out clumps inside your cat's litter box? Frustrated when you discover that the plastic bag has a hole in the bottom and now there's a trail of dirty litter on your floor?
Litter Genie™ provides a hassle-free solution to scooping the litter box and keeping your home smelling fresh. With Litter Genie, there are no more daily trips to the trash because waste is sealed inside its air-tight container for up to 14 days per cat. It offers the ultimate odor control!
Get your paws on a Litter Genie by being the 20th person to email Arden with the code words, Litter Genie. This is a terrific gift idea for the feline fan in your life. Learn more about Litter Genie by clicking here.
Keep Fido Fit With the Pet Zen Canine Fitness Vest!
Keeping your dog fit and at his healthy weight can go a long way in extending his life and lowering veterinary bills. And,
PetZen Products
offers fun and stylish ways to keep fitness fun for your canine companion.
PetZen Products
founder
Krista Wickens
is giving away a
K9 Fitness Vest
that offers multiple levels of resistance and delivers fitness, safety, therapy and sensory integration. Plus, your dog will look doggone cool wearing this vest!
We salute
PetZen Products
for recently joining forces with
DogTread.com
to unleash a pet fitness training and education campaign.
Simply be the 15th person to email
Arden
with the code words, PetZen Fitness Vest, and you will win this prize for your pooch! To learn more about how this vest works and other great
PetZen products
available, please click
here
.
Arden is Unleashed on America! For "Mutts" More on Moore:
Paws Up!