Practice: Tools For Transformation
Guided Meditation
The journey to transformation can be overwhelming. It is easy to become stressed and discouraged. The stress of the uncertainty you live with and the fears of the journey can make you impatient, frustrated and angry.
The Benefits of Meditation
The practice of meditation can help you overcome these challenges. Meditation will calm your mind and help you to become more focused on your journey. A simple ten or fifteen minute meditation can help you to overcome your stress and find inner peace and balance.
Meditation can also help you to understand the way you view the world. You can learn how to transform your mind from negative to positive thinking, from seeing things from a victim's perspective to the perspective of a hero.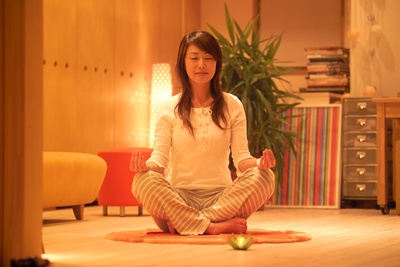 Guided Meditation
One form of meditation is "guided meditation." In these meditations, you are voice-guided step-by-step through a meditative experience.
There are many different approaches to guided meditation with different purposes. Some guided meditations are designed to quiet your mind and help you reach a state of relaxation. Others are designed to invoke "higher states of consciousness" through which you access intuitive knowledge about your life. Some guided meditations are very specific in their focus and are designed to create a particular result. For example, the meditation may focus on healing your body or improving your relationships or creating abundance in your life.
Most guided meditation use imagery, describing very specific images or setting up a context and asking you to create your own images. Others may be body-focused, for example a meditation that instructs the listener through a progressive relaxation process.
The key in choosing a guided meditation is knowing what you want from the meditation. As you experience guided meditations you will also find you prefer more or less structure to the imagery.