Support

Children's Services


Each year, Children's Services subsidizes treatment visits with resources obtained entirely through fundraising efforts. Consider making a
tax-deductible gift
to ensure that these important services continue to be available to families in need
.
To make a gift,
Upcoming Events

__________________

Friends of Casa's Kids Committee Meeting

May 21, 2013
5:30PM - 6:30PM
Children's Services
A. Gary Anderson Bldg.
Open meeting for parents and members of the community who would like to contribute to the success of Children's Services. This advisory committee helps to coordinate fundraising events, contributes to the monthly newsletter and keeps Children's Services connected to the community.
We welcome new faces and fresh ideas.
Please RSVP to:
csendor@casacolina.org
_____________
Increase Awareness


Children's Services firmly believes that education is
an important step in helping families with special needs children. Look for additional materials in our lobby every month to coincide with national awareness campaigns.
April
Autism
Occupational Therapy
May
Better Speech and Hearing
_____________
Save
The
Date


Comedy Night
for
Casa's Kids
June 23, 2013
An Evening
in
Casablanca
September 27, 2013



_____________
A Message from the Director

April is Autism Awareness Month and this month's issue of Connections is but one way we will provide autism awareness. If you see puzzle pieces around or areas draped in blue, they may be bringing awareness to autism too.

I feel that the hottest topic currently is SB946, the Autism Insurance Law. While the law was enacted to provide better access to care for more children on the autism spectrum, it has brought many more questions. I recently participated in a webinar discussing the challenges from the parents' and the providers' points of view. Believe me, the panel appeared to be well aware of the challenges and seemed optimistic that they will have answers through ongoing education, as well as an extension of SB946 to Medi-Cal and other state sponsored insurance. The panel also encouraged participants to seek Insurance Review Board (IRB) assistance from the Department of Managed Healthcare or the Department of Insurance. The IRB is a tedious process, but reportedly has a high success rate for the individual with autism. I will continue to monitor insurance funding and provide updates as they become available.
Have a wonderful April and we hope to see you at upcoming events in the community and here at Casa Colina as we continue to celebrate our 75th anniversary!!
C
indy Sendor, MA, CCC-SLP
Director, Casa Colina Children's Services and Speech Pathology
Congratulations!

C
hildren's Services would like to extend our best wishes to
Joseph Burt, who has served as editor of this newsletter over the past year, for his acceptance into medical school in Rochester, New York!
We know you will have great success and we thank you for your service to the Friends of Casa's Kids Committee.
Therapy Corner

by
Lauren Krake M.S., CCC-SLP
Building Language Through Books
One of the most common questions I get asked as a therapist is, "what can I be doing at home to help my child?" This question comes from parents of children with a variety of challenges and, thankfully, the most common answer I give is applicable to all children: "read with them."
Not only do books provide language building and pre-literacy skills, but they also offer the most varied use of vocabulary, syntax, and grammar. Parents often say, "We read sometimes, but I talk to them A LOT! Isn't that enough?" Unfortunately, that is not enough. Each person speaks in a generally consistent manner with a fairly limited vocabulary. Books offer our children a whole new world of words to use and ways to use them, ways that we could not replicate if we tried our very hardest.
Often times it can feel like reading to your child is accomplishing nothing, especially when you are dealing with a child who is non-verbal and/or very active. To help us understand how language works, let's consider the Language/Literacy Hierarchy below (Shari Robertson, www.dynamic-resources.org):
Writing (Expressive WRITTEN Language)
Reading (Receptive WRITTEN Language)
Talking (Expressive ORAL Language)
LISTENING (Receptive ORAL Language)
As you can see, listening (receptive oral language) is the foundation for language. This hierarchy says you cannot say something you do not understand; you cannot read something you can't say; you cannot write something you can't read. Each skill requires a strong foundation of the previous skill. Therefore, since listening is the primary foundation to build upon, one of the best ways to do so is to start with books.
There are some important factors to keep in mind when reading with your child. The first and most important point is to remember that the goal is to teach your child to love books. It is more important that they enjoy the process and participate than that they sit through the entire book. Remember, the goal is PARTICIPATION, not PERFECTION. When considering children with autism, books are a great way to build not only language, but joint attention (you and your child focusing on a common activity using nonverbal interactions, such as pointing or gazing). As children learn to love books, they will then enjoy the meaning of books, learn how books work, discover that print has meaning, memorize books, rehearse books, and eventually start recognizing words, developing fluency and reading independently. Every parent wants their child to make it to the last stage easily, but some parents are concerned with the more immediate results of building a child's expressive language in any way shape or form. Whether or not you are looking down the road to reading independently or simply hoping for your child to use words to show their excitement or express their basic wants and needs, books are the perfect place to start.
Below are some tips for effectively incorporating reading into your child's activities:
Establish a regular time when you look at books together and make it part of your everyday routine. This will give those kids with short attention spans plenty of opportunities to adjust to staying focused for an extended period of time.

If your child simply wants to flip through the books, that is okay. Try one page to start with and simply talk about what you see. Remember to make it enjoyable and not stressful.

Talk about what is happening on the page, and ask your child to point to things on the page.

Choose books that are repetitive and predictable. Rhyming books are excellent for building phonemic awareness (understanding of sounds in language).

Once your child demonstrates an increased interest you can incorporate more interactive reading strategies:
Echo Reading: cue your child by saying "copy me" or "say what I say" and see if they can copy a word, phrase, or whole sentence of what you're saying. There should be no pressure, and encourage all attempts.
Paired Reading: Choose books that are predictable and contain simple, repetitive phrases (i.e. Brown Bear, Brown Bear). Have the child fill in words or parts of phrases, allowing them to become an active member of the reading team.
Remember, reading will help your child build their receptive and expressive language, phonemic awareness, joint attention, vocabulary, syntax and grammar. Most of all, reading together can turn into a special time of day that both you and your child look forward to.
Suggested books to start with:
Toes, Ears, and Nose and Where is Baby? by Karen Katz
Brown Bear, Brown Bear by Eric Carle
One Duck Stuck by Phyllis Root
But Not the Hippopotamus

and other titles by Sandra Boynton
Silly Sally and other titles by Audrey and Don Wood
Things That are MOST in the World by Judi Barrett
ALL books by Dr. Seuss
Waiting in the Waiting Room

by Kesley Johnston


As parents and guardians, we wait in so many waiting rooms. On Monday, I sat in the waiting room because Charlie had five vials of blood drawn. On Tuesday, I sat in our pediatrician's waiting room only to find out that a second round of antibiotics is needed to cure an ear infection. On Wednesday, we waited in the GI's office. Yesterday, Charlie started trembling and shaking. I called the doctor. Next thing we know, we are waiting in the emergency room. We found out that one of the antibiotics prescribed has an ingredient in it to which Charlie is extremely sensitive and his little body just could not tolerate it. Today, I wait at home while Charlie recovers from all of those waiting rooms and while his new medication is being specially compounded.
I am sure that my week feels familiar to all of you. During weeks like this, I feel somewhat anxious and depressed as my life revolves around so many waiting rooms. This is not how I pictured being a mom would be. This is not how I pictured my life would be. I wonder and worry if we will ever feel "normal." As I furrowed my brow, and felt an ache in my heart, I realized that I was approaching this all wrong. Instead of trying to feel society's "normal," I realize that I have to make my own normal.
Instead of stressing over multiple doctor visits, I gave thanks that I live in a place with so many resources. Instead of feeling trapped at home all day today, I gave thanks that I have a home where my son feels safe and more relaxed. As I turn my worries into thanksgivings and blessings, I can make my own normal.
I also realized that taking care of myself and my dreams is as important as taking care of my children. I have put aside time every day to knit and exercise, two activities that alleviate my stress and anxiety. I also take deep breaths throughout the day and remind myself that I am strong and can handle whatever comes my way.
All in all, I encourage all of you to give yourselves the acknowledgement and praise you deserve for all of the waiting you do. I encourage you to forget about the dirt on the floor and the dirty laundry and take some time to take care of yourself. Find your own knitting and exercise. Find your own normal. Everything else can wait, just like we do so much of the time.
Spotlight on Advocacy

by Lisa Lockwood


On February 26, 2013, California Insurance Commissioner Dave Jones, declared autism a "public health crisis" and proposed emergency regulations preventing state-regulated health plans from imposing arbitrary financial or visit caps for Applied Behavior Analysis (ABA). Applied Behavioral Analysis (ABA) is a system of autism treatments that are based on behaviorist theories, commonly defined as behaviors that can be taught through a system of rewards and consequences. It has been shown that ABA, as well as autism-related speech and occupational therapy, has shown significant improvements in children with autism.
Apparently, there has been some confusion between insurance companies and insurance policyholders regarding California's 2011 Autism Insurance Reform Law. This law would ensure that children receive "medically necessary" treatment, such as ABA, and save taxpayers millions of dollars.
"The escalating prevalence of autism among California children has resulted in a public health crisis," said Jones. "Insurer denials and delays of mandated treatment are exacerbating this crisis, causing substantial harm to the public health and welfare and making enormous and unsustainable demands on scarce governmental finances and services, such as special education and adult rehabilitative treatment."
The purpose of this regulatory proposal is to shift the burden of cost from the school districts and Regional Centers to the insurance companies. Currently, California health insurers are paying for only 9-13% of autism treatment. It has been shown that providing behavioral, speech, and occupational therapy to children with autism allows them to succeed in school, participate productively in family and community activities, obtain gainful employment, and avoid institutionalization as adults, thereby lessening demands on public resources and services over their lifetimes. It would stand to reason, then, that providing these services would make fiscal sense and lesson the financial burden of the taxpayer.
Below are some examples that the Department of Insurance (DOI) listed as actions of enforcement and non-compliance involving the insurance of autism-related coverage:
since January 2011, the DOI has received 71 complaints, reflecting cumulative delays of 12,864 days, or 35.2 years, in obtaining medically necessary treatment

a market conduct examination of one insurer identified 1,539 instances of improper claim payment practices involving behavioral and speech therapy for autism

approximately 1,600 individuals transitioning from Regional Centers to insurers for behavioral health treatment for autism have encountered delays and denials

the State Council of Development Disabilities reported that children transitioning from Regional Center services to private ABA treatment providers have to wait up to three months to begin receiving services
SB 126, sponsored by Senate President pro tem Darrell Steinberg, would extend the coverage provided by Senate Bill 946 (2011 law). The law enacted Autism Insurance Reform in the State of California and is due to sunset in mid-2014. SB 126 will extend the rules another five years to 2019.
The state will finalize the regulations following a period of public comment.
For further information visit http://www.autismspeaks.org/advocacy
undefined. 2013. Advocacy News. In Autism Speaks. Retrieved March 30, 2013, from http://www.autismspeaks.org/advocacy/advocacy-news/california-declares-autism-public-health-crisis.
Children's Champions:

Stories of Hope and Courage
by Julie C.


I'd read many times to not compare my child to her peers. For a long time, we played, learned, and developed in our own little world of family life. But I'm human and something was eating at me. I saw Facebook friends updating their statuses with funny anecdotes of what their two year olds were saying. Not only were these kids talking in sentences, but also there were abstract thoughts behind those statements. One friend laughingly told her so
n that he was a goof, and he responded, "I'm not a goof, I'm a Collins." I read their statuses in awe and I thought about just how far Maya was from composing a sentence, let alone a stand-alone thought such as that. But the range of "normal" development was broad? Wasn't it?
I was still worried, and then I learned that others shared my concern. Off Maya and I went to her pediatrician. I wasn't surprised when he urged us to contact the regional center, and less than two weeks later, Maya and I showed up for an evaluation with a child psychologist and speech and language pathologist. Then the ball game changed. Autism? Did I hear them right? What happened to the anticipated speech delay? The A-word haunted us for the next couple of weeks as we waited to find out exactly what services Maya would be getting. We had moved to Claremont from Hawaii four months prior and what a blessing. We could not have landed ourselves in a better place for our kids and for what we now knew we needed to help our daughter, and now also our son, to thrive.
Through the San Gabriel Pomona Regional Center, Maya was scheduled for 10 hours of therapy per week, and countless hours of self-imposed education for myself. It was one of the steepest learning curves of my life. We were presented with what I consider to be the best early intervention therapeutic service for children with autism; the START program at Casa Colina Children's Services Center. Our new world was filled with a dictionary of new terms and a team of unbelievably caring therapists, led by the unparalleled Mara Arredondo.
And now I am back at Children's Services with my son Jaxson; also diagnosed with Autism Spectrum Disorder. This time I saw the signs. I saw him toe walking. I saw him lining up his cars. I saw him not responding to his name or even to voices close to him. I saw him being quiet and not speaking. Thankfully we saw these signs much earlier than we had with Maya and he started receiving in-home services well before his second birthday. Since this was my second go-around with autism, I knew immediately that I wanted Jaxson to be in the START program, just as his sister had been. I knew the remarkable progress that she had made and my husband and I were supremely confident that Jaxson would also blossom under the expert tutelage of Mara Arredondo, Melissa Gran and Sarah Yun.
But it was a fight to get Jaxson into the program. My requests were initially denied with an explanation that therapies are to be offered in the child's "natural environment." Fair enough. That makes sense in theory. But in the bigger scheme of things, it is the clinic-based atmosphere that I believe serves as the catalyst for autism therapies. Children on the autism spectrum have great difficulty with socialization and social skills. Maya did, and still does to a degree. Jaxson does. Maya learned socialization and social skills in START. Jaxson is learning right now. By participating in therapies in a classroom-like setting, my children learn to become comfortable in places outside the cocoon of the home. When a child with special needs turns three, early intervention services through the regional center terminate and the school district takes over. How can we expect a child who has difficulties in social settings and with social skills in general, to adjust to a five day per week preschool program without ever having had therapy/learning outside the home? To me, it's like throwing a child in the deep end of a pool and expecting them to swim without ever having been in the water.
Maya and Jaxson have come leaps and bounds from where they started because of START. I am a better parent of children with special needs because the clinical team in START works as closely with me as they do with my children. Thank you! Thank you to the entire team at Casa Colina Children's Services Center for helping to give us an amazing head start and memories we'll never forget!
Resources & Links

by Sandra Zaragoza-Kaneki, M.D.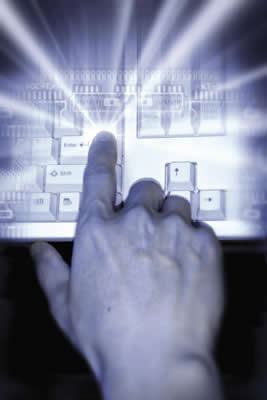 Autism Speaks
Casa Colina Children's Services:
Summer Day Program
Writing Workshop
Outdoor Adventures
255 E Bonita Ave
Pomona, CA 91769
909/596-7733 x4200
800/926-5462
Early Start Family Resource Network
A free service for families of infants and toddlers
(0-36 mos) with special needs
PO Box 6127
1425 S Waterman Ave
San Bernardino, CA 92412
909/890-4788
Open Doors Now
Resource and support group for families of individuals
with Asperger's and autism.
The Parents' Place and Family Resource
1500 S Hyacinth Ave, Ste. B
West Covina, CA 91791
626/919-1091
San Gabriel/Pomona Regional Center
761 Corporate Dr
Pomona, CA 91768
909/620-7722
www.casacolina.org
255 E Bonita Ave
Pomona, CA 91769

Toll-free 866/724-4127
Fax 909/593-0153
TDD-TTY-Q 909/596-3646