Support

Children's Services


Each year, Children's Services subsidizes treatment visits with resources obtained entirely through fundraising efforts. Consider making a
tax-deductible gift
to ensure that these important services continue to be available to families in need
.
To make a gift,
Upcoming Events


Friends of Casa's Kids Committee Meeting

February 26, 2013
5:30PM - 7:00PM
Casa Colina
Tamkin Education Ctr
Bldg. 1D (1st Floor)
Open meeting for parents and members of the community who would like to contribute to the success of Children's Services. This advisory committee helps to coordinate fundraising events, contributes to the monthly newsletter and keeps Children's Services connected to the community.
We welcome new faces and fresh ideas.
Please RSVP to:
csendor@casacolina.org
__________________

Dr. Margaret Bauman Awards for Excellence
honoring achievement in the Autism Community

April 5, 2013
6:30PM - 8:00PM
Children's Services

Dr. Margaret Bauman made a pioneering discovery in autism research that continues to encourage individuals on the autism spectrum, their families, caregivers, researchers, educators, therapists and other professionals. Casa Colina Children's Services will host the inagural Awards in Excellence which will honor individuals who have gone above and beyond the call of duty in the field of autism.

The awards will be presented during a wine and cheese reception on the evening of April 5. This will be a free, adults only event.

Most importantly, we are looking for nominations from the community! If you know someone who is deserving of recognition for their work with autism, please complete an Awards in Excellence Nomination Form.

Deadline for nominations is
March 22, 2013.


_____________





11th Annual Trends in Autism Conference

April 6, 2013
8:30AM - 5:30PM
Western University
of Health Sciences


Please join us for our 11th Annual Trends in Autism Conference, structured for parents, physicians, educators and therapists. The one-day educational seminar will feature some of the leading authorities in the field of autism, including Dr. Margaret Bauman.


Topics will include brain and medical issues, new research perspectives and early intervention. CEU credits are available. Contact your Regional Center for information about subsidized rates.

Download a brochure and registration

Online Registration

Exhibitor/Sponsor Registration





_____________




Save
The
Date



Comedy Night
for
Casa's Kids



June 23, 2013




An Evening
in
Casablanca



September 27, 2013




_____________
A Message from the Director

Casa Colina is celebrating 75 years of service this year and Children's Services is celebrating as well, striving to make 2013 a great year for everyone!



We are thrilled to be presenting our inaugural

Dr. Margaret Bauman Awards for Excellence

on Friday, April 5, 2013. These awards will recognize individuals who serve our patients or others in the community with excellent care. We will present the awards at a wine and cheese reception at Children's Services, the evening prior to our

11th Annual Trends in Autism Conference

. Further information on both the awards and the autism conference can be found in the

Upcoming Events

section below. Please take a moment to look this over.

Since Casa Colina continues to put patients first, Children's Services receives a subsidy from Casa Colina Foundation to help provide services to families in need. These costs are offset through fundraising events, and it is never too early to secure sponsorship and volunteer help! If you are interested in sponsoring or lending your talents to our Comedy Night for Casa's Kids on June 23, 2013 and/or An Evening in Casablanca on September 27, 2013 please feel free to contact me as soon as possible.



Finally, our "Friends of Casa's Kids" committee continues to grow. The next meeting will be on Tuesday, February 26, 2013 at 5:30pm in the Tamkin Education Center (see Upcoming Events) and we always love to see new faces with new ideas to share.

Please join us in celebrating 75 years of service!

Cindy Sendor, MA, CCC-SLP


Director, Casa Colina Children's Services and Speech Pathology
Therapy Corner

by Freda Godinez, MPT and Debbie Cheben, MSPT


For our bodies to move efficiently, our musculoskeletal system must have adequate (functional) strength and flexibility to perform daily activities. Factors that can cause impairments in the body are trauma, disease, inflammation, neurological disorders, genetic disorders, pain, and scars.
Many children have poor strength that can be due to any number of factors. Muscle strength can be increased through weight bearing activities and resistance activities. Examples of weight bearing activities are: crawling, walking, kneeling, wheelbarrow walking, and sitting with arms propped. Examples of resistance activities include lifting the body against gravity, and increasing resistance by using weights, elastic bands, increasing resistance on exercise machines, and pool therapy with movement against resistance of water. With muscle imbalance, weak muscles must be strengthened and tight muscles must be stretched. Before gaining optimal strength, children need adequate movement at the joints to allow muscles to contract within the maximum ROM.
Range of Motion (ROM) restrictions or laxity can lead to poor gross motor function in children. Children can have hypermobility (laxity) or hypomobility (decreased movement) in there joints. Those with hypermobility are more susceptible to ligament sprains, chronic back pain, flat feet, joint swelling, and tendinitis caused by lack of control of joint (Magee,1997). Joints are often unstable if strength and endurance is not appropriate to support the joints. People with hypomobility tend to be more susceptible to muscle strains, nerve pinch syndromes, and overstress tendinitis (Magee, 1997). Joints are restricted when structures surrounding the joint, i.e. muscles, tendons, ligaments, and joint capsule, are tight. If joints are hypomobile, tight structures surrounding the joint must be mobilized and stretched to restore normal range of motion. If joints are hypermobile, stretching should be avoided and instead structures around the joint need to be strengthened.
A child's skeletal frame supports the muscles of the body. Weight bearing and resistance exercises can also increase strength and density of your bones. With muscle imbalance, skeletal structures can become misaligned and vice versa, misaligned skeletal structures can cause muscle imbalance. Joint mobilizations can help gain proper alignment and posture.
In some cases, when strengthening and flexibility activities alone are not enough, a child may need the help of adaptive equipment and assistive devices, on a temporary or permanent basis, to perform transfers, walk, bathe, dress, eat, and carry out other activities of daily living. For walking, an example of adaptive equipment is an orthotic, and an assistive device is a walker. An orthotic can aid in preventing foot drop if there is not adequate strength or flexibility to pick up the foot when walking. A walker helps support the person to stand and maintain balance if the person does not have the adequate strength to stand and walk independently.
Pediatric physical, occupational, and speech therapists specialize in helping your child to maximize his or her function in their daily lives. They can also monitor your child for any special equipment or orthotic needs. Therapists can provide and apply ideas and techniques to help improve strength, flexibility, and posture. Parents are an important component and contributor in assisting their child to reach their greatest potential.
Magee, D. J. (1997). Orthopedic physical assessment. (3rd ed., p. 773). Philadelphia, Pennsylvania: W.B. Saunders Company.
Waiting in the Waiting Room

by Kesley Johnston


"Mommy, Mommy, wake up! I made you a Valentine." My eyes opened, and a smile lit up my face. My little guy was actually emoting...something that is very difficult for him. My heart filled with love, and all of the stress and sacrifice is worth this single moment.
As I sit in the waiting room waiting for the completion of our third assessment of the week, I realize how special Charlie's Valentine card is to me. I have had years with no Valentine's wishes. I know that many of you who share this waiting room with me do not receive the Valentine cards you dream about as a parent. Our kids cannot always tell us the reasons they love us, but I know in my heart of hearts that this is what they would say. This is a Valentine for all of you who sacrifice your own lives to ensure the best life possible for your children. You deserve the biggest Valentine of all. So here you go...
Happy Valentine's Day! I love you because...
You sacrifice on a daily basis to give me the highest quality of life possible.
You are patient with me...even when you are worn out.
You fight for me and attend IEP meetings so that I can have a good education.
You drive me to school and therapies. You track my progress and make sure that I am getting everything I need... and then some.
You sit in the waiting room and when I am finished with tasks and activities that are hard for me, you tell me how great I am and how proud I make you.
You give up so much of your life to make sure that I have mine.
You tuck me in at night and make me feel safe.
You help me tackle the world.
You see my gifts. You see my full potential. You never give up on me.
You love me, unconditionally, with all of your heart.
Remember how much your children love you, whether or not they can express it. See the love and effort that you put in to give your child so much. I hope your Valentine's Day was as special as mine was.
Spotlight on Advocacy

by Lisa Lockwood


Orthopedic impairments are the most common of physical disabilities. According to the Individuals with Disabilities Education Improvement Act of 2004 (IDEA), an orthopedic impairment is defined as that which "adversely affects a child's educational performance. This includes impairments due to the effects of congenital anomaly (e.g., clubfoot, absence of some member, etc.), impairments due to the effects of disease (e.g., poliomyelitis, bone tuberculosis, etc.), and impairments from other causes (e.g., cerebral palsy, amputations, and fractures or burns that cause contractures)" (Pierangelo & Giuliani, 2007, p. 268).
Assessing Orthopedic Impairments


It is important to evaluate and identify children with orthopedic impairments before a child enters school, but sometimes they are missed or do not appear until a later age. A teacher may notice signs of poor coordination, frequent accidents, or complaints of acute or chronic pain.
An assessment must include:
a thorough medical evaluation of the child's orthopedic impairment by a licensed physician;
documentation of observations and assessments of how the orthopedic impairment affects the child's ability to learn in the educational environment;
observations concerning mobility and activities of daily living; and
documentation of a student's social and physical adaptive behaviors through various checklists, inventories, rating scales, and interviews with those who know the child best.
The goal is to assess the severity of functional limitations that adversely impact the child's education performance. A team approach is taken for assessment and must involve a parent and at least one of the child's general education classroom teachers. Their role is to specify motor dysfunction in gross and fine motor development, neuromuscular development, daily living activities, sensory integration, and the need for adaptive equipment. The assessment also considers the permanent nature of the child's impairment. Usually the condition will not be considered an orthopedic impairment unless it will last more than 60 days.
When the evaluation is being made there should always be more than one test to assess the need for services and consider the entire education from all angles of physical access to buildings, computers, libraries, or equipment that facilitates learning and should be taken into consideration when developing strategies to help the student adapt and learn independence. The final evaluation should describe how the orthopedic impairment adversely affects a student's areas of development.
Education Practice & Instructional Issues


Besides the Individuals with Disabilities Education Improvement Act (IDEA), students with orthopedic impairments also may be eligible for accommodations for general classroom inclusion under Section 504 of the Vocational Rehabilitation Act, passed in 1973. In addition, the Americans with Disabilities Act (ADA), which was passed in 1990, includes provisions concerning discrimination against individuals with disabilities and requirements that school facilities are accessible to all.
Placement is a key consideration for students with orthopedic impairments. The goal is inclusion in general education classes, but some students may need services from resource rooms, special classes, schools, or residential facilities, as well as hospital or homebound programs. Setting up the appropriate placement, services, and environment begins with asking the student what he or she needs and evolves through the assessment and individualized education plan (IEP) process.
The assessment team must make sure they are in alliance with the state laws set forth in IDEA as well as all applicable laws and regulations in planning for the education of a child with a physical disability. The No Child Left Behind (NCLB) Act, (2002) revised the Elementary and Secondary Education Act, which is the primary federal law in pre-collegiate education. NCLB requires annual testing of all students in reading and math proficiency and initially allowed up to 1% of special education students to take alternate tests. In 2005 the number was raised to 3%. Several options are available for alternative testing, including having different achievement criteria or taking the regular assessment with approved accommodations or modifications.
For further information regarding this issue, visit: http://www.education.com/reference/article/orthopedic-impairments/
Orthopedic Impairments. (2006-2013). In Education.com. Retrieved February 2, 2013, from http://www.education.com/reference/article/orthopedic-impairments/
An Ortho Surgeon's Perspective

by Donald Huber, M.D.


"It is the start of not only a new year, but the future of a growing, helpful and hard-working group of adults." I enjoyed Cindy Sendor's opening message from last month's Newsletter. She is very pleased with the excellent help and leadership arising from her staff and volunteers.
How nice it is to aid these children and open the doors to them for a loving life. This reminded me of a nice young man who recently fixed my pick-up truck and was a delight to visit with. He still remembered our relationship from almost 30 years ago when he, his Mom and family allowed me to treat them. I functioned as an orthopedic surgeon and his brothers and sisters needed assistance. Mom was tearful in the emergency room when we first met. One child after another was injured - usually with broken bones, and very often. The children inherited genes from which they suffered a disease, Osteogenesis Imperfecta. This is a skeletal bone weakness with lack of calcium leading to easy fractures. Arms, legs, spines, heads, all suffered from breaks. The poor mom would have to leave Pomona and go to LA County Hospital for medical coverage. Just as Children's Services is doing for children with autism and those with many other disabilities, we cared for the family here in our hospital. It saved Mom time and stress besides being very kind to the injured bones.
The children are now young adults, functional and doing very well in their lives. What a wonderful personal feeling their son gave me with his "thank you" and kindness and appreciation. I hope all of you feel the same as I, over the next decades, watching the children you treated enjoy life because of your work.
Children's Services has a wonderful program and a hospital to help you be successful and rewarded for your dedication.
Happy New Year and happy future thanks for what you are accomplishing.
Resources & Links

by Sandra Zaragoza-Kaneki, M.D.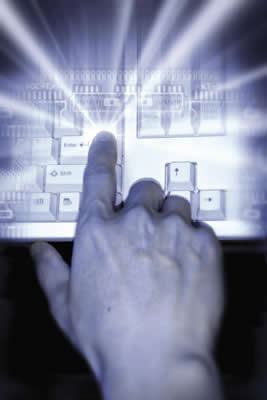 Roadrunner Sports:
Athletes Helping Athletes
Provides handcycles for children with disabilities. (800)743-3206
Pediatric Orthopedic Clinic
1770 N. Orange Grove #210
Pomona, CA 91767
(909)865-9839
MediCal patients accepted.
www.casacolina.org
255 E Bonita Ave
Pomona, CA 91769

Toll-free 866/724-4127
Fax 909/593-0153
TDD-TTY-Q 909/596-3646