Viva Florida 500 Newsletter
Florida Department of State

The Future of Viva Florida 500 -
W
hat's After 2013?
It's hard to beli
eve that we are already well into
2013.
Viva Florida 500 - a
grassroots
initiative that launched on January 1, 2013 - has grown and evolved into an internationally recognized brand with more than 2,000 partners and hundreds of statewide events. The 500th anniversary of Juan Ponce de Le

ó

n's
landing has
provided a platform for Florida to come together as a
state to promote
12,000 years of diverse history and cultural heritage.
Our partner's involvement at the state and local level has been the key to the success of Viva Florida 500 and is critical for the future. For this purpose, we have developed a survey to gather valuable information on how we can best serve our partners going forward. The survey has been created to gauge interest and ideas in the continuation of the initiative as we look beyond 2013 to other important anniversaries - including the 50th anniversary of the Civil Rights Act in 2014 and the 450th commemoration of the founding of St. Augustine in 2015 - and continue to build awareness of and participation in history and culture in Florida.
Please take a few moments to fill out this brief survey, found here. Your feedback and input is invaluable to evolve the brand and build on the existing partnerships. We truly appreciate your time.
Viva Florida 500 Commemorative Products - Now Available!
What do Guy Harvey, the famous French perfumer, Christian Louis, and a small spring in Marion County have in common? The answer is they all have licensed products available as Viva Florida 500 merchandise! Over the past eight months, as events and activities have taken place all over the state - and even the world - a few partners have committed to producing commemorative items that capture the importance of this year for Florida. Guy Harvey, well known for his conservation initiatives and apparel in Florida and around the world, has contributed a painting of a Spanish caravel printed on the back of the Guy Harvey Viva Florida 500 commemorative T-shirt. Florida's History Shop has exclusive rights to sell this unique version featuring the Viva Florida 500 logo printed on the sleeve.
To read the rest of this article, click here.
Viva Florida 500 Commemorative Time Capsules at a Library Near You!
Libraries across the state are making sure that future residents know about Florida's rich history and unmatched cultural diversity with the Viva Florida 500 Commemorative Time Capsule.
Some libraries are still seeking individuals to participate in this exciting program, funded by the Florida Department of State, Division of Library & Information Services. Contact your local county library and find out how you can get involved.
Has your library already sealed their time capsule? Submit pictures or videos from your events to our
Facebook page
or
email us
. Libraries, don't forget to fill out your
information form
AFTER the capsule has been sealed, so we can learn about your county's time capsule.
El Gale

ó

n: A Successful Journey 500 Years in the Making
Photo by Alejandro Mallado Erbez, Fundación Nao Victoria
During the months of April through July, El Galeón: The Viva Florida 500 Voyage traveled the east coast of Florida. With a crew from Spain, this replica sixteenth century vessel traveled from Palma de Mallorca in Spain to Puerto Rico and then along the east coast of Florida on a route very similar to that travelled 500 years ago by Old World explorers like Juan Ponce de León.
El Galeón docked at Miami, Cape Canaveral, Fort Lauderdale and St. Augustine. At each stop, the ship welcomed visitors who learned about the vessel and viewed an exhibit about Florida history developed by the Florida Department of State. To see images of the ship and their stay in Florida, visit the Nao Victoria Facebook Page.
To read the rest of this article, click here.
Required Changes to ALL Department of State Grant Program Agreements
As many of you are aware, the Florida Department of State, and in fact every state government agency that offers grant programs, is changing all grant agreements based on changes to Chapters 287.058 and 215.971
Florida Statutes
specifically relating to adding a detailed scope of work, specific deliverables and payment schedules, and specific financial consequences if the grant recipient fails to perform in accordance with the agreement.
We are working diligently to implement the required changes to our grant agreements and are working closely with the State CFO's Department of Financial Services to ensure our revised grant agreements are compliant with the law.
We thank you for your patience and understanding during this process. All of our grant agreements are expected to be finalized and sent to recipients shortly.
Viva Florida 500 in Pictures
These traditional Seminole clothes come from the collection of the Museum of Florida History in Tallahassee

Some stories are better told in pictures!
Take a look at some of the great Viva Florida 500 pictures from around the state in
"Viva in Pictures!"
Florida Historic Preservation Plan Meetings Scheduled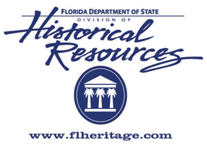 A series of statewide public meetings will be held to discuss the implementation of the recently released Florida Comprehensive Historic Preservation Plan, Preserving Florida's Heritage: More Than Orange Marmalade, 2012-2016. These meetings will enable Florida's preservation community and interested citizens to come together for discussion and consideration of the activities they have undertaken, or are planning to undertake, in order to fulfill the stated goals and objectives.
The plan was developed with the input of hundreds of citizens who participated in public meetings and an online survey. The goals and objectives of the Historic Preservation Plan provide clear guidelines for Florida's preservation organizations in their efforts to protect Florida's dwindling historic and archaeological resources. The plan identifies and discusses the major economic, educational, environmental, political, and social issues and trends impacting the state's historical resources, both now and in the future.
Staff from the Division of Historical Resources have led two regional meetings to date, which can be viewed on the Florida Channel by clicking these links for the Orlando meeting and Sarasota meeting. Two regional meetings remain and are scheduled for:
* Tallahassee (September 18, at Mission San Luis, 3-5 p.m.)
* Panama City (September 25, at the A.D. Harris Learning Village, 3-5 p.m.)
The plan is available online at the Division of Historical Resources' website at flheritage.com/preservation. The full-color plan and summary is available on request from the Division of Historical Resources at 800.847.7278 or flheritage@dos.myflorida.com.
National Geographic Geotourism Opportunity
As a result of grants distributed to help rebuild communities most affected by the Deepwater Horizon disaster, VISIT FLORIDA has been working with National Geographic Maps to help draw attention to Florida's world-class natural and cultural attractions, and is actively seeking Florida sites and destinations to incorporate into a new microsite directly linked with other National Geographic sites. If you would like to nominate your authentic Florida destination, or get involved on a regional geotourism council, read more on VISIT FLORIDA's Sunshine Matters blog, or nominate sites through the National Geographic site USgulfcoaststatesgeotourism.com.
Tampa Bay History Center Opens Largest Ever Exhibition of Florida Cartography
A decade after Columbus sailed across the Atlantic,
explorers were sti
l
l
speculating
about the contours of the New World. Althou
gh t
oday's historians remain uncertain about when exactly Europeans first set f
oot in La Florida,
cartographers began to sketch the outlines of the penins
ula by the early 1500s. By 1511, a historian named Peter Martyr labeled the unknown land north of
Cuba "Isla de Beimeni," the native Indian name for what is now Florida.
Upcoming Fort Myers Exhibition ARTCALUSA: Reflections on Representations
ArtCalusa
: Reflections on Representation
is a group exhibition and Viva Florida 500 signature event featuring Florida's leading historical artists
who visually interpret the life and experiences of Florida's indigenous people
s and their contact with early European explorers. This exhibition will be displayed in the newly restored Capital Gallery of the Sidney and Berne Davis Art Center in historic downtown Fort Myers from November 1 to November 29, 2013.
YOUR FLORIDA RECIPE:
Florida Gulf Shrimp and Okra Gumbo
Recipe by Chef Justin Timineri, Florida's Culinary Ambassador
Click HERE for the Florida Gulf Shrimp and Okra Gumbo recipe!
Florida Department of State Secretary of State Ken Detzner