Chiropractic Services In Our Boston Location
Khalsa Chiropractic Joins Blue Hills Boston Location...
This month our Boston Office is adding a new service. Khalsa Chiropactic has a great reputation and the newest addition to thier team, is now the newest addition to our team: Dr Ryan Shum. Dr. Shum has past been a consultant to the NHL's Florida Panthers, NFL athletes, NCAA athletes, AVP Pro Beach Volleyball, Team USA Swimming and endurance athletes. He is also a past chairman for North Carolina Chiropractic Association's (NCCA) Research Council. Currently he serves as chairman of NCCA's Sports Council and is editor/contributor to Elevate Lifestyle magazine. Outside of practice, Dr. Shum enjoys following and playing a variety of sports including lacrosse, basketball, hockey, beach volleyball amongst others. To make an appointment you can contact our Boston Office. You can click the image of Dr Shum above to go to Khalsa Chiropractic's Web Page
Winter Is Here...Time For A Good Workout!
Too Cold Outside To Exercise??
If winter is getting you down because it's just too cold to exercise outside and you don't belong to a gym or own any equipment to use at home, have we got a workout for you. In as little as 10 minutes you can get a quick, intense workout that hits the majority of your muscle groups while helping to improve your cardiovascular fitness. Click on the photo to be taken to our "Winter-val Workout"
Are You Thiking About Running A Spring Marathon?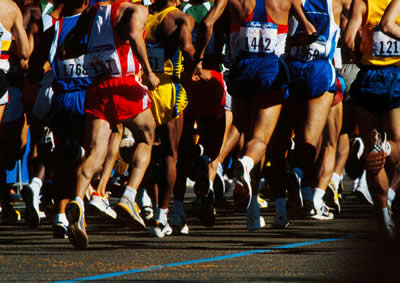 If You Haven't Started Training Yet, Here Is A Good Program To Get You Going...
Marathon running is more popular than ever and with so many great charities to run for, we are seeing people of all fitness levels getting out there and completing the distance. With the glut of spring marathons just around the corner, here is a simple, basic Marathon Training program that should get you to the finish line. Click here for the program and keep us in mind if you have any aches or pains that are keeping you from training.