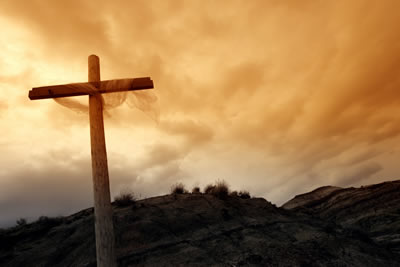 What Makes Our Churches Distinctively Christian?
"How do you know if your church is really Christian?" I asked Pastor Bill. Even before he answered, I thought to myself, "That sounds like a really stupid question." (You may think so, too, but follow where this is going.)
"What?" Bill challenged, hesitated, and said, "A church is Christian because it's filled with Christians."
Not a bad answer, but I asked it as an opener. I really wanted to go deeper.
"Okay, Bill, how do you know these people in your church are Christians? What makes them Christian?"
Bill seemed almost irritated - like this was some kind of word game. But it isn't, you'll see - and so did Bill.
Bill looked away for a moment and then turned back to face me. "They are followers of Jesus Christ," he said. Okay, I thought, but what does that mean, really? How can you tell?
"Mary, are you a Christian?" I asked.
"Yeah," she answered, with slight hesitation. She noticed I was looking at her like I expected more. She continued, "I go to Mass twice... at least once each month, and never miss Christmas and Easter."
"What about you, Sally?" I asked.
"I'm a member of Cornerstone. Our family goes regularly. Our son and daughter are in the kids' program. My husband is on the church board."
"And you, Joe, what about you?" I pressed further. Joe was focused. "I'm a devoted follower of Jesus Christ! I'm in worship and sometimes on the worship team. I read my Bible, pray regularly, and serve. I share my faith with the guys at work. I'm discipling a guy right now; his name is Jim."
There was that word I was thinking about: "disciple." Jesus called His followers disciples. He commanded all His followers to "make disciples." So what is the distinctive mark of a disciple of Jesus, and how is it reflected in your church?
Jesus Used a Four Letter Word
From antiquity, teachers of all types have had disciples. The word "disciple" can mean "one who enrolls in my school" or "one who follows my teaching." There was no shortage of these leaders at the time of Jesus. Even John the Baptist had disciples - until he let them know he was just the preamble to the Real Deal, Jesus. Teachers, philosophers, leaders are everywhere, and they all have disciples.
Perhaps that is why Jesus, near the end of His public ministry, clearly identified what is distinctive about "His" followers, His disciples. After all, if you and I are supposed to "make disciples," it would be helpful to know what they look like. Otherwise, how do we know we are faithfully achieving the commission given to us by Jesus? If our churches are supposed to be community gatherings of those so-called disciples, what is the distinctive mark for each person - and, collectively, the community?
In John 13:35, Jesus told His closest followers how to recognize His disciples - as opposed to those who are disciples of someone else. He said, "This is how everyone will recognize that you are my disciples - when they see the love you have for one another." (Emphasis mine.) There is that four letter word: L O V E. Apparently, this distinction is visible.
What does it look like in your church?
Signs of Love
As a church consultant, I'm quite aware that churches are not filled with perfect people who reflect untarnished love for one another at a 100% level. I also know, personally, I have not reached that level in my own journey. Theologically, I recognize we are in this world, in the flesh (as the Bible says), and on this side of eternity, perfection eludes us. As a church specialist, I also realize the most effective churches reach unbelievers and always have new Christians around who have a long way to grow. And that's a good thing! For example, I have a friend who was just introduced in the worship service as a new staff member - at a church that is growing rapidly, reaching many new people for Christ. My friend is a good-looking, single, young guy. In the week following, my friend had numerous "likes" on Facebook, and seven women "hit on him" via that site, including one who suggested a blatant sexual opportunity! One of my colleagues reported: "Can you believe it? In a church!" I responded, "That is a symbol that this church is really reaching unchurched people and new Christians!" It is also not the style of "love" Jesus was talking about!
So, the church will never be perfect on this love issue. However, there should be a critical mass of more mature disciples who set the tone, shape the culture, and reflect an atmosphere that is definitely definable. It is recognizable. There should be all sorts of signals for anyone who comes into contact with a body of believers, called disciples: "Wow, these people love one another. They love one another in a different way than Republicans, those at Dino's restaurant, Walmart, the workers at Holiday Inn Express, or even those who work at Disney World."
Jesus said, "This is how everyone will recognize...." It shows. It is distinctively different. What does it look like?
What does it look like at your church?
Diagnosing the Issue
Guess what? After visiting a few thousand churches over the last 40 years, I don't think many of our churches measure up. In my perception, if an unchurched person walked into many churches, they would not see, feel, or experience the distinctive "love one another" character that Jesus said people should be able to recognize.
I know that sounds critical and negative, so I will quickly add that I believe there are many true disciples in most churches, and, deep down, they would express more love for one another. But, in many churches, they have inherited two major roadblocks:
A religious system that has so institutionalized and formalized "doing church," it has robbed the gathering-in-community of the distinctive relational dimension of discipleship living; and,

They have not been given permission, have not been taught, have not received modeling, and therefore do not have the freedom of behavior to celebrate a culture of people - disciples of Jesus - who love one another.
Have you been given permission
to live the love-one-another lifestyle?
The best way to get a grip on this is to look at some everyday examples of church life. There are hundreds of dimensions of this love-one-another behavior. What follows are a few to get us re-thinking.
Living the Loving Lifestyle
The Scripture says, "Speak the truth in a spirit of love" (Ephesians 4:15).
In Matthew 18:15, Jesus says if someone offends you, go to that person - one-on-one. That rules out gossip entirely and reduces the embarrassment of the individual among others. That is a powerful expression of love. It is not an issue of whether you like or don't like conflict. No normal person likes conflict! It is an issue of how much love you are willing to show for that person and for Jesus.
Most unbelievers think Christians are "hypocrites." That is not just a smokescreen for refusing an invitation to worship. Non-Christians have that opinion because Christians publically criticize others. They even criticize other Christians. For example, over the years, I've heard terrible, judgmental comments from Christian leaders about high profile Christians: Robert Schuller (The Crystal Cathedral), John Wimber (The Vineyard Movement), David Yonggi Cho (pastor of the largest church in Christian history, Seoul, South Korea), Peter Wagner and Donald McGavin (Church theologians and church growth leaders), and Rick Warren (pastor of Saddleback Church and author of The Purpose Driven Life). I've been privileged to know each of these people personally. The judgments against them by some Christians - in a public forum - are a form of character assassination and have no valid foundation. This is a violation of Jesus' teaching in Matthew 7:7, "Don't judge, unless you want to be judged."
What about vocal criticism of lifestyles that offend some Christians who attack that lifestyle publically? These are often focused on those who cohabitate, those who are imprisoned for some offensive crime, those whose sexual orientation is offensive to some, those who have another religious affiliation, like Muslims and Mormons, and even those who are terrorists. Considering terrorists, you may remember the Scripture says, "Love your enemies" (Matthew 5:43-48).
There is that word "love" again. The challenge is that we expect people to behave properly before they believe, and so we publically "write them off" with criticism. How will they ever come near unless they see our love for them? If they don't come near, how will they hear? If they don't hear, how can they believe? By openly criticizing them, we will never get the chance to lead them to the transforming Christ, who makes disciples who love God - and are distinguished by their love for one another.
When outsiders visit your church, how are they welcomed? Is it a ritualistic, organized, bulletin-distributor with a badge, or will they be welcomed by anyone and everyone, relationally and spontaneously? Or both? Will the welcome they receive go beyond the "good morning" you can get at a local restaurant? Will the people try to get to know the new person regardless of the risk that the person may have been a member for years?
When people visit your church, do they feel the love, the welcome, the friendliness, from the worship leader? Or does the worship just begin with a ritualistic song or announcement?
What about when people greet one another? Most churches have some time for people to interact and greet one another. In the Scripture, the directive is to "greet one another with a holy kiss" (Romans 16:16). That ritual was a first century, middle-eastern custom. How does that translate into our world today? A sincere handshake? A hug?
What does it say to the world when Christians are involved in lawsuits with one another? Today Christianity makes news when denominations are involved with lawsuits, or high-profile Christians are being sued by other Christians. How does that express our love for one another? The Scripture says, "The very fact that you take another believer to court means you have lost the battle already" (1Corinthians 6:7).
How does the church deal with a grievous sin - like a pastor or leader who "falls"? Is the primary expression of "love one another" a driving force, or is it a major effort to remove a person from office? Is the primary concern, first and foremost, on restoration, whatever it takes? Do you think that is na´ve? It is, in fact, what the disciple Peter thought when he asked Jesus, "Do we have to forgive seven times?" To which Jesus replied, "seventy times seven" (Matthew 18:21-22).
As people who "love one another," how hard do we work at developing a culture of low control, balanced by the practice of high accountability? That is what Jesus modeled. It is the spirit of the New Testament church. It is, unfortunately, foreign to most present-day church constitutions, which are supposed to guide the way we make decisions.
Catch the Love
Unleashing the disciple's inner desire to love one another is more caught than taught. This is where leadership is key. When leaders model the love-one-another culture, it is infectious. Why? Because the love inside, the love of Jesus, is always eager to break out. And when it does, it is so attractive to others who live in a world that isn't always so loving. A church of disciples who practice their spiritual inclination to love one another is a magnet for those who do not yet know the love of Jesus.
Resources
Michael Cheshire, "Going to Hell with Ted Haggard," Leadership Journal, Christianity Today. Online only: www.christianitytoday.com/le/2012/december-online-only/
going-to-hell-wth-ted-haggard.html.
Jerry Cook and Stanley C. Baldwin, Love, Acceptance and Forgiveness: Being Christian in a Non-Christian World, Ventura, CA: Regal, 2009.
Bill Hull, The Complete Book of Discipleship: On Being and Making Followers of Christ, Colorado Springs, CO: NavPress, 2006.
Kent R. Hunter, Restructuring the Church: Congregational Government, Corunna, IN: Church Doctor Ministries, 2009.
Thomas Jones and Steve Brown, One Another: Transformational Relationships in the Body of Christ, Spring Hill, TN: DIP Publishing, 2008.
Gerald L. Sittser, Love One Another: Becoming the Church Jesus Longs For, Downer's Grove, IL: IVP Books, 2008.
Vol. 9 No. 4
July/August 2013
Kent Hunter has consulted over 1,500 churches, from 70+ denomin-ations, movements, and fellowships in North America. He has trained church leaders on six continents and written over 30 books on church vitality and effective outreach. His greatest desire is to reflect the characteristics of a disciple of Jesus Christ - the subject of this issue.
10 Ways to Increase the Love
Church leaders model "love one another" in action.

Just do it!

If you are a church leader and really don't love people, ask God for healing or the wisdom to serve Him in some other way.

Focus believers on the Scriptures that reflect the loving, contagious culture of the New Testament Christians.

Focus on how Jesus interacted with others (with a few noted exceptions: Satan, the moneychangers in the Temple, and the institutionalized religious leaders).

Cultivate a small army of underground, incognito welcomers. No badge, not their duty, but their passion. Turn them loose in the parking lot, hallways, and classrooms.

Watch the loving contagion slowly infect the dominant culture.

The leader begins each worship experience with dialog and interaction, engaging those present on a relational level, even as a group.

When it is time to greet one another, give the freedom to embrace one another.

The holy kiss may not work in most churches, but work on the holy hug or the holy handshake.

Allow the greeting time to go on for a significant length of time.

This is not a "waste of time," and could be understood as a form of worship (John 13:35) as you express the "worth" of God in your lives, as disciples who love one another.

Deal with those who have fallen, guided by these New Testament principles: (1) Maximum grace; (2) "Take the log out of your own eye..." (Matthew 7:5); (3) Operate from a total focus on restoration; and, (4) Demonstrate love.

Don't criticize those who have had an abortion - speak about the sanctity of life. Don't malign Muslims, atheists, or those who don't attend church. Focus on opportunities for outreach. Don't publicly write off those who cohabitate. Hate the sin. Love the sinner. Help those with offensive lifestyles to feel like they (1)

belong

(you love them). Then, let God use you to nurture them to (2)

believe

. Next, disciple them to (3)

become

− and don't be surprised when they (4)

behave

.

The formula simply does not work in any other order.

Scrap your church governance model. It is most likely influenced by secular notions. Develop a system of decision-making that is biblically influenced.

If necessary, get help to do this.
See Church Doctor Ministries' coaching consultation entitled "Church Government that Works in the 21st Century."
The Risk Is Worth It
(A True Story)
Showing relational concern - loving one another - is worth it. Many people do not greet a perceived "newcomer" at church because they might be embarrassed to discover the person has been a member of the church for years. The risk of personal embarrassment, however, is not a valid reason for avoiding relational interaction, which demonstrates our love for one another.
Here's what happened to me. At one time, years ago, I pastored a small rural church in the area where my wife grew up. My wife's father was one of ten children, so she had many aunts and uncles. I would normally only see them all once a year at a family reunion. Occasionally, however, those who lived in another part of the state would visit the area to connect with relatives. While in our area, they would occasionally show up for worship at our church.
During the week, my wife mentioned to me that the husband of one of her aunts was in the hospital with a heart attack. That following Sunday, while preaching, I spotted a woman who I thought was the aunt married to the hospitalized husband. At the end of the service, I was greeting worshipers as they exited the sanctuary. I was in the lobby, surrounded by many of the members of my church who were greeting one another. When I saw this aunt, with my dedication to relational, love-one-another ministry, I asked her, "How is your husband?" She replied, "He died!" I said, "Oh no, I'm so sorry. I hadn't heard. When did he die?" She replied, "In World War II." Wrong aunt! The members of our church standing around must have thought, "What an idiot we have for a pastor!"
As embarrassed as I was, I will never stop risking whatever it takes to "love one another" - and show it. If we are afraid of embarrassment ... we need to get over it!
God doesn't need to be enlightened about how to grow His church.
But we do!
Kent Hunter,
Launching Growth in the Local Congregation: A Workbook for Focusing Church Growth Eyes
Healthy Churches Thrive!«
"This isn't a program with a beginning and an end ... This is a movement, a dynamic call to rediscover the power of being a follower of Christ."
Visit Healthy Churches Thrive!
Special Focus Consultation
Is your church merely coping with a particular problem? Are you faced with an opportunity you're not sure how to meet? Objective, experienced, personal attention may be just what you need. Call the Church Doctor!
"Our church is fairly large. We had the Church Doctor for three days. We gained hundreds of insights. Our staff got excited. Our board is enthused. He gave us some ideas that will greatly increase the effectiveness of our church. One idea saved us thousands of dollars."
Senior Pastor,
Omaha, Nebraska