Everyone Deserves a Bed
A Cot in a Corner Provides Respite and Rest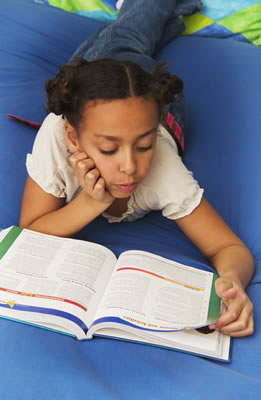 Louisa never dreamed

she would begin her school day with a nap

.
But, after spending restless nights in the back seat of her mother's car, to have access to a quiet place to sleep at school is crucial. When overcome by lack of sleep during her lessons, Louisa is able to curl up on one of the five cots set up in a corner of her public elementary school's library.
Louisa's situation is not unusual in hard-hit areas of Massachusetts. Lost jobs and foreclosures uproot families, force children to transfer from one school to another and compound learning and developmental issues.
As educators and advocates for impoverished people, Sisters of Notre Dame de Namur are deeply concerned about the welfare of homeless children.
[Please note: The above photo is representational only.]
Homeless Teens on Their Own
In December 2011, the Massachusetts Department of Elementary and Secondary Education estimated that 5,920

teens in Massachusetts were

living on their own.

These teens often hold down full- and part-time minimum wage jobs (sometimes both at once) and "couch-hop" from one friend's home to another while attempting to finish high school.


On staff at the Massachusetts Coalition for the Homeless since 1995, Sis

ter of Notre Dame de Namur Linda Bessom is all too aware of how vulnerable these teens are to despair and academic failure.

She also knows that

they

make up a fraction of

the 50,000+ Massachusetts public school students with no fixed address.
Where would you go if you had nowhere to go?
Sister Susan Olson, Co-founder and Executive Director, Pajaro Valley Shelter Services

In the central coastal area of California, you would head to Watsonville, to Pajaro Valley Shelter Services. Established by the Sisters of Notre Dame de Namur 30 years ago, the shelter is now supported by a variety of faith organizations and religious institutions as well as by private donors. Sister of Notre Dame de Namur Susan Olson serves as its executive director.
"The plight of the homeless didn't hit me until I was working with people on the streets in Washington, D.C., 30 years ago," says Sister Susan. "I met a woman my mother's age living beneath a church. Homelessness became very real to me then. In my mind's eye, that homeless woman was my mother."
Building New Lives
Caught at a Crossroads:


Single Latina mothers and their children make up the largest population of the Pajaro Valley Shelter Services in Watsonville, Calif.

Sister
Susan
helps homeless
women set goals and cultivate their gifts and talents. Learning how to pursue possibilities and opportunities to create stability for themselves and their families is a chief objective.
One former shelter resident now works at Pajaro Valley as a case manager. Others who formerly received assistance from the shelter have established their own businesses and become consistent donors to the shelter.