Richard Trumka on Ferguson
AFL-CIO President Richard Trumka on Ferguson, Missouri, FULL Speech
September 15, 2014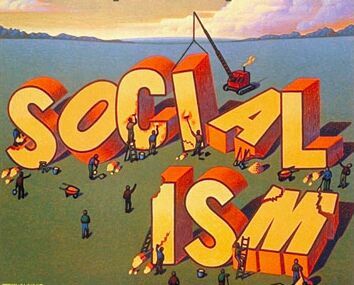 Save the Date:
4th Monday

of each month!
The CCDS Socialist Education Project invites all members and friends to join the monthly political discussions held the 4th Monday of the month. Mark your calendar for upcoming dates:
February 23, 2015

U.S. Foreign Policy


March 23, 2015

Join one of CCDS's Standing Committees
NEW CCDS Pamphlet

on Climate Change
\.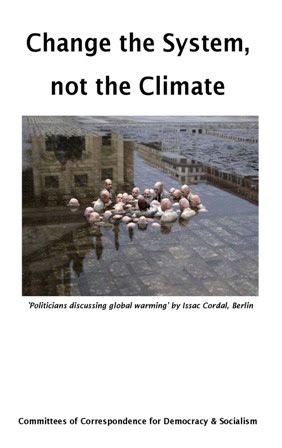 Good work around universal health care in Boston!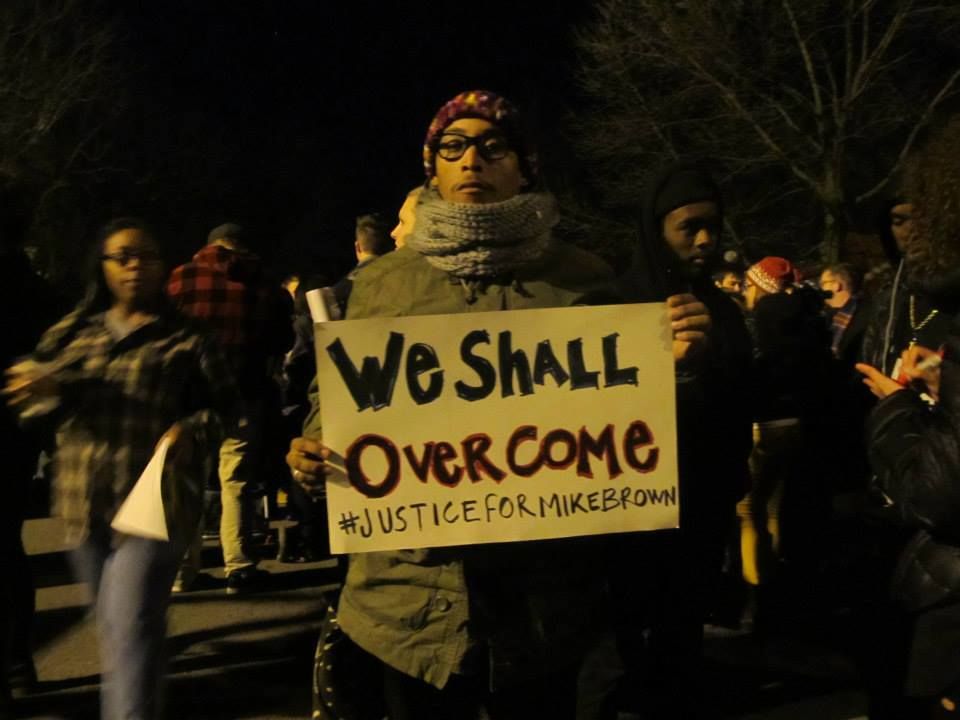 CCDS statement on the failure of
justice in the murder of Mike Brown

November 18, 2014
"Until the killing of Black men, Black mothers' sons, is as important as the killing of White men, White mothers' sons..."
from Bernice Johnson Reagon's song taken
from the words of Ella Baker
Anger, dismay and tears spread across America last night with the announcement that Officer Darren Wilson got away with murder in Ferguson, MO. A grand jury decision not to bring him to trial was announced on the same day that 3 Civil Rights martyrs - Chaney, Goodman and Schwerner who were murdered 50 years ago this year in
Mississippi - received the Medal of Freedom
at a White House ceremony with President Obama. Fifty years later, we are still organizing to stop rampant murder of Black people with impunity.

CCDS urges you to join with labor, civil rights, human rights, community and religious organizations who are calling on the U.S. Justice Department to bring federal criminal charges against Officer Darren Wilson.
"We who believe in freedom cannot rest"
***
Street heat after failure to indict
Pictures below are from CCDS Facebook page posted from protests around the country following the grand jury decision not to indict Officer Darren Wilson for the murder of Michael Brown.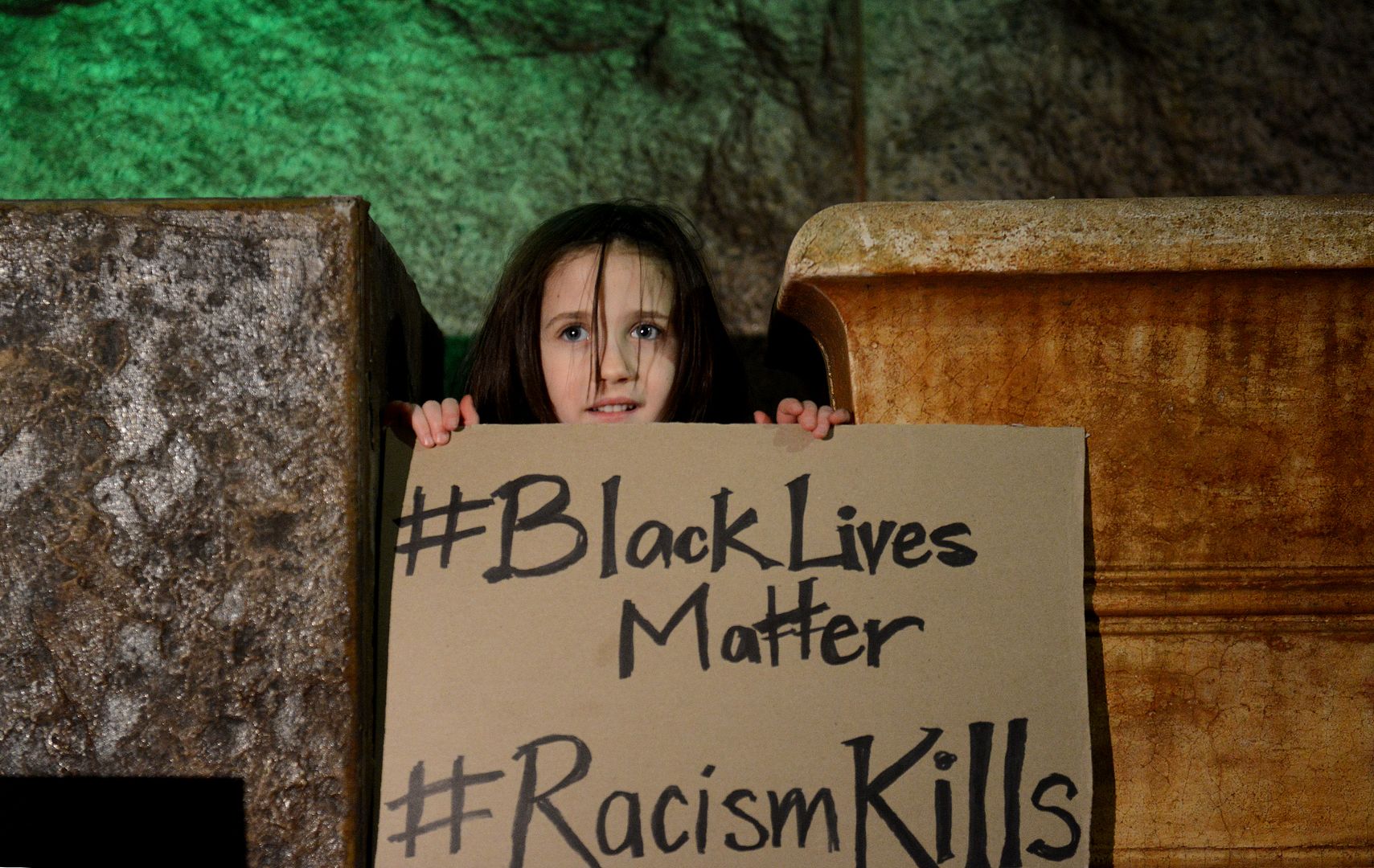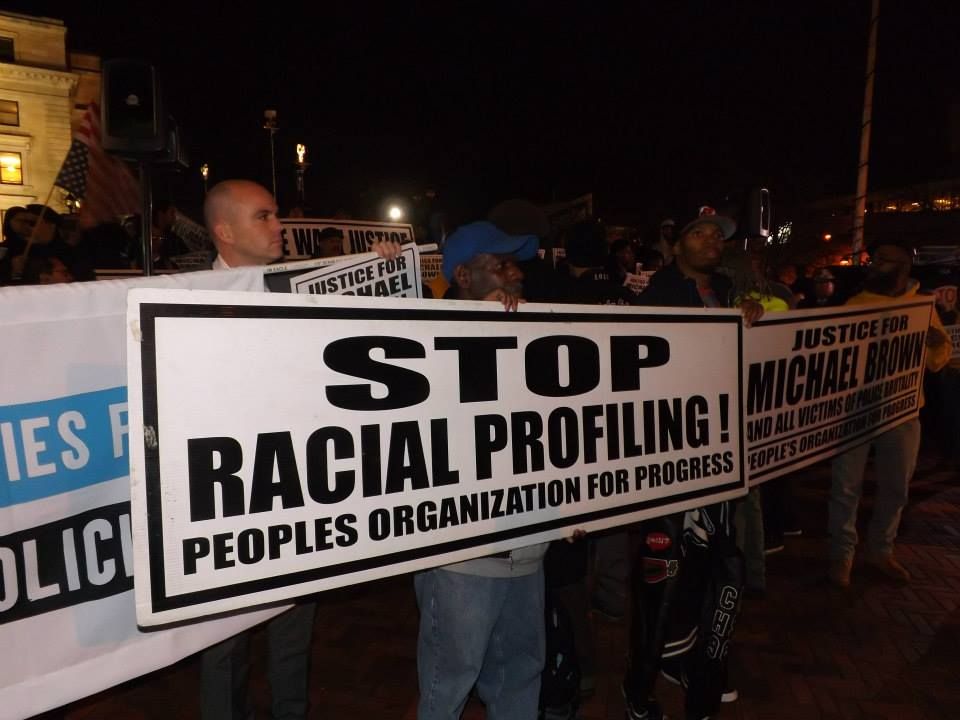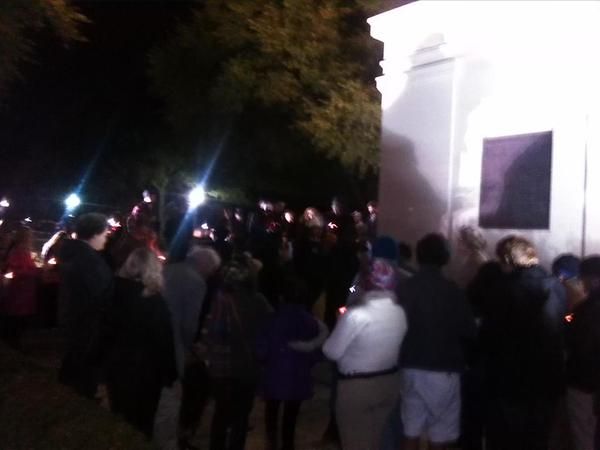 ONCE AGAIN NO JUSTICE! AND ONCE AGAIN NO PEACE!
by Frank Chapman, Field Director for the Chicago Alliance against Racist and Political Repression

From the murder of Oscar Grant last year at Fruitvale Station, to the blatant subsequent murders of Michael Brown, Eric Garner millions of people in our country now realize that as far as the criminal justice system goes Black lives do not matter.

The murder of Eric Garner and Michael Brown by white police officers has sparked an uprising of the people like we have not seen before. In New York people did not just take to the streets in Harlem and the Bronx, they couldn't call it a ghetto rebellion of Black folk, because it was much more than that. The masses were out in the streets and they were the multi-racial, multi-national masses who bottled up traffic in Times Square, Rockefeller Center, Grand Central Station, the Brooklyn Bridge and the West Side Highway. The energy was high and they were out until the wee hours of the morning.

There were no tanks or military like operations in play. The police, as far as police go in these type of situations, were not confrontational. How could they be they were vastly outnumbered? And in several instances the masses demonstrated that they (the masses) could take the streets when they wanted to. But it was in a passive resistance manner that said in deed that "we can stop trains, traffic and business as usual so take heed".

The police and their friends in the media tried to give the impression that they were in control but the visual images did not support this proposition. All and all I think what we are witnessing is the fact that the mass discontent among the masses has found a channel of protest against the official racist violence of the police and government compliance with that violence. So now we are seeing responses from the President on down, from elected officials that were not there during the Ferguson uprising. The Mass response is more massive, more diverse and more national and international in character and that is why the President is talking about a task force and meeting with civil rights leaders. And it is also why Rev . Al Sharpton is calling for a March on Washington a week from Saturday.
Where do we stand? In the struggle as always; however, we can now move with the winds of mass protest pushing us harder and faster. The youth pushing forward like never before have created a new moral and political climate in favor of our struggle for civilian control of the police. We must find our way to the heart of this struggle, pushing the idea of an elected Civilian Police Accountability Councils, before the powers that be take the heart out of the struggle.
How do we stop the police from racial profiling and murdering our people? How do we stop the police and the government from derailing our movements terrorizing the people? By demanding community control of the police where the people are empowered to hold the police accountable for the crimes they commit. How do we get there? By fighting for an elected Civilian Police Accountability Council....
SOAW Report: 'Left Unity' in Action
By Carl Davidson
CCDS Co-Chair
About 2500 people, braving thunderstorms, turned out in Fort Benning, Georgia Nov 21-22, for the 25th Annual protests and conference aimed at closing the US training school for Latin American 'state' terrorists and death squads trained at one part of the military base. The protest began after the murder of nuns and priests in El Salvador by these US-trained teams decades ago.
Thousand of Latin American workers, students, peasants and children had perished at the hands of these 'trainees.' A dramatic part of the SOAW event is a solemn procession where the names of the slain are read and crosses, also with the names inscribed, are raised, and finally planted into chain fence surrounding the base.
The bulk of those taking part are from the Catholic left, including busloads of young people from Catholic colleges across the South and Midwest. But Veterans for Peace and other peace and justice coalitions, along with some trade unions and civil rights groups, have also joined the protest.
CCDS has taken part in the events for the past five years. We set up a book booth at the vigil site, and organized workshops at the downtown conference center in evening, in addition to smaller meetings in our hotel. We drew on members from Pittsburgh and several states in the South, with our team in Atlanta doing lots of preparatory work.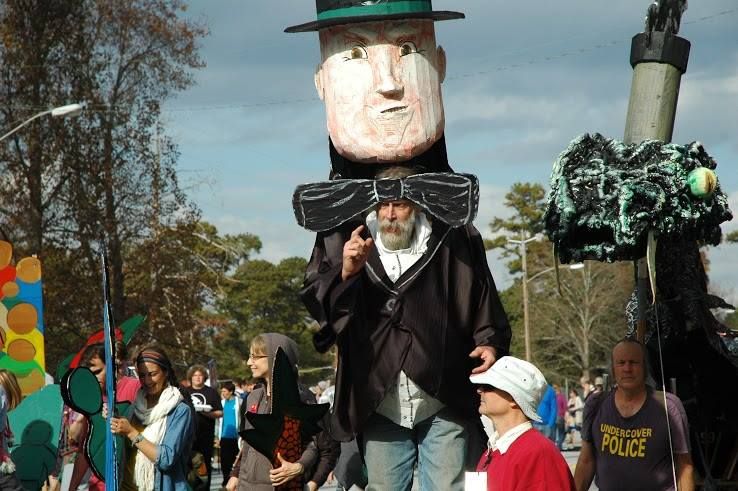 This year we took a slightly different approach. Rather than a CCDS table, we made it a Online University of the Left table as a 'Left Unity Project' and invited others to share it with us. We got terrific support from the Young Communist League, which turned out eight members, including two national leaders. We were also supported by In These Times and Jacobin Magazine, both of which contributed publications for the table.
At the conference center, one workshop was run by CCDS, featuring Carl's Davidson's multimedia presentation on 21st Century Socialism to a packed room of about 100. The other workshop, with a similar turnout, was run by the YCL, featuring 'theater of the oppressed' skits and the YCL members telling their own stories as how they came to join.
YCL Workshop
As for CCDS, we drew two members from Western PA, three from Lexington, two from Mississippi, and one from Atlanta. Two DSA members from Atlanta also joined the workshops. The net result? Apart from the powerful experiences of all taking part and the educational outreach of the workshops, nearly 200 new and young contacts signed our sheets, which will be shared by all those taking part. Everyone agreed it was an excellent example to be repeated going forward.
Moving beyond the 2014 elections
By Janet Tucker
At a meeting of the CCDS Peace and Solidarity Committee in November, Carl Davidson led a discussion on the results of the 2014 mid-term elections and what they mean going forward. "This election was the most expensive in history and the lowest voter turnout since WWII," said Davidson. The GOP made a strong sweep in this election gaining control of both houses, he said.
On the upside, said Davidson, there was a stunning victory in Richmond, CA and several referendums to increase the minimum wage won. "Where the Democrats abandoned Obama and moved to the right, like in Kentucky, they lost. Where they stuck to core planks and welcomed Obama, like in Pennsylvania, they won," said Davidson.
In some races the Green Party and Working Families Party made head way. In the Senate race in DC, David Schwartzman, a CCDS member running on the Green Party ticket, came in second to the Democrats with 15,704 votes

.
But even with these pluses this overall setback is especially hard. So many put in so much work from voter registration to door knocking to phone banking-countless number of volunteer hours. Many poured their hearts and souls into this work.
So now it is time to shift gears and look ahead. So what does this mean for us as we move into 2015? We know that the right wing has been emboldened by this election and ALEC is already making plans to increase their attacks.
Davidson pointed out that on foreign policy, there will be a move away from multilateralism toward hegemony. "We can expect to see a more pressure to revise United States foreign policy to support more fully a new anti-Putin Cold War; a rightwing ascendency in Ukraine; escalation in Afghanistan; sabotage of a nuclear agreement with Iran; increased demands that the United States attack the regime in Syria" said Davidson. It is even more important than ever for the peace movement to develop a clear anti-militarist, anti-imperial direction.
We must work in coalitions at the grassroots around opposition to austerity, for jobs, for making the minimum wage a living wage, and medicare for all. We must oppose all cuts to Medicare, Medicaid and Social Security, in fact they must be improved. This is no time to be timid. One thing this last election showed is that when the issues were clear the outcome was the best. We need to dig our heels in and make these issues very clear.
In many ways, the massive outrage that has swept the country demanding justice for Mike Brown points the way. Our strategy is based on the intersection of class, race and gender. Our country's history show us that young people, particularly young people of color, have lead the way for victory on many fronts.
"The firmer the core the broader the front" Carl has often quoted. In the midst of all of this we must work for left unity and build the socialist movement through revolutionary education.
The months ahead will also require hard work and some new approaches. We need to think outside the box, try new tactics. It is important that we sum up and share our experiences. We can share those experiences right here on the pages of the Mobilizer. Please write them up and send them to jlynjenks@gmail.com.
For a more detailed analysis
by Harry Targ
Presentation to the National Executive Committee
December 3, 2014
Political philosophers influenced by the writings of Marx and Engels emphasize the connections among all social processes, the opposing characteristics embedded in them, and how social dynamics are intrinsically conflictive leading to new and different futures. For most activists this means that politics and history are complicated. Before drawing premature conclusions about what is going on and what to do about it, thoughtful reflection on the multiple dimensions of causes and effects and effects and causes are needed. No more is this so than in coming to grips with the political "time of day" in which we live.
Recent events underscore the rise of what can reasonably be called "neo-fascism," advances in the construction of a police state, a desperate and renewed commitment to U.S. imperialism, escalated assaults--economic, political, police--on African Americans, Latinos, women, workers, and immigrants, and gluttonous increases in corporate and banking profits while gaps in wealth, income, and political power widen.
The November, 2014 election brought Republican control of the U.S. Senate (53-44 so far) and the House of Representatives (243-178), and both houses of 29 state legislatures compared to 11 Democratic-dominated state legislatures. In total Republicans hold majorities in 68 of 98 state legislative bodies.
(click title for more)
National healthcare conference discusses plans to win improved Medicare-for-All

By Paul Krehbiel

Over 300 health care reform leaders and activists from across the country met in Oakland August 22-24, 2014 at a National Strategy Conference to develop plans to bring high quality, affordable health care to all residents of the US. Many describe their goal as an improved Medicare-for-All program. Three national single-payer organizations met together for the first time in a joint conference, Healthcare-NOW!, Labor Campaign for Single-Payer Healthcare, and One Payer States (a 26-state network focusing on achieving single-payer healthcare in states.) Most sessions were held at the International Longshore and Warehouse Workers Union, Local 6 Union Hall, and others were held at the near-by California Nurses Association building.
One highlight of the conference was getting an update from the only state where single-payer activists have won so far, Vermont. Single-payer activists there got a single-payer bill passed in the Vermont State Legislature in 2011, Act 48. Act 48 mandated that Vermont's new health law must provide universal high quality health coverage, cost containment, one publicly funded payer of all bills, and other features, but it did not include the details. Those details are being worked out now.
Opponents in the for-profit health care industry are trying to undermine and render void key elements of the new Vermont law. The single-payer forces are keeping together the huge grassroots movement that provided the muscle to pass Act 48, in order to put pressure on wavering legislators to write the best possible detailed language into the new law. (click title for more)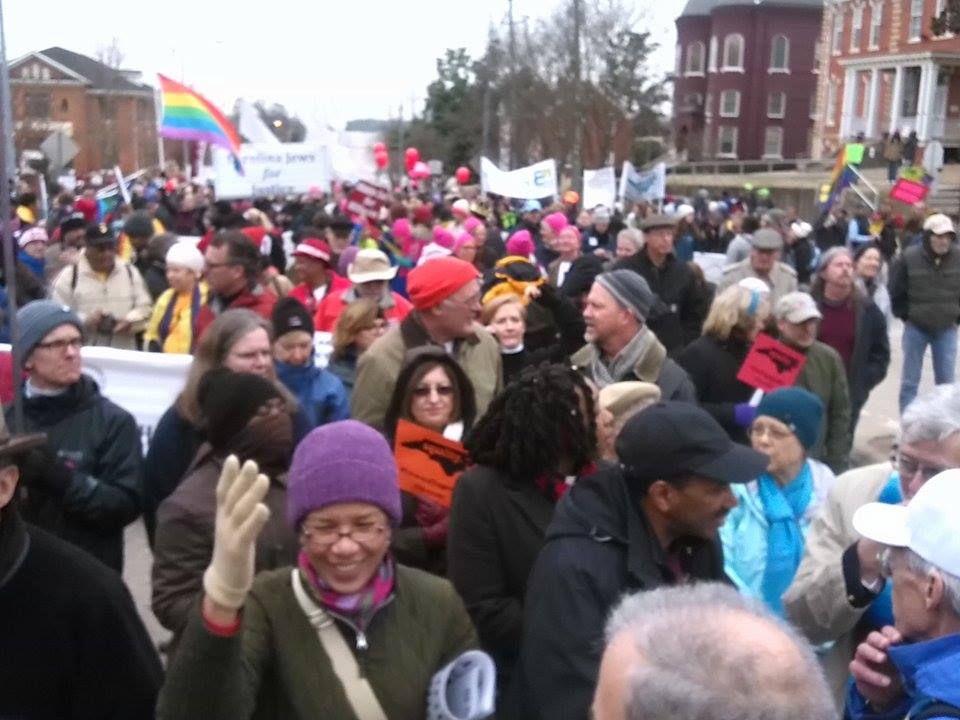 Moral Monday March in Alabama
On the ground in Alabama
by Dan Brent
CCDS member and
activist

in Alabama
So what is happening in Alabama and the deep South recently? If you were to look at the headlines and election results, you may think that this is merely a hotbed of reactionary political activity, and don't get me wrong... that it is. Here in Alabama we still have more Klan outposts than socialist organizations, but that has been changing somewhat recently, and before some of you go there, I'm not talking about North Carolina. I attended the gigantic Moral Movement march in Raleigh this past year, and you might say that North Carolina has about as much to do with Alabama as Jerusalem does with Athens.
The Moral Movement has spread to the Yellow Hammer state, but in much smaller numbers than can be seen in North Carolina. The Reverend William Barber came and spoke in Montgomery, the capitol city, a few months ago, and there was a crowd that numbered in the hundreds, not exactly close to the 100 thousand or so who gathered in Raleigh last year. Seven people were arrested in Montgomery over the summer protesting Governor Robert Bentley's (AKA "Dr. Death") decision to not take Medicaid expansion. However, this doesn't seem to be at the heart of most of the progressive political actions I've seen in the last few months in my particular area of the state.

I think this can largely be attributed to the Moral Movement's almost exclusive focus on electoral politics. In the recent midterm election, Democratic challenger for governor Parker Griffith garnered a measly 36.4% of the vote. That's not exactly hopeful for progressives, especially considering that Griffith's platform was far from what might even be categorized as center-left or center for that matter. Griffith is a former Republican Party member, and his platform was virtually no different than Bentley's, except for the proposal of an education lottery (something even progressives are not solidly behind) and the expansion of Medicaid. I think smart progressives in Alabama realize that electoral politics in this state are, at least for now, something of a waste of time except on the local level in urban areas such as Birmingham. The thought of a progressive alternative for Alabama in electoral politics has become so dismal and the Alabama Democratic Party so irrelevant that many, if not most, members of Progressive Democrats in America here are discussing the formation of a third party rather than pursuing realignment of the state's Democratic Party apparatus.(click title for more)
***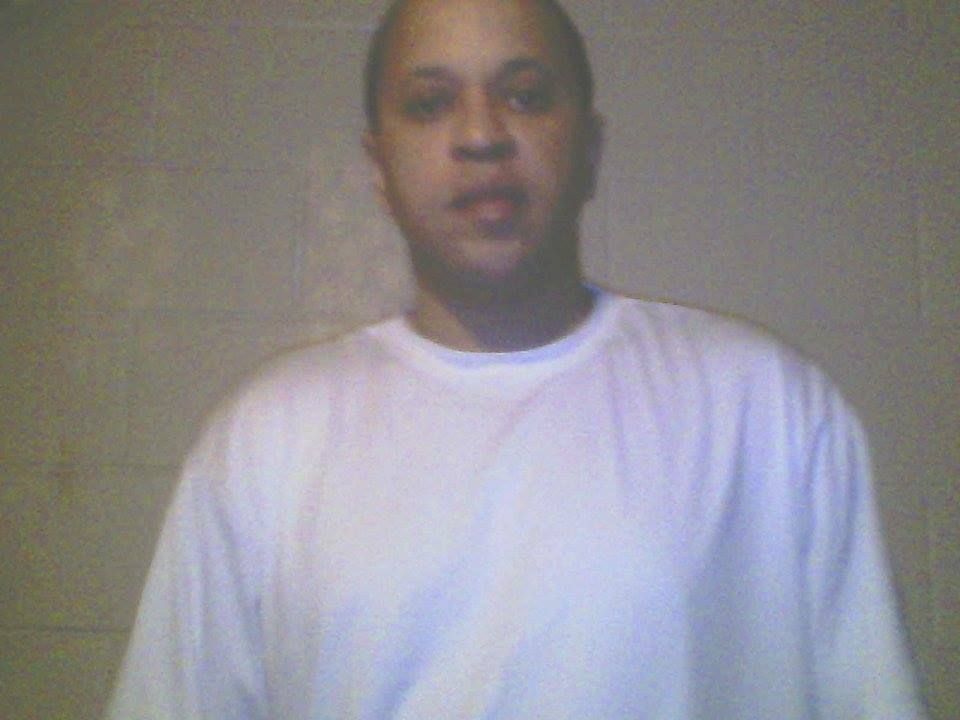 by
In August of 2013, a young man named Melvin Ray, incarcerated in Alabama's St. Clair Correctional Facility, began developing and sharing a philosophy and plan for resistance to mass incarceration from within the confines of the prison itself. He penned what some might characterize as
a manifesto
for what would become the Free Alabama Movement. Incarcerated individuals who joined this movement since January of 2014 have used several tactics of resistance, including filming the conditions of these facilities with cellphones and posting the videos to YouTube.
The use of cell phones as a subversive tool spurred a media campaign by the Alabama Department of Corrections emphasizing the "danger" of cellphones in the hands of prisoners. It was claimed that it might lead to "overseeing drug deals or calling for a hit." It is incredibly suspicious how the ADOC's media campaign did not begin with some notable criminal act organized from within prison walls, yet it conveniently coincided with the release of videos and photos damaging to the reputation of the state agency, just as an investigation for abuses in another facility within the state by the US Department of Justice was drawing to a conclusion.
All of this withstanding, the tactic that Free Alabama Movement has emphasized most in their struggle is the stoppage of labor, strikes within the prisons. Melvin and the others have consistently decried free labor as the main reason for the persistence of mass incarceration in the US, placing their exploitation in the general context of the struggle against capitalism.
I decided to ask Melvin a few questions that I felt were relevant to the general anti-capitalist and black liberation movements, that he might assist those of us in the "free world" in understanding the underlying thought behind Free Alabama Movement's actions, development, and its relationship to those on the outside. Although I had originally intended to write a mere paragraph-style article with quotes from the interview interspersed, both the dynamism and cogency of his responses persuaded me to instead offer the readers more of his unclad words:
Do you think there is a connection between poverty wages within oppressed communities and free labor in the so-called "justice" system?
Poverty wages are part of the social/economic/political control mechanism of capitalism, and it is very much related to forced prison slavery/free labor. With limited resources due to low wages, you are restricted in many ways, including where your family can afford to live, what they can afford to buy (quality of life), and the most important control is their access to education. When your income only allows you to live in a poor community, then you typically only have access to under-performing schools, due to a lack of investment from the state and local government. When confined by wages, the people of these poor communities are then closer in proximity to crime and criminal influences, which are directly related to incarceration, where forced slave labor is introduced. Consequentially, most people who are incarcerated also come from the poor communities where wages are depressed. The cycle then repeats itself because slave labor is forced on the social and politically impoverished, because we lack traditional economics (no income) and political power due to disenfranchisement.

How would you describe the connection between white supremacy on the streets with police violence and white supremacy in the context of mass incarceration?

The fabric of white supremacy stretches across all threads of America because it is of a cultural and psychological nature, as described by Marimba Ani in her groundbreaking book, "Yurugu." In order to erect the concept of white supremacy, there has to be a foundation for it to stand on, and that foundation has always been black people. So with a psychology and culture built upon an identity that must destroy the black image and all things blacks, it's easy to see the connection between police brutality, mass incarceration, and a host of other elements (poverty, low wages, lack of investment opportunities, discrimination in housing and college admittance, and on and on).
The same mindset that allows a police officer to summarily execute an innocent, unarmed black person in the street, is the same mindset that allows an officer to plant evidence, to lie on the witness stand, and for a white juror to find guilt. It allows a judge to appoint a knowingly incompetent defense attorney, and it allows a prosecutor to withhold evidence, use false evidence, to over charge, and to discriminate against black jurors, all with impunity. The Dred Scott case captured it best when the U.S. Supreme Court said that "no black man has any rights that a white man is bound to respect." That applies whether it is an innocent black man or woman like Sean Bellor, Renisha McBride, Mumia Abu Jamal, Mafundi Lake, Move 9, on up to the Scott sisters, Mike Brown and Ezell Ford.

Under the dictates of white supremacy, if you are black, then you can be murdered or raped in society with little consequence, or you can be subject to murder or rape in prison with the other weapons of mass murder and destruction like the death penalty, life without parole, malnutrition, substandard healthcare, on down to police brutality, forced free labor, long-term solitary isolation and sensory deprivation, and exposure to wide spread disease, all subsumed in mass incarceration.
Under white supremacy, this is the lot for black people so that white people can validate their supremacy. In a "democracy" where the resources are controlled by a few and political will is enforced by the vote of white-majority politics, white supremacy will reign for a while longer. (click title for more)
By Jim Grant,
CCDS member and long time activist in the peoples
struggles
of North Carolina

Historically, across the South, the use of independent political organizations to gain representation at both the local and state levels is not unusual.
During the Reconstruction
and Post-Reconstruction Periods in North Carolina, the Populist Party attained sufficient
size and influence, enabling it to elect a U.S. Senator, several state and congressional
representatives and, in coalition with the African American influenced Republican Party,
was able to elect Governor Daniel Russell in the 1890's. The Republican Party, far more
progressive, during these periods than either major party is today, was able to elect John
Cheatham and George White, both African American to the U. S. Congress...
Unfortunately, all of this came to an abrupt and violent end with the Wilmington
Massacre in November, 1898, when the African American controlled City of Wilmington
government was overthrown by the Red Shirts, a Klan oriented terrorist group. These
actions, which killed hundreds of African Americans, ushered the all-white, racist
Democratic Party back into ascendancy in the state government, a position which it
maintained unbroken until recently.
With the advent of the Civil Rights struggles in North Carolina some third party political
groups were organized in the cities. In Charlotte, the Black Political Organization ran a
slate of working class Black candidates for 4 city council seats and the mayor during the
years 1969-71. The slate represented a complete break with the Democratic Party.
The
Black People's Union Party, which operated in Raleigh, Durham and eastern North
Carolina, elected Frank Ballance to the General Assembly from the majority African
American 2nd district in eastern North Carolina, and helped elect Clarence Lightner as
mayor of the City of Raleigh, the only African American elected to that position during t
he 20th century. However, these groups were unable to sustain themselves beyond two
electoral cycles. In South Carolina, a more substantial political organization, the United
Citizens Party, was formed in 1970, and still remains an influence today within the state
Democratic Party.
In coastal Terrell County, the African American community, although 42% of the
population, was shut out of political activity and representation on both County
Commission and Board of Education... Black people, if they ran at all, ran as Democrats,
but would lose because of the demographics (58% white population) as well as the at large
method of election, which tended to mitigate any African American influence in any
political activity. However, the Voting Rights Act of 1965 allowed the filing of lawsuits
in federal court when violations of that act could be demonstrated and in 1994 this was
done. (click title for more)
The New US War in Syria/Iraq - turning point in imperialist policy?
This is a paper for discussion by Duncan McFarland and Harry Targ, forthe the Peace and Solidarity Committee
Many on the left have rightly condemned the new US war on ISIS in Syria and Iraq. Once again the US response to a complex situation is to bomb the enemy out of existence.
Once again it is obvious the US strategy will fail and the resignation of Defense Secretary Hagel points in that direction. President Obama said in his speech to the nation on Sept. 10 that this campaign could last for years because ISIS is a terrorist organization vastly more capable and fearsome than Al Qaeda, its demonic predecessor. We know that such a lengthy campaign will incur huge financial costs, drain even more resources from urgent domestic needs and override emerging national debates on racism, police violence and immigrant rights.
Many have analyzed the weaknesses in the military strategy and concluded that the stated goal of destroying ISIS could not be accomplished without greater US military commitment, including more ground troops; already troop commitment has been doubled from 1500 to 3000. In the administration's statement, the brutal impact of the new war on the civilian populations of targeted countries was not mentioned and the right of the US to bomb other countries at will is simply assumed.
In fact, the war is completely illegal according to the UN charter. In the end, the doctrine of American exceptionalism and its self-appointed leadership role in the world continues to be articulated to defend US militarism and the effort to maintain capitalist/imperialist dominance.(click title for more)
The Left and Spirituality--A Practical Question

Tony Kaliss

Winter 2013-14

Tony Kaliss is an active member of CCDS's SEP Committee. He holds a PhD in American Studies from the University of Hawaii. He has been involved since 1966 in a wide variety of issues concerning the interactions of Native and European-based communities at both the practical and theoretical levels. He is presently retired in Anchorage, Alaska. He can be contacted at tkaliss@gmail.com. This paper will be the subject of the January 2015 Fourth Monday SEP discussion.


Introduction

A real revolution must be spiritual. Real change in human behavior necessitates spiritual change, since humans apprehend and understand the world through a spiritual process. Humans cannot live-or change-on bread alone. Changing the external reality is not enough-the internal reality also must change. The Left will remain marginal, unable to build a broad effective movement for change as long as it does not understand the nature of spirituality and the essential role it plays in human behavior.

Th

e central point of this paper is that real human actions are determined and changed at a spiritual level. Thus the most important determinant for human beings is not facts by themselves but the experiences that influence their spiritual framework. Such experiences certainly include facts, but more importantly these experiences influence how those facts are understood, interpreted, felt, and, in the end, acted on.

Yet the Left has had much difficulty in dealing with spiritual matters. Spirituality has often been equated to religion, and religion often seen as a tool of oppression or, at the least, as un-scientific. Spirituality is seen as a matter of faith and not of Science, and, so the logic goes, matters of faith are not subject to 'scientific' proof. Science can't or won't or shouldn't deal with spirituality. In the end, the Left became faithful believers in Science as the most, if not the only, reliable way to know how the world works. The world is seen as a collection of facts that have nothing to do with spirituality. But in excluding spirituality the Left cuts itself off from this most fundamental motivation of human behavior, leaving this field to the Right which has made very effective use of it over the centuries.

The result is marginalization of the Left at a time in human history when the Left's presence is so necessary. The result is a Left that spends more time warily eyeing each other as to which group has the Scientific truth than in seeking and understanding the spiritual connections necessary to truly make friends and influence people. (click title for more)
Ira Grupper is a CCDS member and a veteran labor and civil rights movement. activist in Louisville, Ky. He authors Labor Paeans, a column that appears monthly in
FORsooth
, a publication of the Louisville Fellowship of Reconciliation. This is his December column.
If history is a continuum, then it must also have a worldwide panorama. The Jim Crow system was opposed by the Civil Rights Movement, led by African Americans and supported by others (more about this shortly). The fight for justice in Israel and Palestine-likewise.
Listen up, y'all. Psalm 89:3: "For I have said: 'Forever is mercy built; in the very heavens Thou dost establish Thy faithfulness.'" Well, Christians can find it in Matthew 25. And for Muslims: When some non-Muslims mocked Bilal, the black slave--Quran 49:13: O mankind, we have...appointed you races and tribes, that you may know one another."
Over the last two-plus decades I have visited Israel six times, once living there six months. I travelled from the north near Lebanon to the south near Egypt, and from the Jordan River to the Mediterranean Sea. I spent a good bit of time in the Israeli-occupied West Bank, and time as well in the Gaza Strip and Amman, Jordan.
I am of two minds, and am conflicted. On the one hand, I am proud of my Jewish heritage, and our surviving the murderous Crusades, the Inquisition, the Holocaust--and now, more than an addendum, facing an anti-Semitic wave along with the anti-immigrant wave sweeping Europe.
My people included Hillel, Einstein, Emma Lazarus, Howard Fast. We sang Zog Nit Keyn Mol, the Partisan Song of Jewish resistance against the Nazis: Never say that you are on your final road.
But I said that I was of two minds. Lord, am I of two minds. The second scenario concerns the occupation and humiliation of my Palestinian cousins. In my name, in the name of the Jewish people, Israel visits upon the Palestinian people a brutal occupation of their land.
Israel bestows upon the Palestinians collective punishment, deprivation of water, and so much more.
Moving right along. Hillels are Jewish university organizations, similar to Newman Clubs for Catholics. Many Jewish students claim that Hillels will not permit views critical of Israel and the Jewish "mainstream" to be expressed in open discussion.
Comes now a beam of light, a way for Jews of conscience to distance ourselves and challenge the oppression being visited in our name.
This ray of hope is called Open Hillel. Hillel was a scholar and teacher of the first century: "What is hateful to yourself do not do unto others. This is the entire Torah; the rest is commentary."
Three hundred participants, from the U.S., Israel and elsewhere, convened at Harvard University in October. Their message: open Hillel to diverse opinions, as Hillel would want, and not as Netanyahu would want. They succeeded in opening Hillels on three campuses thus far.
I felt so privileged to have been invited to be part of a plenary session: "From Mississippi to Jerusalem: a Discussion with Jewish Civil Rights (Movement) Veterans". How honored I was to share the podium with two veterans of that vanguard group of the Movement, SNCC, the Student Nonviolent Coordinating Committee: Dottie Zellner and Larry Rubin. (click title for more)
Vietnamese-Americans meet in LA to discuss international labor solidarity

By Paul Krehbiel
Over 40 young Vietnamese-Americans and six US labor leaders and activists met at the UCLA Labor Center near downtown Los Angeles October 25 to discuss the growing relationships between workers in the United States and workers in Vietnam. The report-back was given by the Vietnam Solidarity Network, a project initiated by UCLA Labor Center, in alliance with the Pacific American Labor Alliance (APALA) and the Southern California Viet Gathering (SCVG). The meeting was chaired by Natalie Newton, a Vietnamese-American with the Service Employees International Union Local 721 in LA, and a leader of both the Los Angeles APALA and SCVG.
Kent Wong, director of the UCLA Labor Center and a vice president of the California Federation of Teachers, explained that Vietnam opened part of its economy in the mid-1980's to foreign companies and privately owned Vietnamese firms. This greatly helped raise people's living standards. But it also brought new problems such as difficult working conditions especially at many foreign firms. Since workers in all countries are suffering, the solution is to build international labor solidarity to help each other, Wong said. Wong is co-author of the book, "Organizing on Separate Shores," about Vietnamese, and Vietnamese-American union organizers, published by an arm of the Labor Center.
Newton gave an overview of Vietnam, its government, and the Trans Pacific Partnership (TPP), a free trade agreement led by the US and other capitalist countries which Vietnam has joined. She explained that Vietnam has grown from one of the poorest countries in the world to a major exporter of rice and other food, electronics, computers and other products with the help of western capital and know-how. But, she warned, the TPP will also bring negative impacts to Vietnam's economy and workers.
Newton explained that the TTP will create a "global investor state" that will cover 40% of the global economy. She said that 600 corporations are involved in TPP, including the giants Citigroup, General Electric, Wal-Mart, Halliburton, and Newscorp (owners of Fox News), while governments and the public are barred. Newton said the AFL-CIO has opposed TPP because it fails to include International Labor Organization labor standards and can over-ride laws in member countries. The TPP seeks cheap labor and weakened environmental laws as a way to maximize corporate profits. Vietnam is aware of these dangers, but has joined because it needs foreign capital and expertise. But Vietnam also pledges to defend its workers and society from any threats.
Leanna Noble, retired International Representative from the United Electrical Workers union (UE) in Los Angeles and now with the LA Garment Workers Center, and Hollis Stewart, a former executive board member of SEIU Local 790 (now United Healthcare Workers) in the San Francisco Bay area gave reports on their recent 6 month teaching assignment in labor at Ton Duc Thang University in Ho Chi Minh City. They taught collective bargaining and organizing skills.

Stewart said Vietnam has industrialized very quickly and has a vibrant mixed economy with a strong socialist public sector, and a strong private sector. But, he said, some local Vietnamese industries may be threatened by TPP. He said Vietnam's unions are active in many social issues, including the ecology movement, which is "very big in Vietnam because its long low-lying coastline is threatened by rising seas." (click title for more)
The Committees of Correspondence for Democracy and Socialism is a national organization, united by a common commitment to struggle for democracy and socialism. CCDS embodies the legacy of the great social movements for peace, freedom, and democracy led by the working class, and racially and nationally oppressed people. CCDS carries forward the courageous traditions of the democratic socialist and left leaders and activists of the USA." CCDS Goals and Principles
The Mobilizer is the newsletter of the CCDS and the above spirit should be reflected in it. It is a great tool for communication within our organization and it is hoped that we can put this out more frequently. We will use this to share reports from the NCC meetings. But we want this to be a two way street and want to hear from you. We encourage you to share what is going on in your area whether it be a mass action or study group, etc. One thing we often hear from members is wanting to know more about what is going on in other areas. Writing up your experiences also a good way to reflect on it and sum it up.
We encourage a broad sharing of ideas. You are encouraged to also send comments of other articles written. So let us hear from you. Material can be sent to Janet Tucker at jlynjenks@gmail.com. We look forward to hearing from you.