Family Opportunities Program children receive new shoes for school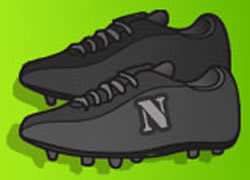 With the new school year approaching, the Friendship Class at First United Methodist Church of Hurst wanted to make sure the children in our Family Opportunities Program had new shoes to start the year off right.
The class donated more than 25 gift cards and so far 22 children have received new shoes. Upon receiving the gift card, one mother broke into tears. She explained that she had been trying to decide whether to buy her children new shoes for school or pay the electric bill. Because of the generosity of this class, she was able to do both.
Last year, 57 families who participated in the Family Opportunities Program moved from being homeless or on the verge of homelessness to housing stability. With the help of many kind-hearted donors like the members of the Friendship Class, Mission Central is truly empowering people in need.
Mission Central to celebrate 10th anniversary
Do you remember pantries past? Come see how we look today!
On September 19th, Mission Central will celebrate its 10th anniversary as an independent non-profit.
We want you to be part of the celebration! You're invited to join us any time between 7:00 am and 7:00 pm on September 19th.
Come see first-hand how Mission Central serves our neighbors in Hurst, Euless and Bedford. We'll greet you at the Village Food Pantry, located at 732A East Pipeline Road in Hurst. We'd also love to show you our Village Library and give you the opportunity to register for door prizes at the Coat of Many Colors.
We're looking forward to seeing you on September 19th!
North Texas Giving Day set for September 19
Gallery 26 donation to benefit sales at Coat of Many Colors
With the Coat of Many Colors expansion on the horizon, Mission Central staff and volunteers had been on the lookout for new store displays and fixtures. We were pleased to find just what we needed from Gallery 26, a local store that was going out of business.
To our surprise, when we began planning how to move the purchased fixtures to the Coat of Many Colors, the store owners told us that they would be donating all of their leftover merchandise to the Coat of Many Colors.
What a blessing! Hundreds of gift items including jewelry and home decor were packaged by volunteers and stored for sale at the Coat of Many Colors. Every dollar earned from the sale of these items will go toward Mission Central's programs including the Village Food Pantry, Village Library, Family Opportunities Program, Adult Education, and Mobile Food Pantry. Thanks to Gallery 26 owners Marie Nguyen and Jeanie Nguyen for their generous donation!