Announcements
August 30, 2013
Alleluia, Alleluia, ALLELUIA!
"It was a good day at All Saints"
Rummage Sale Mahalos!
Fr. Ryan hit it out of the park last Sunday, despite a last minute change of sermon Saturday evening. He was inspired by what he experienced earlier that day in connection with the August 24 rummage sale for church member, Carrie Sagucio.
It certainly took an army of people to make it happen, and the outpouring of love and support was overwhelming.
Mahalo to everyone involved!
Items for the sale began appearing the week before, including boxes of brand new items mailed from the mainland! (Thank you Cathy!) On Thursday night, the youth, who were playing futsal in the gym, cut their evening short to set up all the tables and clothing racks. Then early Friday morning, members showed up to haul the mountains of items in Memorial Hall over to the gym, and began the arduous task of sorting, folding and displaying. John Hanaoka said he lost 5 pounds in the process! No surprise as he made countless trips back and forth with a loaded wheelbarrow. Folks trickled in and out all day and night, some rushing home to finish up the baked goods that would also be on sale.
When the doors opened on Saturday monring, the gym was filled to the brim with furniture, household goods, clothing, books, toys, yummy baked goods and everything inbetween! Mary Wilson, who is a veteran of setting up rummage sales, said this was the most items she's ever seen... that says a lot, coming from someone who was probably involved in the very first sales at All Saints many moons ago!
The result was nothing short of awesome--- sales and donations mailed in totaled $3,000.00, all of which was given to Carrie to help with her medical bills as she continues her battle with Lupus. But it wasn't the amount of money raised that inspired Fr. Ryan... it was seeing how the entire church family came together to help someone in need... yes, "it was a good day at All Saints"... "it was a great week at All Saints!"
AMEN
________________________________________
Mahalo to Special Guest, Patti Peebles!
On Sunday, August 27, folks at the second service were treated to a sermon by special guest Patti Peebles, a dear friend of Fr. Ryan, who was vacationing on Kaua'i. Patti is the Chaplain and Youth Minister at St. John's in Rancho Santa Margarita, CA, and she shared her wonderful insight and wisdom with us. You can hear Patti's sermon online through Fr. Ryan's
Preaching in Paradise
link, entitled "God our Stabilizer". Mahalo Patti! Be sure to come back again soon!
_______________________________________
It's right around the corner!
Homecoming Sunday & Potluck, September 8
Join us for a festive Homecoming Eucharist during the 9:30 am service with potluck to follow, on Sunday, September 8. The service will feature the return of the All Saints' Choir and regular Sunday school classes that took a break during the summer. In addition, we will bless the children and youth of the parish and Fr. Ryan will be preaching a "children's homily" for the children of God, young and young at heart--whether you are 5 or 95 the message will speak to you!
We want to encourage everyone to invite a family member, friend, and/or work colleague to the service who has never been to All Saints', or someone who has fallen away from our 'ohana. This one-of-a-kind festive service and potluck will certainly feed your soul and stomach!
We pray it is an opportunity for us to share our wonderful Church 'ohana with others outside our normal worshiping community.
________________________________________
NEW DATES!!!
Movie Nights on the Lawn Coming Up!!!
September 14, 20 & 27
Our popular Movie Nights on the Lawn will take place during the month of September! Dust off your lawn chairs and get ready for dollar dogs, loaded hot chocolate and action packed movies!!! The first movie night will be on

Saturday,

September 14, followed by two
Friday
movie nights on September 20 and 17.
Movie nights are always double-feature films on a giant 30' screen! The first show is geared towards children and the young at heart! Second shows are action adventure or dramas for older youth and adults. September 14 will feature Epic and Star Trek: Into the Darkness... coming up, The Great Gatsby with the Adventures of TinTin and Ironman 3 with Despicable Me! First show begins at sundown with a 10 minute intermission between movies.
________________________________________
Mark your calendars!
Saturday Market Hearing Coming Up
The next step in the process for the Saturday Market permit continues with a public hearing scheduled for Tuesday, September 10, at 9:00 am. Spearheading this effort is Junior Warden, David Murray, who encourages all those available to turn out and support this endeavor.
As you may recall, All Saints' held two markets last year to test the waters, and there was a lot of support from local vendors who are seeking a venue to sell their products. Saturday Markets would take place on the first Saturday of each month, and possibly more often during the summer months.
We are deeply grateful to church member Galen Nakamura from the law firm of Shiramizu, Loo & Nakamura, who has taken on the task pro bono. 8 years ago, Curtis Shiramizu handled the year-long process for Hale Lani's permit, also pro bono. Mahalo!!!
For more information and details on the hearing, see David Murray.
________________________________________
Mark your calendars!
Annual Celebration of the Holy Sovereigns &
Blessing of the Peace Garden
Sunday, October 13, 2013
Be sure to save the date for our annual Celebration of the Holy Sovereigns taking place on Sunday, October 13. This will be a special celebration as we also bless and dedicate the Peace Garden. Special guests from the 'Iolani Guild will be flying over to be a part of this event, as well as local Hawaiian organizations that have taken part each year. A festive Hawaiian potluck will follow on the lawn.
_______________________________________
New Videos on the Website!
Fr. Ryan's Installation & Youth Mission 2013
I
n case you missed Fr. Ryan's Installation or the youth group's presentation on their summer mission, you can now view it on our website under the SPOTLIGHT tab, along with other memorable moments in the life of the church!
_______________________________________
Picture of the Week
Taking a break from setting up for the rummage sale, youth members Casey Nakamura, Cassie Wilson and Alanna Bauman ham it up with great fun finds. I believe Casey is holding Fr. Ryan's new prized chalice!
_______________________________________
Collections for Hale Ho'omalu
Beginning in September, regular collections will continue for Hale Ho'omalu,
a family service center located 1/2 block away from All Saints'. Packaged and canned goods are always welcome as well as monetary donations, and can be left in the red wagon at the church entrance every Sunday. The ECW will be providing specialty bags for the rest of the year as part of their outreach service to Hale Ho'omalu, and will not have special collections for the remainder of the year.
_________________________________________
FUTSAL Every Thursday evening through October!
Futsal is back in the gym! Anyone interested in participating can join in Thursday evenings in the All Saints' Gym from 6:00 - 8:00 pm. Thank you to our youth group for taking the responsibility for keeping this program active! It's a great way to stay in shape and improve your ball handling skills. Spread the word and come on down!
_________________________________________
Hale Lani Seeking Volunteers
Hale Lani Christian Store has been operating for nearly 8 years now, and continues to provide great Christian products to the community. The store is run by volunteers 6 days a week with 3 hour shifts. We are currently seeking persons to help "fill in the gaps" when our regular volunteers go on vacation or need time off. If you are interested, please
e-mail the store
or call Sybil at 651-7773. Absolutely no experience is necessary, and the slow pace of the store is a perfect chance to catch up on reading, hobby or computer work.
________________________________________
Keeping Up & Staying Informed at All Saints'
Along with our established website and Facebook pages, Fr. Ryan has now made available two offerings. On his "Now What" blog, he reflects on the past Sunday's sermon, and "Preaching from Paradise" features his Sunday sermons on iTunes. Click on the links below to visit these different sites and get your dose of spiritual food and news from All Saints'!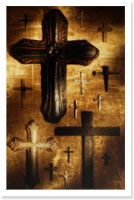 Proper 17
Lord of all power and might, the author and giver of all good things: Graft in our hearts the love of your Name; increase in us true religion; nourish us with all goodness; and bring forth in us the fruit of good works; through Jesus Christ our Lord, who lives and reigns with you and the Holy Spirit, one God for ever and ever.
Amen.
Book of Common Prayer,

p233
SUNDAY
SERVICES:
7:00 a.m.
Holy Eucharist
+
9:30 a.m.
Holy Eucharist
+
WEDNESDAY HEALING SERVICE:
8:00 a.m.
Holy Eucharist
The choir will be gearing up for September 8, when they return from summer break. Please see Faith or Curtis for more information on practices.
Monday, September 9, 7:00 pm, Memorial Hall
Tuesday, September 10, 9:00 am, Rectory
Ke Akua Youth Group: New Year Meeting-
BRING A FRIEND
Sunday, September 15, 11:00 am, Memorial Hall
Vestry
Tuesday, September 17, 6:00 pm Eucharist, 6:30 pm meeting, Rectory
ECW
Thursday, September 19, 7:00 pm, Memorial Hall
UPCOMING EVENTS & ACTIVITIES
ASIS Futsal
Ongoing every Thursday through October, 6:00 pm - 8:00 pm, In the Gym
Homecoming Sunday & Potluck
September 8, 9:30 am - 12:30 pm
NEW DATES!!!
Movie Nights on the Lawn are coming up: September 14, 20 & 27!
Annual Celebration of the Holy Sovereigns & Blessing of the Peace Garden
Sunday, October 13, 9:30 am
All Saints' Holiday Craft Fair
Saturday, December 7, 9:00 am - 2:00 pm, Gym & Lawn
Church work days take place every third Saturday of the month from 8:00 am - 12:00 pm.
COME ON DOWN!
Quick Links:
Are you scheduled? Be sure to check the:
(The Newspaper of the Diocese)