Announcements
March 15, 2013
Church Workday this Saturday!
March 16, 8:00 am - 12:00 pm
It's the third Saturday of the month and that means it's time for a church workday! There's a lot on the list, but lots of hands make light work for everyone! Plans include organizing the gym kitchen, waxing the marquis, cleaning church windows, demolishing a cabinet in Memorial Hall, removing a bird's nest from the altar window, cleaning Sloggett screens and trash around the property. Come on down as we get the property in shape for Easter!
______________________________________
CONGRATULATIONS CASEY!
Nakamura Selected for EYE14 Planning Team
Before Casey Nakamura even left the Episcopal Youth Event (EYE) in the summer of 2011, she expressed her fervent desire to be a part of the design and planning team for 2014. Her prayers were answered this week! Out of the 70 youth that applied, Casey was one of 14 selected for this very important task that will take her traveling to several meetings on the mainland over the next 16 months. EYE14 is scheduled to take place in Pennsylvania in July 2014.
Every three years, EYE brings together hundreds of Episcopal youth from around the world including Haiti, South America and yes, Hawai'i. They worship and fellowship together, attend workshops and do mission work. The last event brought together over 1300 youth and adult leaders to Minnesota. All Saints' was fortunate to be able to send 7 youth with the Hawai'i delegation, and it turned out to be quite a transformative experience for them all. All Saints' members were treated to a special presentation upon their return, as they shared photos, reflections and the music that they learned!
We are so happy for Casey! Please keep her and the planning team in your prayers as they put together the next big event! She will be keeping up a blog on both the Diocese and All Saints' websites. To read the Episcopal Church's announcement, click HERE. (Casey is pictured above at far right with the rest of the All Saints' youth and Bishop Bob Fitzpatrick during EYE11.)
______________________________________
Good luck and best wishes to Grace Yatsko!
Ke Akua Youth Group member, Grace Yatsko, will be taking part in the annual Heritage Music Festival in Anaheim, California, from March 14 - 20, as part of the Kapa'a Middle School Choir & 'Ukulele Band. Led by teacher Mary Lardizabal, this is the 13th year that students have participated in this event, garnering numerous awards. Last year, fellow youth group member Mason Tabura, was part of the group that won two gold medals! As you can imagine, lots of fundraising is involved, and All Saints' was happy to host a car wash for these young musicians. Please keep Grace and all of the participants and travelers in your prayers.
______________________________________
Experience Holy Week...
For Christians, Holy Week is the most important time of the year, as we prepare, worship and experience the Passion and celebrate our Risen Lord on Easter. This year, Rev. Mary will be introducing a new service for most of us. It is a Vigil Service being held Saturday evening at 7:00 pm. In many churches, this is the most important service of the liturgical year, and is the first celebration of Easter. Rev. Mary invites all to attend this most important service that will include an Easter fire. Refreshments to follow.

HOLY WEEK SCHEDULE
Sunday March 24 - Palm Sunday
7:00 am & 9:30 am
(Outdoor Procession & Gospel narration)
(There will be no Wednesday Healing Service)
Thursday, March 28 - Maundy Thursday
6:00 pm
(Foot Washing & Taize Chants)
Friday, March 29 - Good Friday
11:00 am
(Stations of the Cross led by youth)
12:00 pm
(Communion from Reserved Sacrament)
Saturday, March 30 - Easter Vigil
7:00 pm
(With Baptisms and/or Renewal of Vows ~
Sunday, March 31 - EASTER SUNDAY
10:00 am
11:30 pm
(Easter Festival - Potluck, fun and games!)
CROSS PHOTOS ARE DUE THIS SUNDAY!!!
Have you taken a picture yet?
Some beautiful and creative photos are coming in, as this year's Easter art project continues.
It's not too late...although the deadline is this Sunday, March 17, you can still take photos after Sunday's service and e-mail it in. If you just can't get to it but really want to take part, just let Sybil know and special arrangements can be made. Utilizing our wooden Easter cross built by Steve Bauman, folks are asked to take a picture of it somewhere special to them -- where they feel close to God -- whether on property or at a favorite beach -- in their backyard or in the mountains. Feel free to Photoshop or embellish your photo, or leave it as is, then e-mail it to
halelani@hawaiiantel.net
. For best results, the higher the resolution the better. The pictures will be unveiled on Easter. Please also include a brief explanation about the picture and its location. A pamphlet will be made available at the church entrance explaining the pictures.
Hurry on down and submit a photo!!!
______________________________________
ECW Meeting Coming Up March 21
Preparing Easter goodies for children of Hale Ho'omalu

The women of the ECW will be holding their next meeting on Thursday, March 21, at 7:00 pm in Memorial Hall. They will be preparing Easter goodies for the Hale Ho'omalu children. Some supplies are being requested. Please call or
e-mail Diane Sato
for details.
______________________________________
All Saints' Photo Directory is in the works!
Our photo directory is in the works! Over the next few Sundays, Marge Akana and Bill Caldwell will be offering their photographic services at both services to take your picture! A draft copy of the directory pages will be availabe that contain pictures from those that submitted photos last year, and you'll be able to review your contact info. We are including e-mail addresses in the directory and you can choose to show as little or as much information as you want published.
Our goal is to get information and photos gathered by mid-April, and then compiled and printed in time for Fr. Ryan's arrival! If you would like to submit your own picture, please e-mail a digital file to halelani@hawaiiantel.net.
______________________________________
Support the All Saints Angels at Relay for Life!
Luminarias on sale each Sunday
The KeAkua Youth Group and ECW will be selling Luminaria bags for the American Cancer Society's Relay for Life event coming up in April. The bags are $5 and purchased in remembrance of a loved one lost to cancer, or who is battling cancer. The bags are lit in a special ceremony during the walk. You can choose to decorate a bag at church (markers will be
available) or take it home and return it before the event so that we can be sure to light it for you...or better yet, come on down and take part in this incredible event!
Relay for life will be taking place on April 27 & 28 at Hanapepe Stadium.
For more information or if you have questions, see Diane Sato or Sybil Nishioka.
______________________________________
Lenten Reflections from Rev. Ryan
Have you been getting your daily dose?
Get your daily Lenten Reflection by Rev. Ryan on the All Saints Facebook page! Accompanied by one of his beautiful photos, Rev. Ryan shares bits of wisdom, perfect for this Lenten journey.
Be sure to "Like" the page and be the first to know what's happening at All Saints' with the latest announcements, photos, news, and activities taking place at All Saints' through Facebook! The page is under All Saints' Episcopal Church Kauai, or click on the link below to get there now.
______________________________________
Continuing Confirmation/Lenten Classes
Wednesdays at 5:45 pm
Rev. Mary continues to lead Confirmation/Lenten classes through March. It is a great opportunity for all church members to take part in Christian education. Although the classes are designed to prepare candidates for confirmation, the material is of interest to everyone, and especially for those who may need a "refresher". Who are We? What does church membership mean? Why live a life of faith? These are just a few of the topics being covered.
The classes are held in the rectory living room from 5:45 - 7:30 p.m., on Wednesdays. Interested persons can attend any or all of the classes. For more information and to view the schedule of topics on the church website, click HERE. For more information, please contact Rev. Mary at 634-9343, or e-mail her.
______________________________________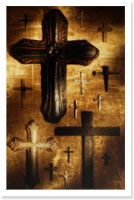 Fifth Sunday in Lent
Almighty God, you alone can bring into order the unruly wills and affections of sinners: Grant your people grace to love what you command and desire what you promise; that, among the swift and varied changes of the world, our hearts may surely there be fixed where true joys are to be found; through Jesus Christ our Lord, who lives and reigns with you and the Holy Spirit, one God now and for ever.
Amen.
Book of Common Prayer,

p219
SUNDAY SERVICES:
7:00 a.m.
Holy Eucharist
+
9:30 a.m.
Holy Eucharist
+
Click HERE for Holy Week Schedule
Choir practice takes place in the church every Thursday evening at 6:00 pm. All are invited to join including visitors coming to Kaua'i!
Ke Akua Youth Group Meeting
Sunday, March 17, 11:00 am, Memorial Hall
Vestry Meeting
Monday, March 18, 6:30 pm, Memorial Hall
ECW Meeting
Thursday, March 21, 7:00 pm, Memorial Hall
UPCOMING EVENTS & ACTIVITIES
Continuing Confirmation-Lenten Classes
Wednesdays, February 20 - March 20, 5:45pm, Rectory
Youth Pastoral Service
Sunday, March 17, 12:30 pm (After youth meeting)
Annual Easter Festival!!!
Following the 9:30 service
Regional Confirmation Ceremony
Saturday, April 27, St. Michael's
American Cancer Society's Relay for Life of Kaua'i
Ke Akua Youth Group Mission Trip to O'ahu
Next work day coming up March 16th
Church work days take place every third Saturday of the month from 8:00 am - 12:00 pm.
COME ON DOWN!
(The Newspaper of the Diocese)