Announcements
February 22, 2013
Rev. Ryan's Daily Lenten Reflections
(2/19) When we learn to walk we are taught to walk forward not backwards. Our faith, like our steps, should move us forward to deeper inquiry, greater questions, and a profound sense of our call and purpose in God's creation.
Rev. Ryan is now posting daily Lenten reflections on both the All Saints' Facebook page and his personal Facebook page and Twitter. His reflections are accompanied by a beautiful photo. For those on Facebook, be sure to "like" the All Saints' Episcopal Church Kauai page to get your daily dose!
______________________________________
Rev. Mary on the Season of Lent...
As we enter Lent and move towards Holy Week, we're getting ready for the central part of our church year. And as any family gets ready for a major celebration, we too are doing some "house cleaning". Have you noticed anything different around church this week? As faithful Christians we fast during lent, add devotional practices to our already busy lives and we make changes to our worship space. Lent is a penitential season where we tone down our church furnishing, musical selections, eliminate the use of flowers and eliminate the use of the "A" word (hint: word used to express our praise) especially at the end of our worship services at All Saints where we do this with great gusto! We will bring back our "A" word with joyful celebration at the Easter Vigil.
This toning down is done in our church tradition to make a marked visual change to help us all remember that we are entering a different time in our church calendar. During Lent it is desirable that our church building reflect the austerity of the season. Pictures are removed, elaborate candle holders are put away for polishing and stored. Stations of the cross replace wall decorations. And our decorated crosses of brass and wood are veiled, at the moment in purple, to conceal them from view in order not to call attention to their beautiful elaborate designs. These veil colors will change during Holy Week.
We begin our services very differently as well. On the first Sunday we began with the reading of the Great Litany, and on the following Sundays we will begin with the reading of the only penitential canticle in our prayer book, omitting our opening processional hymn.
In one word, simplicity is our goal. As faithful followers of Jesus are asked to live a simpler life during lent and our surroundings will reflect that same intention.

You all remain in my prayers for a purposeful and deeply spiritual lenten season.
______________________________________

Continuing Confirmation/Lenten Classes
Wednesdays at 5:45 pm
Rev. Mary continues to lead Confirmation/Lenten classes through March. It is a great opportunity for all church members to take part in Christian education. Although the classes are designed to prepare candidates for confirmation, the material is of interest to everyone, and especially for those who may need a "refresher". Who are We? What does church membership mean? Why live a life of faith? These are just a few of the topics being covered.
The classes are held in the rectory living room from 5:45 - 7:30 p.m., on Wednesdays. Candidates for confirmation must attend all classes. All other members or interested persons can attend any or all of the classes. For more information and to view the schedule of topics, go the "Our Ministries" tab on the church website and click on "Christian Formation", or click HERE to go directly to the webpage now. For more information on being Baptized, Confirmed or Reaffirmed, please contact Rev. Mary at 634-9343, or e-mail her.
______________________________________
Funeral Service for Caridad Batulayan
Funeral services for Caridad Batulayan, long-time church member and mother of Modesto Baldovino, will be held on Saturday, March 2, 2013. Visitation will take place in Memorial Hall from 9:00 a.m., with the funeral service in the Church at 10:00 a.m. Burial in the All Saints' cemetery will follow.
______________________________________
Church Easter Art Project
Looking for interested participants with a camera (phones count!)
This year's art project for the Church's Easter unveiling is underway, and we are seeking folks to participate in a fun and creative endeavor. When Chris Wataya asked if the youth had any ideas for this year's task, Ke Akua Youth Group member Alanna Bauman came up with a great concept utilizing the familiar wood cross that her dad (Steve Bauman) built for our Easter services. The cross will be the main subject, and anyone with a camera can take part! Participants are asked to take a picture of the cross somewhere special to them -- whether on property or at a favorite beach -- in their backyard or in the mountains. Feel free to Photoshop or embellish your photo, then e-mail it to
halelani@hawaiiantel.net
. For best results, submit a high resolution photo. Deadline for submission is Sunday, March 17, 2013. To arrange a time to borrow the cross, please call Sybil at 651-7773, or e-mail her at the halelani address above.
______________________________________
It is the Season of Lent, and Lent Madness has begun! For those that missed last year's incredible battle, our very own Queen Emma made it to the final Championship Round against Mary Magdalene. With Bishop Bob's help to corral the troops in Hawai'i to vote, it created quite a buzz in the Lent Madness realm, and Queen Emma's legacy is now known to thousands more around the world.
Lent Madness began in 2010 as the brainchild of the Rev. Tim Schenck, who combined his love of sports with his passion for the men and women comprising the Church's Calendar of Saints. 32 saints are placed into a tournament-like single elimination bracket, vying for the Golden Halo. A match-up is held each weekday during Lent. Folks are able to vote for a saint, with the winner advancing on to the next round until it is down to two in the Championship round. It is a wonderful way to learn about the different saints, which includes "celebrity bloggers" who champion the saints as they climb the brackets.
This year, another saint with Hawai'i ties is in the running. Be sure to vote on March 1, when Father Damien is up against Frances Perkins. To learn more about Lent Madness and to vote for your favorite saints, go to their website
HERE
. It's a wonderful way to learn about our saints and to put a little fun into an otherwise somber Lenten discipline.
______________________________________
Annual Report Now Available Online
The 2012 Annual Report is now posted on the All Saints' website. To view the complete report with the Minutes, click
HERE
. There are also hard copies available on the table at the entrance of the church. The reports include the the Annual Meeting minutes, Warden's Reports, Treasurer's Report, Family Ministries, ECW, Hale Lani, Communications and the Preschool. In case you missed it, the opening video of our year in pictures is available for viewing on the
SPOTLIGHT
tab of the
All Saints' website
.
______________________________________
Support the All Saints Angels!
American Cancer Society's Relay for Life Event
The KeAkua Youth Group and ECW have teamed up to raise funds for the American Cancer Society's annual Relay for Life event taking place on April 27 & 28, at Hanapepe Stadium. You can help support their efforts in several ways:
+ Make a donation online
HERE
to the All Saints' Angels team or a participant.
+ Purchase a luminaria bag that participants will be selling during the month of March. (These bags are purchased in memory of a loved one who has died of cancer or is battling cancer and is lit during a special ceremony on the night of the walk.)
+ Come out on the night of the walk and cheer our walkers on or join in the walk yourself! Lots of food and fellowship will be going on in the All Saints' Angels tent!
For more information or if you have questions, see Diane Sato or Sybil Nishioka.
______________________________________
"Like" our new Facebook Page!
Be the first to know what's happening at All Saints' and "Like" us to get the latest announcements, photos, news, and activities taking place at All Saints' through Facebook! The page is under All Saints' Episcopal Church Kauai, or click on the link below to get there now. For those not on Facebook--- it's easy to sign up! Contact
Sybil
to learn more or if you need help getting started.
______________________________________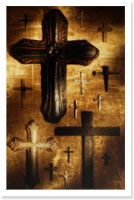 Second Sunday in Lent
O God, whose glory it is always to have mercy: Be gracious to all who have gone astray from your ways, and bring them again with penitent hearts and steadfast faith to embrace and hold fast the unchangeable truth of your Word, Jesus Christ, your Son; who with you and the Holy Spirit lives and reigns, one God, for ever and ever.
Amen.
Book of Common Prayer,

p218
SUNDAY SERVICES:
7:00 a.m.
Holy Eucharist
+
9:30 a.m.
Holy Eucharist
Choir practice takes place in the church every Thursday evening at 6:00 pm. All are invited to join including visitors coming to Kaua'i!
Buildings & Grounds
Tuesday, March 12, 9:00 am, Rector's Office
Ke Akua Youth Group Meeting
Sunday, March 17, 11:00 am, Memorial Hall
Vestry Meeting
Monday, March 18, 6:30 pm, Memorial Hall
ECW Meeting
Thursday, March 21, 7:00 pm, Memorial Hall
UPCOMING EVENTS & ACTIVITIES
Continuing Confirmation-Lenten Classes
Wednesdays, February 20 - March 20, 5:45pm, Rectory
Regional Confirmation Ceremony
Saturday, April 27, St. Michael's
American Cancer Society's Relay for Life of Kaua'i
Church work days take place every third Saturday of the month from 8:00 am - 12:00 pm.
COME ON DOWN!
(The Newspaper of the Diocese)