Announcements
February 7, 2013
+ + + + +

SEARCH UPDATE

+ + + + +
All Saints' has extended a call to Rev. Ryan Newman to be our next rector. He and his wife, Dr. Erin Newman, are currently discerning whether he will be able to accept this call. Please keep them in your prayers.
______________________________________
Memorial Services for Kay Lee
Saturday, February 9 at 9:00 am
Memorial Services for Kay Lee will be taking place at All Saints' Church this Saturday, February 9, 2013, at 9:00 a.m. Join us as we celebrate the life of our beloved member now at home with the Lord. The family has requested no gifts.
______________________________________
Confirmation/Lenten Classes Starting Up
First Class: Tuesday, February 12
With the Season of Lent approaching, Rev. Mary will be offering an opportunity for all church members to take part in Christian education. Although the classes are designed to prepare candidates for confirmation, the material is of interest to everyone, and especially for those who may need a "refresher". Who are We? What does church membership mean? Why live a life of faith? These are just a few of the topics being covered.
Beginning on Tuesday, February 12, classes will be held in the rectory living room from 5:45 - 7:30 p.m. The remaining five classes will be held on the following Wednesdays at the same time. Candidates for confirmation must attend all classes. All other members or interested persons can attend any or all of the classes. For more information and to view the schedule of topics, go the "Our Ministries" tab on the church website and click on "Christian Formation", or click HERE to go directly to the webpage now.
If you or someone you know may be interested in being Baptized, Confirmed, Reaffirmed or Received into the Episcopal Church, please contact Rev. Mary at 634-9343, or e-mail her.
______________________________________
ASH WEDNESDAY SERVICES, FEBRUARY 13
Turn in your old palm crosses this Sunday!!!
Ash Wednesday marks the beginning of Lent. The following are the service times and information:
8:00 am: Imposition of Ashes (Only) - Rev. Mary will be available at the church with ashes until noon for those that cannot make it to the 8:00 am service.
5:00 pm: Healing Service (Please note that this has moved from its regularly scheduled time of 8:00 am for this Wednesday only.)
6:30 pm: Ash Wednesday Service - Imposition of Ashes and Eucharist
______________________________________
ECW Annual Luncheon Coming Up
RSVP by February 11
The Episcopal Church Women of All Saints' will be having their annual luncheon on Saturday, February 16, 2013, 11:30 a.m., at the Island Palms Restaurant in Kapa'a. Anyone interested in attending is asked to confirm reservations with Janis Wright at 822-3930 or 652-2524, or
e-mail her
, by February 11, 2013. It has been suggested that since the luncheon falls on the scheduled monthly church workday, that attendees work up an appetite at the workday before heading to the luncheon! Great idea!
______________________________________
Coming Soon... 2013 Art Decor for Church
For the past two Easters, members have taken an active role in the decor of the church with their creations unveiled on Easter Sunday. Members created beautiful works of art that remained on the walls until the next Easter when a new set was revealed. In 2011, beautiful banners with Scripture were displayed, one of which was used for the most recent Stewardship campaign. Youth member and artist, Jannin Hashizume, had painted a lovely watercolor with the popular Corinthians Scripture. In 2012, members made ceramic crosses in varying shapes and sizes. They were created over a couple of weekends at a nearby pottery studio. Plans are currently in the works for another art project to help dress the walls of the church this year, so stay tuned!
______________________________________
All Saints' 2012 Video Posted on Website
The Annual Meeting opening video is now posted on the church website under the Spotlight tab. For those that don't have Facebook and who weren't able to make it to the annual meeting, be sure to take a look at our very busy year compressed into 20 minutes, and see if you can find yourself! The Annual Report will also be posted on the website soon.
______________________________________
"Like" our new Facebook Page!
Be the first to know what's happening at All Saints' and "Like" us to get the latest announcements, photos, news, and activities taking place at All Saints' through Facebook! The page is under All Saints' Episcopal Church Kauai, or click on the link below to get there now. For those not on Facebook--- it's easy to sign up! Contact
Sybil
to learn more or if you need help getting started.
______________________________________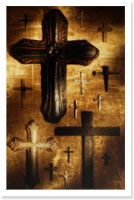 Last Sunday after the Epiphany
O God, who before the passion of your only-begotten Son revealed his glory upon the holy mountain: Grant to us that we, beholding by faith the light of his countenance, may be strengthened to bear our cross, and be changed into his likeness from glory to glory; through Jesus Christ our Lord, who lives and reigns with you and the Holy Spirit, one God, for ever and ever.
Amen.
Book of Common Prayer,

p216
SUNDAY SERVICES:
7:00 a.m.
Holy Eucharist
+
9:30 a.m.
Holy Eucharist
+
ASH WEDNESDAY
SERVICES
February 13
8:00 a.m.
Imposition of Ashes (Only)
5:00 p.m.
Healing Service
6:30 p.m.
Imposition of Ashes and Eucharist
Choir practice takes place in the church every Thursday evening at 6:00 pm. All are invited to join including visitors coming to Kaua'i!
Buildings & Grounds Meeting
Tuesday, February 12, 9:00 am,Church Officel
Ke Akua Youth Group Meeting
Sunday, February 17, 11:00 am, Memorial Hall
Vestry Meeting
Monday, February 18, 6:30 pm, Memorial Hall
ECW Meeting
Thursday, February 21, 7:00 pm, Memorial Hall
UPCOMING EVENTS & ACTIVITIES
First Confirmation- Lenten Class
Tuesday, February 12, 5:45pm, Rectory
Continuing Confirmation-Lenten Classes
Wednesdays, February 20 - March 20, 5:45pm, Rectory
Episcopal Church Women Luncheon
Saturday, February 16, 11:30 am, Island Palms Restaurant
Regional Confirmation Ceremony
Saturday, April 27, St. Michael's
American Cancer Society's Relay for Life of Kaua'i
Church work days take place every third Saturday of the month from 8:00 am - 12:00 pm.
COME ON DOWN!
(The Newspaper of the Diocese)