Announcements
December 21, 2012
Greetings!
Christmas Party this Sunday!!!
Be sure to bring the whole family for a whole lotta fun!!!

ALL SAINTS' CHRISTMAS POTLUCK PARTY
SUNDAY, DECEMBER 23 AT 5:00 PM
The All Saints' Christmas potluck party is coming up on Sunday, December 23, beginning at 5:00 pm in the gym. Lots of fun, food and fellowship is in store as we celebrate the birth of our Lord! Immediately following the party at 7:00 pm, the beautifully animated movie Polar Express starring Tom Hanks, will be shown in the gym. Bring your lawn chairs, folding mattresses and make yourselves comfortable as we enjoy this Christmas classic together.

CHRISTMAS EVE RECEPTION
Rev. Mary Tudela invites all to a Christmas Eve reception
in the Rectory following the 5:30 pm service. Please be sure to sign up on the form at the entrance of the Church this Sunday so she can prepare accordingly.
Christmas Service Schedule
Christmas Eve, December 24
5:30 pm & 10:30 pm
+
Christmas Day, December 25
10:30 am
Donations for Poinsettas
It's that time of year, and the church is seeking monetary donations to help defray the cost for Poinsettas that will decorate the church. For more information, contact Chris at 822-4267.
MAHALO TO OUR CAROLERS!!!
The halls of Mahelona were filled with cheer and music as over 30 All Saints' members gathered together to sing Christmas Carols for the long-term patients this past Sunday, December 16. Decorated bottles of lotion were also passed out as they made their way through the corridors. Many thanks to Choir Director, Curtis Shiramizu and Mason Tabura for leading the charge with instruments and music, to the youth group for prepping the bottles of lotion, and for everyone who came to help spread cheer and joy! Fa-la-la-la-la-la-la-la-la!
Search Update
Please continue to keep the Search Committee in your prayers. They are currently conducting extensive phone interviews with candidates. We appreciate their commitment and dedication to this very important process. We thank Rev. Mary for the Search Committee Prayer:
Almighty and everliving God, look favorably upon us, the people of All Saints', in this time of transition as we search for a new rector.
We pray for the life of our parish, that we may continue to be guided by your love and strengthened in our mission to serve you through minitry, fellowship and worship.
We pray for our search committee, Jan Hashizume, David Murray and Dianne Tabura, that their hearts may be open to what your spirit is saying.
We pray for the priest whose name is known to you alone, that he or she be open to your call.
Give us your grace to follow where you would lead us, and grant us your peace. In Jesus' name we pray. Amen.
CELEBRATES ITS 6TH ANNIVERSARY!
ENTIRE STORE IS ON SALE!!!
FINAL DAYS OF SHOPPING!
HOW TIME FLIES! Hale Lani Christian Store is celebrating its 6th Anniversary all month long, with everything in the store on sale! If it's not marked, it's at least 20% OFF, with some items marked down 75%! Tons of new merchandise has arrived with something for everyone--- from infant to elder, and new items are still arriving every day, so come back to see the new fabulous products, all with that "heavenly" touch! A special thank you to all of the Hale Lani store volunteers who have selflessly dedicated themselves to this ministry that serves our community and church programs! God bless you!
Hale Lani will be closed from December 24 - January 6, and will re-open on January 7, 2013. MERRY CHRISTMAS & A HAPPY NEW YEAR!
There's something for everyone---sports themes, Abba Oils and candles, toys, new t-shirts, notebooks & journals galore, housewares, jewelry, and even manicure sets and lipstick cases---all with that heavenly touch!
Save 50%

Hale Lani Anniversary Coupon

Use this special coupon for a 50% discount off the regular price of a single item. Offer excludes books.

One coupon per customer.

Offer Expires: December 23, 2012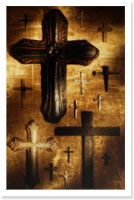 Fourth Sunday of Advent
Purify our conscience, Almighty God, by your daily visitation, that your Son Jesus Christ, at his coming, may find in us a mansion prepared for himself; who lives and reigns with you, in the unity of the Holy Spirit, one God, now and for ever.
Amen.
Book of Common Prayer,

p212
SUNDAY SERVICES:
7:00 a.m.
Holy Eucharist
+
9:30 a.m.
Holy Eucharist
+
WEDNESDAY HEALING SERVICE
8:00 a.m.
Holy Eucharist
+
CHRISTMAS SERVICES:
Christmas Eve, December 24
5:30 pm & 10:30 pm
Christmas Day
10:30 am
Choir practice takes place in the church every Thursday evening at 6:00 pm. All are invited to join including visitors coming to Kaua'i!
Ke Akua Youth
Group Meeting
Saturday, December 22, Rectory Overnight Retreat
Vestry Budget Meeting
Tuesday, January 15, 6:30 pm, Memorial Hall
Vestry Meeting
Monday, January 21, 6:30 pm, Memorial Hall
Annual Meeting
Sunday, January 27, following the 9:30 service
UPCOMING EVENTS & ACTIVITIES
All Saints' Potluck Christmas Party
Sunday, December 23, 5:00 pm, Gym
Christmas Eve Reception
Monday, December 24, following the 5:30 p, Service, Rectory
Movie In the Gym: Polar Express
Sunday, December 23, 7:00 pm
Other
Website Links:
(The Newspaper of the Diocese of Hawai'i)