Announcements
December 7, 2012
Greetings!
'TIS THE SEASON TO BE THANKFUL!
HUGE MAHALOS!!!
KIA Thanksgiving Luncheon:
For the past several years, Thanksgiving at All Saints' has been celebrated with an interfaith service and huge feast served in the gym, put on by the Kapa'a Interfaith Association. This year's luncheon saw well over 600 meals prepared, served and delivered--- the most in the history of this event! Diane Sato and Mary Margaret Smith are the All Saints' representatives who spearhead and help organize this massive effort. We thank them for all of their hard work that brings the entire community together! Click
HERE
to read Diane's thank you note from the KIA, to all the volunteers who helped make this another smashing success!
All Saints' Holiday Craft Fair: Setting another record was this year's Holiday Craft Fair held in the All Saints' Gym & lawn on December 1. With 60 vendors and over 70 booth spaces, this was All Saints' largest fair, that encompassed the gym and lawn area fronting Memorial Hall. Many thanks to the Ke Akua Youth Group and their parents for organizing this hugely successful event, with proceeds from the booth rentals going to their mission fund. The food booth was run by the ECW and youth group, raising funds for next year's Relay for Life that also featured onolicious baked goods. They worked hard to feed the throngs of people, and despite doubling the food supplies over previous years, food was running low early and trips to the store had to be made! What a great problem to have! Many thanks to everyone that contributed their time, energy & products to this event that brought smiles to customers and vendors!
Christmas Tree: Many many thanks to Cliff Arruda and Dianne Tabura, for donating the beautiful Norfolk Pine Tree now gracing the front of the church. The outdoor tree is a returning tradition of All Saints', dressed in blue lights until Christmas... be sure to check it out the next time you pass by the church at night!
ECW MEETING THIS SUNDAY, DECEMBER 9!
Seeking donations of canned goods & toiletries!
The women of the ECW will be holding a meeting this Sunday, December 9, at 11:30 am, and are seeking donations of canned goods and toiletries for holiday baskets. Bring your donations to church.
CHRIS
TMAS CAROLING AT MAHELONA
SUNDAY, DECEMBER 16
All are invited to come and sing through the halls of Mahelona Hospital on Sunday, December 16, at 6:00 pm. Members of All Saints' will be caroling in the Long-term Care Unit, bringing some holiday cheer to the patients there. There will be a couple of informal practices on Thursday, December 13, at 6:30 pm, following the regular choir practice, and also on December 16, after the second service. Even if you can't make the practices, come join the group. If you can play an instrument, please bring that along too! For more information, call 651-7773.
ALL SAINTS' CHRISTMAS POTLUCK PARTY
SUNDAY, DECEMBER 23
The All Saints' Christmas potluck party is coming up on Sunday, December 23, beginning at 5:00 pm in the gym. Lots of fun, food and fellowship is in store as we celebrate the birth of our Lord! Immediately following the party at 7:00 pm, the beautifully animated movie Polar Express starring Tom Hanks, will be shown in the gym. Bring your lawn chairs, folding mattresses and make yourselves comfortable as we enjoy this Christmas classic.
CELEBRATES ITS 6TH ANNIVERSARY!
EVERYTHING ON SALE!!!
HOW TIME FLIES! Hale Lani Christian Store is celebrating its 6th Anniversary all month long, with everything in the store on sale! If it's not marked, it's at least 20% OFF, with some items marked down 75%! Tons of new merchandise has arrived, with new items going on shelves every day, so come back often to see all the fabulous products available, all with that "heavenly" touch! A special thank you to all of the Hale Lani store volunteers who have selflessly dedicated themselves to this ministry that serves our community and church programs! God bless you!
Christmas Service Schedule
Christmas Eve, December 24
5:30 pm & 10:30 pm
+
Christmas Day, December 25
10:30 am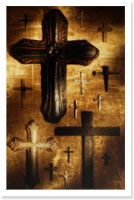 Proper 25
Book of Common Prayer,

p235
SUNDAY SERVICES:
7:00 a.m.
Holy Eucharist
+
9:30 a.m.
Holy Eucharist
+
WEDNESDAY HEALING SERVICE
8:00 a.m.
Holy Eucharist
+
CHRISTMAS SERVICES:
Christmas Eve, December 24
5:30 pm & 10:30 pm
Christmas Day
10:30 am
Choir practice takes place in the church every Thursday evening at 6:00 pm. All are invited to join including visitors coming to Kaua'i!
ECW Meeting
***Note new date & time***
Sunday, December 8, 11:30 am, Memorial Hall
UPCOMING EVENTS & ACTIVITIES
Christmas Caroling at Mahelona
Sunday, December 16, 6:00 pm
Mahelona Long Term Care, Kapa'a
KeAkua Retreat
Ke Akua Angel TreeVisit
December 23, 12:00pm (tentative)
All Saints' Potluck Christmas Party
Sunday, December 23, 5:00 pm, Gym
Movie In the Gym: Polar Express
Sunday, December 23, 7:00 pm
Other
Website Links:
(The Newspaper of the Diocese of Hawai'i)