KRE, Ironstate Sell Midtown Manhattan Development Site For $99 Million

NEW YORK CITY -- Bridgewater, N.J.-based Kushner Real Estate Group (KRE) and Hoboken, N.J.-based Ironstate Development Co. have completed the disposition of a development site at 241 Fifth Ave. in Manhattan's Madison Square neighborhood. Victor Homes acquired the 132,000-buildable-square-foot site for $99 million. KRE purchased three adjacent buildings and spent the last few years acquiring air rights to develop a luxury condo building. KRE and Ironstate engaged Hollwich Kushner (HWKN) to design the property, but ultimately decided to sell the site at the corner of Fifth Avenue and 30th St. Yoav Oelsner and Glenn Tolchin of JLL brokered the transaction.

U.S. CMBS Delinquencies Continued
to Wane in May, Trepp Data Shows


NEW YORK CITY --
The delinquency rate of U.S. commercial mortgage-backed securities (CMBS) fell 17 basis points in May, marking a year-long improvement. The delinquency rate for U.S. commercial real estate loans in CMBS is now 6.27 percent, 280 basis points lower than the May 2013 rate of 9.07 percent. What's more, the delinquency rate has fallen 407 basis points since the all-time high of 10.34 percent in J
uly 2012.

Loan resolutions totaled more than $1 billion in May, up from approximately $850 million in April. Removing distressed loans from the delinquent loan pool put 20 basis points of downward pressure on the delinquency rate. Loans that cured totaled over $800 million in May, which took 16 basis points off the delinquency loan percentage.
New delinquencies totaled about $1.3 billion in May, which pushed the rate up by 24 basis points. Loans that had been delinquent but were resolved without losses ($120 million) put another two basis points of downward pressure on the rate in May.
To put the May delinquency figures into context, the percentage of loans 30-plus days delinquent or in foreclosure was 6.44 percent in April and 6.54 percent in March.
The percentage of loans seriously delinquent (60-plus days delinquent, in foreclosure, REO, or non-performing balloons) fell 20 basis points in May to 6.05 percent.
The volume of delinquent loans in May was $33.6 billion, down from $34.1 billion in April. This number excludes loans that are past their balloon date but are current on their interest payments. There are $40.4 billion in loans placed with the special servicer totaling approximately 2,450 loans.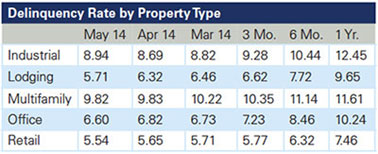 Source: Trepp LLC
Analysis by Property Sector
The industrial delinquency rate was the only major property type to worsen in May. It increased 25 basis points to 8.94 percent. One year ago the industrial rate was 12.45 percent.
The lodging delinquency rate shed 61 basis points and is now 5.71 percent. Twelve months ago, the lodging rate was 9.65 percent. The 394-basis-point decline is the best year-over-year improvement among the property types.
The multifamily delinquency rate dropped one basis point to 9.82 percent. Apartment loans are still the worst performer among the major property types. One year ago, the multifamily rate was 11.61 percent.
The office delinquency rate fell 22 basis points to 6.60 percent. In May 2013, the office rate was 10.24 percent.
The retail delinquency rate kept the top spot as the best performing major property type. The delinquency rate for retail loans dipped 11 basis points to 5.54 percent. Twelve months ago, the retail rate was 7.46 percent.
-- Danielle Everson


Seavest, Anchor Break Ground
on 72,000 SF Medical Office Building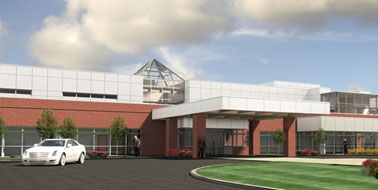 The Jennersville Medical Office Building will be occupied by Penn Medicine Chester County Hospital and affiliated physicians.

JENNERSVILLE, PA. -- White Plains, N.Y.-based Seavest Healthcare Properties in partnership with Anchor Health Properties has broken ground on the Jennersville Medical Office Building at the Penn Medicine Southern Chester County healthcare complex. Situated on the northeast corner of Route 1 and Route 769 in Jennersville, the two-story, 72,000-square-foot building will feature primary and specialty care physician offices, diagnostic imaging, physical therapy and laboratory services. Penn Medicine Chester County Hospital and affiliated physicians will occupy the new building. Construction is scheduled to be completed in 12 months.

Meridian Capital Arranges $30 Million Multifamily Construction Loan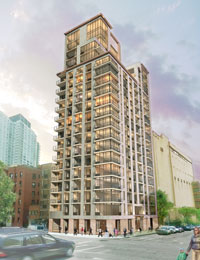 Golden Asset LLC plans to develop
a 20-story, 83-unit multifamily property at 501 East 74th Street.
NEW YORK CITY -- Meridian Capital Group has arranged a $30 million first mortgage construction loan for the ground-up development of a multifamily property located at 501 E. 74th St. in New York. The borrower, Golden Asset LLC, plans to develop a 20-story, 83-unit property, which is being designed by Steven B. Jacobs Group Architects. Aaron Birnbaum and Tal Savariego of Meridian Capital Group negotiated the three-year loan, which features a competitive spread over LIBOR, interest-only payments for the full term and several extension options.

Hersha Opens Hilton Garden Inn Midtown East-Manhattan


NEW YORK CITY -- Hersha Hospitality Trust has opened Hilton Garden Inn Midtown East. Located on 52nd Street in Manhattan, the hotel brings 205 rooms to Manhattan's office market, which totals approximately 20 million square feet. Based on the company's forecasts, the development represents a first full-year economic capitalization rate of approximately 8.1 percent and a hotel EBITDA of 11.2x. Additionally, on a stabilized basis, the investment represents an economic capitalization rate of 11 percent and a hotel EBITDA multiple of 8.4x.


Capital One Bank Combines Balance Sheet, Agency Lending Groups

NEW YORK CITY -- Capital One Bank has introduced Capital One Multifamily Finance, a commercial real estate organization that combines the company's balance sheet and agency lending groups into a single entity. This is the next stage in Capital One's integration of Beech Street Capital, the agency originator and servicer acquired by Capital One last year.
"These teams are already working closely together to offer our clients the best of both organizations," says Rick Lyon, head of commercial real estate banking for Capital One in New York City. "Bringing them under a single banner enhances our ability to serve clients more efficiently, while signaling to the marketplace that we intend to become an even greater force in the multifamily business."
Capital One Multifamily Finance is entering the market as top-five U.S. multifamily originator. The company will offer its expanded client base the capabilities of Capital One's Commercial Banking group in related asset classes and in services, such as treasury management.
"As a full-service provider, we have the breadth to deliver the best possible financing solution for each one of our clients," says Scott Swerdlin, senior vice president of Capital One.
The multifamily group will offer a national platform with offices across the country. Beech Street operates nine locations across the country, and Capital One offers balance sheet financing in key East Coast markets, as well as Texas and Louisiana.

Seniors Housing Business Selected to Produce ASHA 50 Supplement


ATLANTA -- Seniors Housing Business, France Media, Inc.'s award-winning magazine covering the rapidly growing independent and assisted living, skilled nursing and memory care facets of the seniors housing industry, has been selected by the American Seniors Housing Association to produce this year's "ASHA 50" supplement, which ranks the 50 largest owners and managers of seniors housing.
The ASHA 50 supplement will be produced with Seniors Housing Business' August/September issue, which will also be distributed at the National Investment Center's (NIC) annual conference, the leading information and networking event in the seniors housing industry.
"We are extremely excited to work with Seniors Housing Business on the ASHA 50 rankings and we believe this 21st edition will continue the established tradition of producing authoritative rankings of the largest owners and managers of market-rate seniors housing," said David Schless, president of the American Seniors Housing Association. "The ASHA 50 supplement is a must-have publication for owners, operators, lenders and investors, and other professionals interested in understanding key trends related to seniors housing real estate."
"Seniors Housing Business is very excited to partner with ASHA on what is a "must-read" for everyone in seniors housing as well as those considering getting into this growing sector of commercial real estate," said Richard Kelley, publisher of Seniors Housing Business. "ASHA's decision to work with Seniors Housing Business is a reflection of how the magazine has become an integral part of the seniors housing industry. The ASHA 50 will not only reach all of our Seniors Housing Business circulation, but will also be mailed with the circulations of France Media's five regional commercial real estate magazines (Northeast Real Estate Business, Southeast Real Estate Business, Heartland Real Estate Business, Texas Real Estate Business and Western Real Estate Business) to give ASHA and this burgeoning asset class the widest possible exposure and reach."
For more information about the ASHA 50 supplement and Seniors Housing Business, contact Editor Matt Valley at (404) 832-8262 or mvalley@francemediainc.com. For advertising information, contact Richard Kelley at (914) 468-0818 or rkelley@francemediainc.com.


RKF Brokers $23 Million Sale of

Mixed-Use Property In Lower Manhattan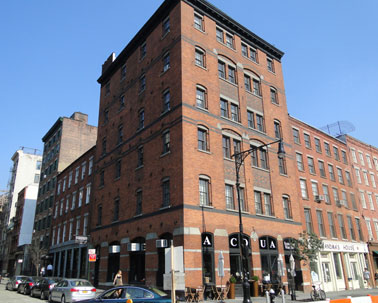 The two-building property offers commercial space and
20 market-rate residential units at 257 Water St. in Lower Manhattan.
NEW YORK CITY -- RKF has arranged the sale of a 27,164-square-foot mixed-use property located at 257 Water St. in Lower Manhattan. 257 Water Street LLC bought the property from 810-257 Water Street LLC for $23 million. Located at the northwest corner of Water Street and Peck Slip, the property consists of two commercial and residential buildings, including 20 market-rate apartments. Mark Joseph Steakhouse and Acqua Restaurant & Wine Bar occupy the property's ground-floor retail spaces. The transaction also included additional air rights that allow for future residential expansion. Jeff Fishman, Patricia Garcia and Jonathan Butwin of RKF represented both the seller and buyer in the transaction.
ABJ Properties Takes 12 Upper West Side Buildings For $14.5 Million
NEW YORK CITY -- ABJ Properties has closed on the acquisition of Manhattan Avenue Portfolio, a 12-building multifamily portfolio totaling 101 units. ABJ Properties, run by Ben Soleimani and Joe Soleimani, purchased the portfolio for $14.5 million. The properties are located at 492, 496, 498, 500, 506, 508, 510 and 514 Manhattan Ave.; 317 W. 120th St.; and 301, 309 and 312 W. 121st St. Ira Zlotowitz and Meir Kessner of Eastern Union Funding arranged $9.5 million in financing for the acquisition. The non-recourse loan provided by Customers Bank covers 80 percent of the buildings' value and features a 3.75 percent rate.
Gebroe-Hammer Arranges $6.75 Million Multifamily Purchase In New Jersey

WANTAGE, N.J. -- Gebroe-Hammer Associates has arranged the sale of The Regency at Sussex, a garden-style multifamily complex located at 10 Layton Road in Wantage. The seller, a limited partnership that included private investor Michael Halpern, sold the property to an undisclosed buyer for $6.75 million. Built in 1975, the 100-unit multifamily property features a mix of one- and two-bedroom residences ranging in size from 850 to 950 square feet. The residential units feature spacious closets, eat-in kitchens and separate living and dining areas. Community amenities include a playground and laundry facilities. Stephen Tragash of Gebroe-Hammer represented both parties in the transaction.
Weiss Realty Brokers $5.3 Million Walgreens Sale In Union City
UNION CITY, N.J. -- Moonachie, N.J.-based Weiss Realty Co. brokered the sale of a Walgreens located at 3333 Park Ave. in Union City. A 1031 tax-deferred exchange buyer acquired the 11,000-square-foot property for $5.3 million. Jaime Weiss and Arnold Litt of Weiss Realty Co. represented the seller and buyer in the transaction.
GFI Brokers $3 Million Apartment Building Sale In East Harlem
NEW YORK CITY -- GFI Realty Services has brokered the sale of a vacant, five-story walk-up apartment building located in Manhattan's East Harlem neighborhood. A local investor acquired the 10-unit property for $3 million, or $300,000 per unit. Constructed in 1930, the 9,656-square-foot building is located two blocks from the 116th Street subway station, which services the 2, 3 and 6 lines. Yosef Katz and Yisroel Pershin of GFI represented the seller, a local investor, in the transaction.

PKF Hospitality Research Forecasts Record Performance for U.S. Hotels

Mark Woodworth,

PKF Hospitality Research


ATLANTA -- The U.S. lodging industry is expected to achieve an occupancy level of 63.6 percent in 2014, topping the pre-recession peak of 63.1 percent reported by STR Inc. in 2006. That's the latest forecast from Atlanta-based PKF Hospitality Research.
Given this favorable balance between supply and demand, Mark Woodworth, president of PKF Hospitality Research, predicts that hotel owners and operators will begin to see a real (inflation-adjusted) recovery in average daily rate (ADR) and net operating income (NOI).
"The domestic hotel industry is operating at peak performance. We can stop using the term 'recovery,'" emphasizes Woodworth. "The U.S. lodging industry is at a place in the business cycle where a confluence of market and operational factors will lead to impressive performance on both the top and bottom line. In 2014 and 2015, our firm is forecasting several all-time highs for some of the most important metrics in the hotel business."
By year-end 2015, PKF projects that the U.S. lodging industry will have achieved the following milestones:
"Most everyone is enjoying the benefits of life in the sweet spot. However, it is natural for people to begin to worry about their ability to sustain such peak performance," points out Woodworth.
To read the full report, click here.

Annual Residential Downtown Breakfast Roundtable Discussion

Overview: Hosted by REBNY's Residential Division's Downtown Committee, the annual residential roundtable discussion will cover a variety of topics with residential experts, including brokers, appraisers and mortgage brokers.

When: June 6, 8:30 a.m. to 11 a.m.
Where: Brotherhood Synagogue, 28 Gramercy Park South,

NYC
Real Estate Opportunity and Private Funding Investing Forum

Overview: The 15th annual U.S. Real Estate Opportunity and Private Fund Investing Forum.

When: June 12-13, 11 a.m. to 6 p.m.
Where: Marriott Marquis, 1535 Broadway,

NYC
Residential Ethics Course
for New Members

Overview: Required non-credit course for new REBNY members. Registration is required.

When: June 24, 9 a.m. to 10:30 a.m.
Where: REBNY Mendik Education Center, 570 Lexington Ave. (Lower Level),

NYC
Certified Negotiation Expert Course

Overview: Sponsored by REBNY, the two-day course is for real estate professionals looking to obtain CNE certification or continuing education credits.

When: June 25-26, 9 a.m. to 5:30 p.m.
Where: REBNY Mendik Education Center, 570 Lexington Ave. (Lower Level),

NYC
Contact us
Matt Valley, Editorial Director
Northeast Real Estate Business
France Media, Inc.
404-832-8262
404-832-8260