MEDICAL OFFICE BUILDING ACHIEVES LEED CERTIFICATION IN WOODSTOCK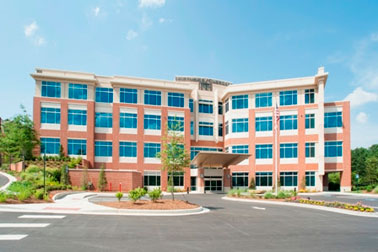 The 100,767-square-foot Northside-Cherokee Towne Lake medical office building in Woodstock is solely leased by Northside Hospital.

WOODSTOCK, GA. -- Indianapolis-based Duke Realty's Northside-Cherokee Towne Lake medical office building has achieved LEED certification. Located at 900 Towne Lake Parkway in Woodstock, the four-story, 100,797-square-foot building opened in June 2013. The development of Northside-Cherokee included the demolition of existing vacant mixed-use buildings on a 8.23-acre site and ground-up construction of the medical office building.
Prior to demolition, the team salvaged building materials from the existing structures and donated items to local organizations, such as Habitat for Humanity and MUST Ministries. The contractor, Brasfield & Gorrie, recycled more than 90 percent of the remaining demolished building materials, and the design team, Duke Realty and Lyman Davidson Dooley Inc., integrated existing site elements, such as rubble retaining walls, a large retention water feature and surface parking lots, into the final design of the project.
The Class A medical office building is solely leased to Northside Hospital. The facility is owned by Duke Realty Towne Lake Development LLC, a wholly owned entity of Duke Realty Limited Partnership.
LEE & ASSOCIATES ARRANGES TWO INDUSTRIAL SALES FOR $7.3 MILLION

FOREST PARK AND CARTERSVILLE, GA. -- Lee & Associates has brokered the sale of two industrial properties in Georgia for a combined purchase price of approximately $7.3 million. The two projects included 13-16 Overmeyer Way in Forest Park, a 242,000-square-foot, four-building industrial complex; and a 55,000-square-foot flex property at 774 GA Highway 320 in Cartersville.
Rick Tumlin of Lee & Associates, along with Tom Ellis of Atlanta South Commercial Properties, represented the seller, Charlotte, N.C.-based Columbus Nova, in the Forest Park transaction. Mike Sutter of Lee & Associates represented the buyer, Sealy & Co., which has retained Sutter and Tumlin to market the property. Tumlin and Sutter also represented the buyer of the Cartersville facility, Road Tested Parts. Tom Sims of Ackerman & Co. represented the seller.
CLEAN CUT FABRICATORS/BLUE SKY EXHIBITS LEASES 112,000 SF SPACE

ATLANTA -- Clean Cut Fabricators/Blue Sky Exhibits has signed a lease for 112,000 square feet of warehouse space in Atlanta. The industrial property is located at 5901 Bakers Ferry Road. Kathryn Kennelly with KPK Commercial and Charles Holloway with Charles B. Holloway LLC represented the tenant, while Rick Tumlin, Mike Sutter and Tommy Hiles of Lee & Associates represented the landlord, Cabot Properties, in the transaction.

SOUTHERN HOSPITALITY STAYS STRONG IN ATLANTA

ATLANTA -- While PKF Hospitality Research forecasts a record year for hospitality across the United States, the Atlanta market is expected to shine as well (read the PKF's U.S. report below). By year-end 2014, Atlanta hotels are forecast to see a RevPAR increase of 8.7 percent, which is a result of an estimated 3.6 percent increase in occupancy and a 4.9 percent gain in average daily room rates (ADR).
According to the Federal Reserve Bank, Atlanta's economy expanded at a modest pace from mid-February through March, and sectors and businesses are optimistically expecting near-term activity to grow at a moderate pace. Despite a decline in travel in January due to weather conditions and possible negative impacts on the number of travelers due to international political issues, Atlanta's tourism industry expects to see an increase in business in the next six months compared with a year ago.
Looking toward 2015, Atlanta RevPAR is expected to grow 7 percent, which is less than the rate of growth in 2014. Prospects for RevPAR growth in the lower-priced segment, which is currently the hot market, (positive 8.4 percent) are better than in the upper-priced segment (positive 6 percent). Additionally, Atlanta market occupancy levels are expected to range from 65.2 percent to 66.5 percent during the five-year forecast period.
PKF FORECASTS RECORD PERFORMANCE FOR U.S. HOTELS

Mark Woodworth
ATLANTA --
The U.S. lodging industry is expected to achieve an occupancy level of 63.6 percent in 2014, topping the pre-recession peak of 63.1 percent reported by STR Inc. in 2006. That's the latest forecast from Atlanta-based PKF Hospitality Research.
Given this favorable balance between supply and demand, Mark Woodworth, president of PKF Hospitality Research, predicts that hotel owners and operators will begin to see a real (inflation-adjusted) recovery in average daily rate (ADR) and net operating income (NOI).
"The domestic hotel industry is operating at peak performance. We can stop using the term 'recovery,'" emphasizes Woodworth. "The U.S. lodging industry is at a place in the business cycle where a confluence of market and operational factors will lead to impressive performance on both the top and bottom line. In 2014 and 2015, our firm is forecasting several all-time highs for some of the most important metrics in the hotel business."
By year-end 2015, PKF projects that the U.S. lodging industry will have achieved the following milestones:
"Most everyone is enjoying the benefits of life in the sweet spot. However, it is natural for people to begin to worry about their ability to sustain such peak performance," points out Woodworth.
To read the full report, click here.

LEE & ASSOCIATES HIRES SEVEN DIRECTORS TO ATLANTA OFFICE

ATLANTA -- Lee & Associate's Atlanta office has hired seven directors who specialize in office, industrial, retail and land sectors. The office hired Allen Brown, a senior director focusing on office properties; Jim Simpson, a senior director specializing in office properties; Adam Simpson, a director specializing in office and retail properties, as well as sales and site selection; and Edward Hales, a director focusing on office properties. Additionally, the company hired Marty Pinover, an executive managing director/principal focusing on industrial properties; Michael Dahmer, a senior director specializing in retail properties; and Carl Bolch III, a senior director focusing in real estate development and site selection.
PHILIP LEABO JOINS BULL REALTY

Philip Leabo

ATLANTA -- Atlanta-based Bull Realty has hired Philip Leabo as a vice president in the firm's national net lease investment group. In his new role, Leabo will assist investors with single-tenant, net-lease investment properties, sale-leaseback transactions and 1031 tax-deferred exchanges. With 15 years of experience, he previously was a member of Prudential Georgia Realty and The Wright Group. Additionally, Leabo has experience in the finance industry and has owned and operated a lumber sales and manufacturing business.
PSI PROMOTES MAURICE DEPREY
TO SENIOR ARCHITECT

KENNESAW, GA. -- Professional Service Industries (PSI) has promoted Maurice Deprey to senior architect in the firm's Kennesaw facilities/environment department. With more than 20 years of experience in the construction industry, he has provided construction administration, roofing inspection and design, property condition assessments and Phase I environmental site assessments.
BOMA Building Systems: Part 1
BOMA Georgia's The Design, Operation and Maintenance of Building Systems, part one.
Wednesday - Friday, June 11-13; 8:30am - 5:00pm
BOMA Georgia Conference Center
5901-C Peachtree Dunwoody Rd NE, Suite 300
Medical Office Building SIG Meeting
BOMA Georgia's quarterly MOB Shared Interest Group meeting. Speakers will be Kevin O'Sullivan and Brad Skidmore.
Tuesday, June 17; 8:00am - 9:30am
Emory University Hospital Midtown
Green Real Estate Network Breakfast
Topic: Green Leases and Green Vendor Contracts
Speakers: Charlie Cichetti, LEED AP, Sustainable Investment Group & Marvin Pastel, Winter Capriola Zenner
Wednesday, June 18; 8:30am - 9:30am
BOMA Georgia Conference Center
5901-C Peachtree Dunwoody Rd NE, Suite 300

Contact Us
Atlanta Commercial Properties
France Media, Inc.
3500 Piedmont Rd., Ste. 415
Atlanta, GA 30305