FERNCROFT CAPITAL BUYS SOUTHPARK RETAIL ASSET FOR $44.9M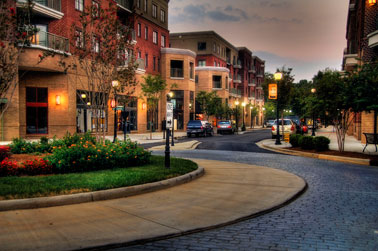 The 131,000-square-foot retail property is occupied by
Earth Fare, Barnes & Noble, TrySports and Firebirds Wood Fire Grill.
CHARLOTTE, N.C. -- Charlotte-based Ferncroft Capital has acquired Morrison, a 131,000-square-foot, Class A retail property in Charlotte's SouthPark neighborhood, for $44.9 million. Morrison, located at the intersection of Sharon and Colony roads, is fully leased to tenants such as Earth Fare, Barnes & Noble, TrySports, Firebirds Wood Fired Grill and upscale clothing store Capitol. The asset is part of the larger Morrison mixed-use community that features 314 luxury apartments and 119 condominiums. Berkeley Capital Advisors represented the seller in the transaction, and Bryan Brooks of Medalist Capital arranged acquisition financing. Ferncroft will retain Madison Marquette as the property manager.
CONNOR GROUP BUYS THE ARBORETUM IN CHARLOTTE FOR $32.3M

CHARLOTTE, N.C. -- The Connor Group has purchased The Arboretum, a 277-unit, Class A apartment community in south Charlotte. The Connor Group purchased the asset from Simpson Financial LP for $32.3 million. The apartment community features a resort-style swimming pool, indoor lap pool, business center, fitness center, billiards and media room and lighted tennis courts. The Arboretum is The Connor Group's third acquisition in the Charlotte market in the past seven months.
BEACON BREAKS GROUND ON
415,541 SF WAREHOUSE COMPLEX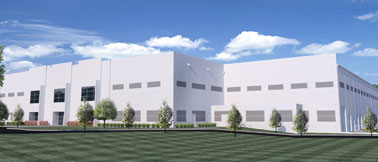 The speculative warehouse complex will feature
two buildings totaling 415,541 square feet.
CHARLOTTE, N.C. -- Beacon Partners, a Charlotte-based developer, has broken ground on InnerLoop North, two warehouse buildings totaling 415,541 square feet. The speculative industrial buildings will be located on David Cox Road near the intersection of Harris Boulevard and Old Statesville Road in north Charlotte. The site for InnerLoop North is situated 1.5 miles from I-77, two miles from I-485 and less than five miles from I-85. The property features 30- and 32-foot clear heights, on-site trailer parking and an ESFR sprinkler system. The project team includes architect Merriman Schmitt, general contractor InterCon Building Corp. and lender Regions Bank. Beacon Partners expects to deliver InnerLoop North in the fourth quarter.

MORRIS: HIGH DEMAND FOR INDUSTRIAL SPACE SPURS SPEC DEVELOPMENT
Interview by John Nelson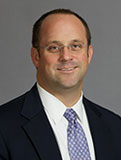 Jon Morris

The demand for industrial space is ramping up in the Carolinas, so much so that speculative projects are cropping up in some of the area's top industrial markets, according to Jon Morris, partner at Beacon Partners, an industrial developer based in Charlotte. In fact, Morris' company recently broke ground on InnerLoop North, two warehouse buildings totaling 415,541 square feet in North Charlotte. (You can read more about the project in the news section above.)
Morris will be a featured panelist at the 2014 InterFace Carolinas information and networking conference on Wednesday, June 11 at the Hilton Charlotte Center City. The panel that features Morris is titled "Industrial Market Update: What's the Outlook for Leasing, Investment and Development in North and South Carolina Industrial Property?" Carolinas Commercial Properties recently talked with Morris about industrial activity in the Carolinas.
CCP: What would you like attendees of the InterFace show to take away from your panel?
Morris: I hope they come away with optimism because industrial fundamentals are solid across the Carolinas and the country. Local, regional and national occupancies are generally at, or above, levels experienced during the last cycle. Developers have been slower to bring new supply to the market, allowing real estate fundamentals to strengthen.
Another thing I hope is relayed at the panel is that there is pent-up demand in the market. After more than 60 months of limited supply in the Charlotte region, surging demand has allowed landlords to achieve rental rates that justify speculative development.
Much of the new supply is directed to tenants occupying 250,000-square-foot and larger spaces. Although the buildings housing Charlotte's bread-and-butter-sized tenants of 20,000 to 50,000 square feet are filling up, rental rates do not yet pencil out for those buildings. That could create an unprecedented supply/demand dynamic for that market segment in the coming quarters.
Additionally, user demand is broad-based right now in the Carolinas. E-commerce and food service are driving much of the need in larger facilities, but demand rounds out in the smaller tenant spaces (under 100,000 square feet). A variety of users from industries ranging from consumer products, building supply, energy, heavy industrials and construction are taking regional distribution centers and sales/service space again.
CCP: Is there any spec development, or is it all build-to-suit projects that are breaking ground in the Carolinas? What are some of the hot markets/submarkets for development?
Morris: Certain market segments are ready for new speculative development. Build-to-suit development has been and remains active, as indicated by the completions for Freightliner, Britax and Energizer, as well as the recent McKesson announcement. Numerous other build-to-suit deals are in the pipeline as well.
As to "hot" markets/submarkets, the I-85 corridor in Cabarrus County has seen the majority of the announcements in the Charlotte region, with three recent projects breaking ground. That trend could spread into several other Charlotte submarkets by the end of 2014. Speculative activity has been slower in the other major Carolinas markets, with the exception of Greenville, where the automotive industry has driven Liberty and Pattillo to bring new buildings to market.
CCP: The Port of Charleston's container volume for March was up 11 percent over March 2013 and is reported to be the busiest it has been in six years. Can you describe the impact the port is having on the industrial market in the Carolinas?
Morris: It's similar to the AT&T "More is Better" commercial with the guy in a suit talking to the young kids.The more containers coming through the Charleston port means more containers processed in the Greer, S.C. inland port, which then means more rail traffic through Norfolk Southern's Charlotte intermodal facility. Each infrastructure investment feeds on the other and correlates to more goods entering the market to satisfy the demands of a growing population in the Carolinas and the Southeast.
The challenge is determining what exactly "more" means in terms of square footage of a new warehouse. Clearly, with eight consecutive quarters of positive net absorption -- and 13 of the last 15, per Andrew Jenkins at KARNES Research -- totaling 2.3 million square feet in the Charlotte region, more equaled better in 2013. A good year in Charlotte is considered more than 1 million square feet.

ELLER CAPITAL INVESTS $65M IN THREE CHAPEL HILL APARTMENT PROPERTIES

CHAPEL HILL, N.C. -- Eller Capital Partners, along with its affiliate PEG Capital Management, plans to invest more than $65 million to buy and rehabilitate three apartment communities in Chapel Hill. As part of the acquisition, the three assets have been rebranded as The Apartments at Midtown 501, 86 North Apartments and Timber Hollow Apartments. Eller Capital will rehabilitate the three communities with updated amenities, modern interior finishes and energy-efficient systems. Eller Capital has proposed to expand Timber Hollow, which, if successful, will be the first time a developer has offered on-site affordable housing units in a rental project in the history of Chapel Hill. Eller Residential Living, an affiliate of Eller Capital Partners, will serve as the on-site manager of the properties.
PHASE II OF NC STATE UNIVERSITY'S TALLEY STUDENT UNION UNDERWAY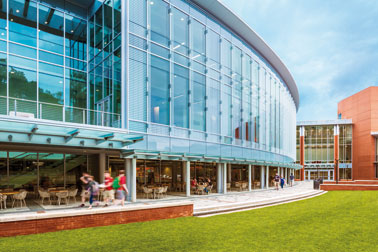 Slated for completion in early 2015, the second phase includes a 117,000-square-foot renovation and a 171,000-square-foot addition.

RALEIGH, N.C. -- Phase II of North Carolina State's (NC State) Talley Student Union in Raleigh is underway. The project includes a 117,000-square-foot renovation and a 171,000-square-foot addition. Phase II, set for an early 2015 completion, will feature a four-story atrium carved from the existing structure, bookstore, additional offices, renovations to the 800-seat Stewart Theater, a video wall facing exterior gathering space Stafford Commons, meeting rooms and lounge areas. The project team, including Cooper Carry and Duda|Paine Architects, is designing the student union to achieve LEED Silver certification. NC State students also have taken part in the design process.
HOMEWOOD SUITES BY HILTON OPENS HOTEL IN CHARLOTTE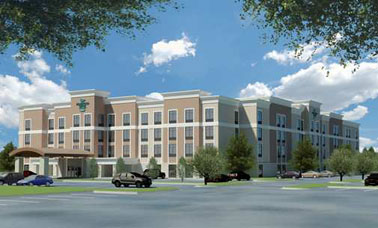 The new Homewood Suites by Hilton will bring 117 hotel suites
to Charlotte's Ballantyne neighborhood.

CHARLOTTE, N.C. -- Homewood Suites by Hilton has opened a four-story, 117-suite hotel at 12030 Copper Way in Charlotte's Ballantyne neighborhood. The hotel, known as Homewood Suites by Hilton Charlotte Ballantyne Area, will be situated near the Ballantyne Corporate Park, Toringdon Circle and Ballantyne Village. Tara of Ballantyne LLC owns the hotel and has selected Tara Hospitality Group to manage the property.
InterFace Healthcare RE Carolinas: June 11

InterFace Conference Group's 4th Annual Healthcare Real Estate Carolinas Conference.

Wednesday, June 11; 2:15 - 6:15pm
Hilton Charlotte City Center
Click here for more information.
InterFace Carolinas: June 11

InterFace Conference Group's 5th Annual Carolinas Commercial Real Estate Conference.

Wednesday, June 11; 8:00am - 1:30pm
Hilton Charlotte City Center
Click here for more information.
Do you have an upcoming event you would like to see listed here? Send an email to ccp@francemediainc.com.

Contact Us
Carolinas Commercial Properties
France Media, Inc.