KICKOFF: ATLANTA FALCONS BREAK GROUND ON $1.2B STADIUM DOWNTOWN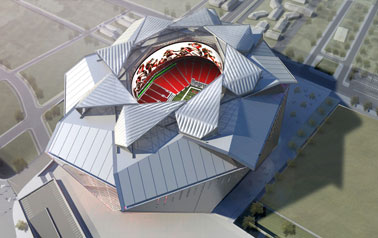 The $1.2 billion multi-purpose stadium in downtown Atlanta is slated to open in 2017.

ATLANTA -- The Atlanta Falcons, along with representatives from the NFL, Major League Soccer (MLS) and the city and state government, have broken ground on the new $1.2 billion stadium in downtown Atlanta. The multi-purpose project is set to open in 2017. The groundbreaking ceremony, which took place Monday, May 19, included a pyrotechnic display and a screening of a 3D movie. Atlanta Falcons owner Arthur Blank, along with NFL commissioner Roger Goodell, MLS commissioner Don Garber and Georgia World Congress Center Authority executive director Frank Poe drove shovels into the ground during the ceremony. 360 Architecture designed the 1.8 million-square-foot stadium, which will accommodate seating for 71,000 guests and feature a retractable roof and an open-air concourse. The stadium will host Atlanta Falcons football games, soccer games of Atlanta's new MLS team, concerts and other events. The city of Atlanta hopes for the stadium to attract world-class sporting events to the city, such as the Super Bowl and the FIFA World Cup.
JUNEAU BREAKS GROUND ON $35.5M BROAD STREET PROJECT IN ATHENS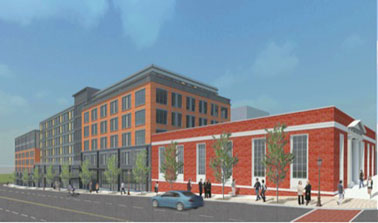 The 375,000-square-foot Broad Street project will bring 252 residential units, retail space and a parking structure to downtown Athens.
ATHENS, GA. -- Juneau Construction Co. has begun construction on a seven-story, 375,000-square-foot mixed-use project in downtown Athens, blocks from the University of Georgia. The $35.5 million Broad Street project will feature 252 residential units, retail space and a parking structure. The residential portion will feature apartments ranging from one to four bedrooms, plus a rooftop terrace, patio and pool. The project team includes developers GEM Realty Capital and Education Realty Trust, as well architect BKV Group. The Broad Street project will open in August 2015.
HENDRICKS-BERKADIA BROKERS $28M SALE OF METRO ATLANTA APARTMENTS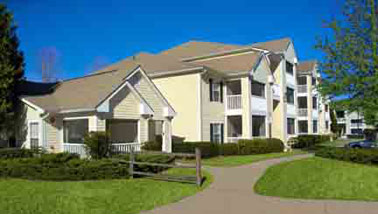 The 316-unit Harbor Creek offers one-, two- and three-bedroom
floor plans ranging from 806 to 1,435 square feet.
CANTON, GA. -- Hendricks-Berkadia has arranged the $28 million sale of Harbor Creek, a 316-unit apartment community in Canton, a northern suburb of Atlanta. The apartment complex features one-, two- and three-bedroom floor plans ranging from 806 to 1,435 square feet. David Oakley and David Etchison of Hendricks-Berkadia, represented the seller, REDUS Georgia Commercial LLC, along with Bo Brown, Judy MacManus and Cory Sams of Brown Realty Advisors. The buyer was New York-based Mar Harbor Creek LLC.
COUSINS, GABLES SIGN LEASE WITH EARTH FARE AT EMORY POINT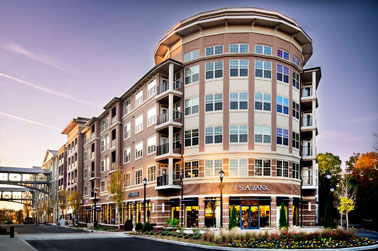 Earth Fare plans to open a 24,782-square-foot store at
Phase II of Emory Point in Druid Hills.
ATLANTA -- Cousins Properties and Gables Residential have signed Earth Fare, an organic and natural foods grocer, to a 24,782-square-foot lease in Atlanta's Druid Hills neighborhood. The grocer will be part of the tenant mix of Phase II of Emory Point, a luxury mixed-use development near The Centers for Disease Control and Prevention, Emory University and Emory Healthcare. Phase I of Emory Point opened in 2012 and includes 80,000 square feet of retail space and 443 apartment units. Earth Fare's lease will bring Phase II's retail portion to 64.6 percent pre-leased. Slated to open in early 2015, Phase II of Emory Point will feature 43,000 square feet of retail space and 307 apartments.

JLL: POP-UP CONCEPTS ON THE RISE

Click above to launch the video.
LAS VEGAS -- Pop-up stores are moving away from seasonal ties to offer mall owners a consistent revenue stream. Pop-ups and vending machines are strengthening bottom lines for retailers nationwide. Tracey Hatley, director of specialty leasing for JLL, and Scott Ryan, vice president of Coca-Cola's strategic partner marketing, spoke on these trends last week in Las Vegas during the annual RECon trade show hosted by the International Council of Shopping Centers. The show attracted more than 33,000 shopping center and retail professionals from across the globe.
Online Exam Prep: LEED Green Associate
BOMA Georgia's online prep for LEED Green Associate exam.
Wednesday, June 4; Online
Click here for more information.
BOMA Building Systems: Part 1
BOMA Georgia's The Design, Operation and Maintenance of Building Systems, part one.
Wednesday - Friday, June 11-13; 8:30am - 5:00pm
BOMA Georgia Conference Center
5901-C Peachtree Dunwoody Rd NE, Suite 300
Click here for more information.

Contact Us
Atlanta Commercial Properties
France Media, Inc.
3500 Piedmont Rd., Ste. 415
Atlanta, GA 30305