C&W BROKERS $2.5M SALE
OF CHARLESTON OFFICE BUILDING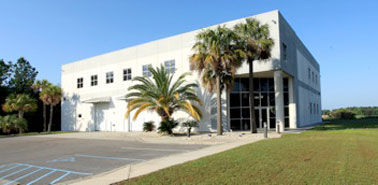 Jessen Lane LLC the former NanoScreen building for
$2.5 million in Charleston, S.C.
CHARLESTON, S.C. -- Cushman & Wakefield | Thalhimer has arranged the $2.5 million sale of a 24,000-square-foot office building located at 1200 Charleston Regional Parkway in Charleston. Jessen Lane LLC purchased the former NanoScreen Building from Wells Fargo Bank. Mankiewicz LLC, a manufacturer of coating systems for the aviation and automotive industries, will lease space at the property. Mark Erickson of Cushman & Wakefield | Thalhimer represented Wells Fargo in the transaction.
BEACON PARTNERS BUYS 520,000 SF DISTRIBUTION CENTER IN WHITSETT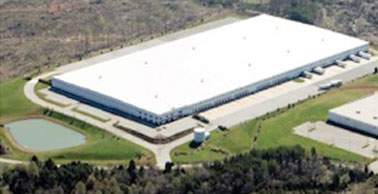 The fully leased, 520,000-square-foot distribution center is located within Rock Creek Center in Whitsett, N.C.

WHITSETT, N.C. -- Charlotte-based Beacon Partners has purchased a 520,000-square-foot, fully leased distribution center in Whitsett, about seven miles from Greensboro. The property is located at 6550 Judge Adams Road, within Rock Creek Center. The distribution center sits on a 30-acre parcel located less than one mile from I-85 and with immediate proximity to the I-40 and I-85 interchange. The property features 28-foot clear heights, a truck court with dock-high and drive-in loading and a ESFR sprinkler system. Beacon Partners' industrial portfolio in the Carolinas spans 5.5 million square feet. Gregg Copps and Lawrence Shaw of Colliers International represented Beacon Partners in the transaction. Dodson Schenck and Greg Wilson of CBRE represented the seller.
SYNCO, STONECUTTER CAPITAL ACQUIRES MULTIFAMILY PORTFOLIO

GREENVILLE, N.C. -- SYNCO Properties Inc. and Stonecutter Capital Management LLC have purchased a three-property multifamily portfolio in Greenville for an undisclosed price. The buyers purchased the assets from the estate of William Dansey, the developer of the three multifamily communities. The three properties -- The Madison (formerly Hyde Park), Courtney Square and Arlington Square -- total 645 units. Courtney Square and Arlington Square will be consolidated into a 429-unit community known as Southgate Apartments. SYNCO and Stonecutter plan to invest $8 million in the coming months for capital improvements to the three properties. Synco Property Management, a subsidiary of SYNCO, will manage the communities. Prime Finance provided acquisition financing for the three apartment communities.

CHAMBERS STREET INKS 316,000 SF LEASE IN WINSTON-SALEM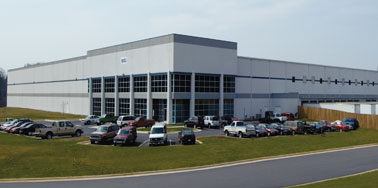 Chambers Street Properties purchased the
316,000-square-foot property in 2007.
WINSTON-SALEM, N.C. -- Chambers Street Properties has signed a five-year, 316,000-square-foot lease with a new, unnamed tenant at its Union Cross Building II in Winston-Salem. The property is located on U.S. Highway 311, in close proximity to I-40, I-85, I-77 and I-81. Chambers Street, an industrial and office REIT, purchased Union Cross Building II in 2007.


SPECIALTY GROCER TO SPROUT
NEW STORES IN PEACH STATE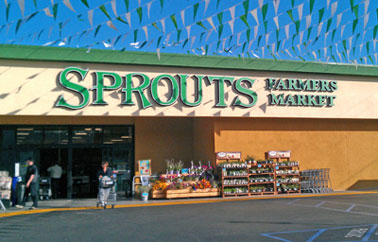 Specialty grocer Sprouts is expanding into Georgia this year with
four new stores (Los Angeles location pictured).

LAS VEGAS -- Sprouts Farmers Market Inc., the publicly traded Phoenix-based specialty grocer with an ambitious growth plan, is coming to the Peach State. The first of four Sprouts stores in metro Atlanta will open June 18 in Snellville, followed by more openings later this summer in Dunwoody, Norcross and John's Creek.
"We're a chain of 172 units. We'll be at 191 at the end of this year, but our long-term [goal] is 1,200 units," said Ted Frumkin, the company's senior vice president of business development. "We have our work cut out for us."
Frumkin's comment came Monday, May 19, during "Retail Trends 2014," a panel discussion moderated by Bill Rose, vice president and national director of the retail group at Marcus & Millichap. Hessam Nadji, senior vice president and chief strategy officer for Marcus & Millichap, provided a largely upbeat outlook for the U.S. economy and retail real estate.
The panel discussion took place at the Renaissance Hotel during RECon 2014, the International Council of Shopping Centers' annual global trade show that attracts more than 33,000 industry professionals.
Sprouts (NASDAQ: SFM) provides high-quality natural and organic products at prices the everyday grocery shopper can afford, according to the company. The grocer offers fresh produce, bulk foods, vitamins and supplements, packaged groceries, meat and seafood, baked goods, dairy products, frozen foods, natural body care and household items catering to consumers' growing interest in health and wellness.
Sprouts currently operates in nine states (California, Nevada, Utah, Arizona, Colorado, New Mexico, Kansas, Oklahoma and Texas.) The company opened 19 stores in 2013 and will open another 19 stores this year. Sprouts wants to grow the number of stores by 14 percent annually for the next several years, said Frumkin.
To read the full report, click here.
POP-UP CONCEPTS ON THE RISE

Click above to launch the video.
LAS VEGAS -- Pop-up stores are moving away from seasonal ties to offer mall owners a consistent revenue stream. Pop-ups and vending machines are strengthening bottom lines for retailers nationwide.
CRCBR Commercial Spotlight: May 28

Charlotte Region Commercial Board of REALTORS's industry tradeshow and networking event.

Wednesday, May 28; 5:00 - 7:0pm
525 N. Tryon St.,
7th Floor
InterFace Healthcare RE Carolinas: June 11

InterFace Conference Group's 4th Annual Healthcare Real Estate Carolinas Conference.

Wednesday, June 11; 2:15 - 6:15pm
Hilton Charlotte City Center
InterFace Carolinas: June 11

InterFace Conference Group's 5th Annual Carolinas Commercial Real Estate Conference.

Wednesday, June 11; 8:00am - 1:30pm
Hilton Charlotte City Center
Do you have an upcoming event you would like to see listed here? Send an email to ccp@francemediainc.com.

Contact Us
Carolinas Commercial Properties
France Media, Inc.