ARCP Buys 500 Red Lobster Locations in $1.5 Billion Sale-Leaseback Deal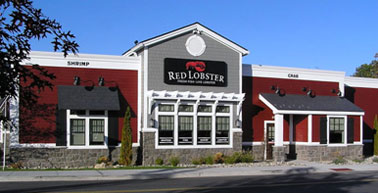 ARCP will acquire more than 500 Red Lobster properties in the
$1.5 billion sale-leaseback deal.

NEW YORK CITY -- American Realty Capital Properties Inc. (NASDAQ: ARCP) has entered into a $1.5 billion sale-leaseback for more than 500 Red Lobster restaurant properties. This deal will be completed in conjunction with Golden Gate Capital's (GGC) acquisition of Red Lobster from Darden Restaurants Inc. (NYSE: DRI).
About 93.5 percent of the portfolio's leases will be structured with a 25-year initial term. Another 6.5 percent will have a weighted average 18.7-year initial term. The portfolio's master leases will include 2 percent annual contractual rent escalations.
"With strong financial metrics, built-in 2 percent annual rent growth and long-term lease commitments, this acquisition affords shareholders value and supports our future earnings growth," says David Kay, ARCP's president. "When consummated, the Red Lobster transaction will allow us to achieve the high end of our acquisition guidance, which we set at $3 billion for 2014."
The deal represents a GAAP cap rate of 9.9 percent and a cash cap rate of 7.9 percent.
To read Nellie Day's full report, click here.

SL Green Refinances 388-390 Greenwich St. for $1.45 Billion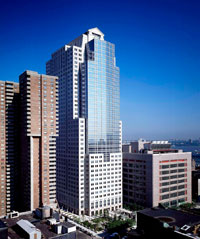 The two-building, 2.6 million-square-foot property in Manhattan was refinanced for $1.45 billion.
NEW YORK CITY -- SL Green Realty Corp. has purchased Ivanhoe Cambridge's stake in 388-390 Greenwich St., a two-building, 2.6 million-square-foot office property in Manhattan, in conjunction with a $1.45 billion refinancing of the property. A lending group comprising Citigroup, Bank of China, Wells Fargo and Barclays provided the new 7-year mortgage. The loan, which has an interest at LIBOR plus 1.75 percent, features an initial 4-year term and three 1-year as-of-right extension options. The loan is replacing the former $1.14 billion financing. The refinancing follows the triple-net lease renewal by an affiliate of Citigroup Inc. for the entire 2.6 million-square-foot complex through year-end 2035, and SL Green's agreement to purchase Ivanhoe Cambridge's stake. Eastdil Secured arranged the financing of behalf of SL Green. Callahan Capital Properties and Eastdil Secured advised Ivanhoe Cambridge in the transaction. Ivanhoe Cambridge expects to reinvest proceeds, building a national U.S. office platform alongside our strategic partner Callahan Capital Properties.


ReCon Takeaway: Retail is Inextricably Linked to Technology, Social Media
By Nellie Day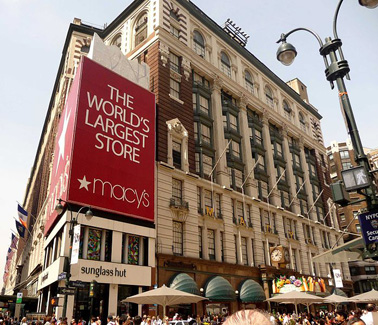 Macy's may be "the world's largest store," but it also
has superb social media presence,
according to RECon panelists.
Above is perhaps its most famous bricks-and-mortar outpost,
on 34th Street in New York's Herald Square.

LAS VEGAS --
Some of the nation's largest shopping center owners and managers took a break early this week from discussing the physical attributes of their properties to focus on their technological infrastructure during RECon 2014 at the Las Vegas Convention Center.
While the shopping center is still the priority, much of the conference's talk so far has focused on the properties' unseen attributes -- its Wifi capabilities, omni-channel presence, appreciation for social media, data analysis, sophisticated information technology systems -- in the quest to get more shoppers in the store and ring up more sales.
"It takes a huge shift in thinking to say that we as a property, or we as an owner, value technology enough that we're going to make an investment because we believe that investment is going to keep bringing customers to our shopping centers," says Corbett Guest, CEO of Dallas-based Imaginuity, a digital marketing agency that works with business-to-business and business-to-consumer companies.
To read the full report, click here.

JLL: Global Retail Market Opportunities Abound for Ambitious Retailers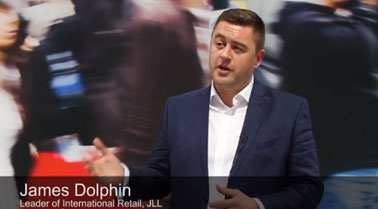 Click on the above image to view a video about
global opportunities for retailers.

LAS VEGAS -- The way retailers use real estate around the globe is fundamentally changing in response to shifts in consumer preferences, spending patterns and robust growth in e-commerce. International retailers are focused on acquiring high-quality retail space in markets with healthy fundamentals. London, New York, Miami, Houston, San Francisco, Hong Kong and Shanghai continue to attract top retailers and are outperforming their regional peers. Yet, these markets aren't the only pockets of opportunity, according to global retail experts at JLL. The international retail market is taking center stage at this year's ICSC RECon show in Las Vegas, which has drawn more than 33,000 retail and shopping center professionals, as well as 1,000 exhibitors.

ICSC RECon 2014 Kicked Off with VIVA Best-of-the-Best Awards

By Matt Valley


LAS VEGAS -- City Creek Center, a mixed-use development in the heart of Salt Lake City, is this year's VIVA Best-of-the-Best Award winner in the sustainable design/development category, the International Council of Shopping Centers (ICSC) announced this week.


The VIVA Best-of-the-Best Awards presentation at the Las Vegas Convention Center capped the opening day of RECon on Sunday, May 18. More than 33,000 retail and shopping center professionals from across the globe are gathered here this week to network, do deals and partake in educational sessions. The largest convention of its kind in the industry, RECon also features 1,000 exhibitors.


The VIVA Best-of-the-Best Awards recognize the most outstanding examples of shopping center design and development, sustainability, marketing and community service worldwide. VIVA stands for "vision, innovation, value and achievement."
To read the full report, click here.


Roseland, Glenco, Mirado Break Ground on 108-Unit Multifamily Community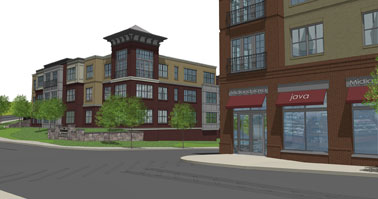 The four-story 150 Main St. will bring 108 apartment units
to Tuckahoe, N.Y.

TUCKAHOE, N.Y. -- Roseland, a subsidiary of Mack-Cali Realty Corp.; Glenco Group; and Mirado Properties have broken ground on 150 Main St., a multifamily development in Tuckahoe. Designed by Minno & Wasko Architects and Planners, the four-story building will offer 61 one-bedroom and 47 two-bedroom units, as well as 3,500 square feet of ground-level retail space. The apartments will feature hardwood flooring, stainless steel appliances, marble countertops and in-unit washer/dryers. Community amenities include a fitness center, yoga studio, clubroom, and an outdoor terrace with gardens, a water sculpture, stone fireplace pit with seating area and an outdoor kitchen. Additionally, the community will feature a 169-space underground parking garage and 19 surface parking spots. The project is slated for completion in fourth quarter 2015, with units available for occupancy in early 2016.

700 SF Astronomical Observatory Complete in Selden, New York

SELDEN, N.Y. -- Patchogue, N.Y.-based BBS Architects, Landscape Architects & Engineers has completed a new astronomical observatory at the Suffolk County Community College's Selden Campus. The 700-square-foot observatory features a 25-foot high dome with a 20.5-foot diameter and a Meade 10-inch RCX400 Ritchey-Chretien telescope. Situated atop the Smithtown Science Building, the observatory cost $270,000.

MRY, Normandy Realty Estate Break Ground on Office/Retail Building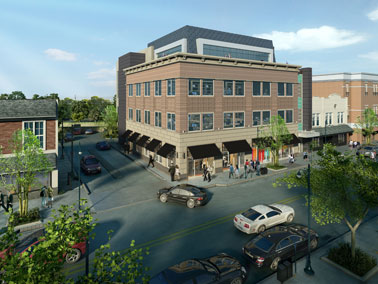 The new property will offer 28,000 square feet of office space and 4,500 square feet of retail space.

SUMMIT, N.J. -- MRY Associates and Normandy Real Estate Partners have broken ground on the development of 466 Springfield Ave., a four-story boutique office and retail building in downtown Summit. The 32,500-square-foot building will offer 28,000 square feet of office space and 4,500 square feet of ground-floor retail space. The property is slated for completion in spring 2015.


Madison Realty Takes Two Manhattan Multifamily Properties for $19.3 Million

NEW YORK CITY -- Madison Realty Capital has acquired two multifamily buildings located at 216-218 W. 22nd St. in Manhattan for $19.3 million. The 27,750-square-foot property consists of two adjacent five-story buildings offering 30 residential units. The properties offer 19 one-bedroom and 11 two-bedroom apartments, as well as a vacant garden-level space that is currently being built-out for commercial use. Anand Melwani of ARM Estate Group represented the buyer, while Christopher Okada and Hiro Iwata of Okada & Company represented the undisclosed seller.

Cignature Realty Brokers $8.5 Million Mixed-Use Building Sale
The 32,010-square-foot mixed-use property was 100 percent rented
at the time of sale.

NEW YORK CITY -- Florida-based Waterbury Meadow LLC has purchased 3450 Broadway in New York's Hamilton Heights area for $8.5 million. The six-story, 32,010-square-foot building offers 24 residential units and five retail spaces, including Papa Juan Cigar Room. Built in 1925, the building was 100 percent rented at the time of sale. Lazer Sternhell and Peter Vanderpool of Cignature Realty Associates represented the seller, 3450 Partners LCC, and the buyer in the transaction.

Walker & Dunlop Provides $14.5 Million Loan for Assisted Living Facility
MONROE TOWNSHIP, N.J. -- Walker & Dunlop has provided $14.5 million in bridge financing through the company's interim loan program to AFC Forsgate Owner LLC. The borrower, which is a joint venture between Artemis Real Estate Partners, Focus Healthcare Partners and Chelsea Senior Living, plans to use the loan to refinance Chelsea at Forsgate. Located in Monroe Township, the 120-unit assisted living facility was originally constructed in 1996 and purchased by the borrower in February 2013. Since the acquisition, the borrower has made capital improvements to the property and plans additional improvements. John Pantone and Jim Cope led the Walker & Dunlop team that structured the three-year, interest-only, cash-out transaction.

Madison Realty Capital Rebrands, Acquires Three Properties in NYC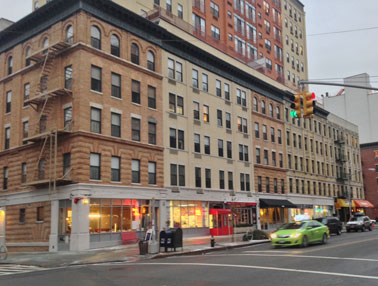 Madison Realty Capital has purchased
2094-2104 Frederick Douglass Blvd. in West Harlem.

NEW YORK CITY -- New York-based Madison Realty Capital (MRC) is consolidating all future equity and debt investments under a single brand: Madison Realty Capital. Historically, the company's equity investments were made through Silverstone Property, a 100 percent controlled affiliate. In addition to the rebranding, MRC has acquired 440-442 Tenth Ave., which includes two mixed-use properties located between 34th and 35th streets in the Hudson Yards district, as well as 2094-2104 Frederick Douglass Blvd., an 11,254-square-foot retail property in West Harlem. The Tenth Avenue properties, which sold for $9.75 million, total 20,000 square feet and offer 34 apartments. The Frederick Douglass property was acquired for $7.25 million.

TerraCRG Brokers Four Multifamily Sales Totaling $12.5 Million
NEW YORK CITY -- TerraCRG has brokered the sale of four multifamily properties in Park Slope and Carroll Gardens for a total of $12.5 million. New York-based Slate Property Group purchased 310 12th St., a four-story, 20-unit apartment building in Park Slope, for $6 million, or $410 per square foot. Also in Park Slope, an Israel-based investor acquired 14 Lincoln Place, a four-story, eight-unit building, for $3.5 million, which equates to $391 per square foot, at a 3.53 percent cap rate. Additionally, a local investor purchased 96-98 Baltic St., two four-story, eight-unit buildings in Brooklyn's Columbia Waterfront district, for $3.1 million or $254 per square foot. Adam Hess, Sam Shalumov and Chris Pechlivanides of TerraCRG handled the transactions.
Real Estate Opportunity & Private Funding Investing Forum

Overview: The 15th annual U.S. Real Estate Opportunity & Private Fund Investing Forum.

When: June 12-13; 11:00am - 6:00pm
Where: Marriott Marquis, 1535 Broadway,

NYC
Contact us
Matt Valley, Editorial Director
Northeast Real Estate Business
France Media, Inc.
404-832-8262
404-832-8260