PEAK, MISUMA HOLDINGS ACQUIRE MYRTLE BEACH MALL FOR $45M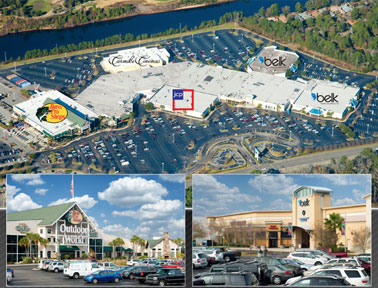 Bass Pro Shops, Belk and a 12-screen Carmike Theater anchor Myrtle Beach Mall along North Kings Highway.
MYRTLE BEACH, S.C. -- A joint venture between Peak Financial Partners Inc. and Misuma Holdings has acquired the 521,000-square-foot Myrtle Beach Mall in Myrtle Beach for $45 million. Peak and Misuma will jointly own and manage the mall, which features anchor tenants such as Bass Pro Shops, Belk and a 12-screen Carmike Theater. The mall is located along the North Kings Highway business corridor in Myrtle Beach. The partnership between Peak and Misuma, which began in 1995, identifies turnaround projects in the retail sector. Plans for the mall were not revealed at this time.


GRANDBRIDGE'S ORTLIP: DEBT AVAILABILITY IS OUTPACING DEMAND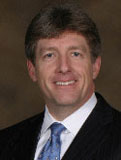 Michael Ortlip

Senior Vice President

Grandbridge

In today's rapidly evolving commercial real estate finance market, the availability of debt for borrowers is what some have called "historic," with banks, life insurance companies, CMBS lenders and agencies competing aggressively for business. With the 10-year Treasury yield currently at 2.54 percent, a six-month low, borrowers today have even more incentive to take on debt.
Debt availability is so ubiquitous that it's outstripping borrower demand and will continue to do so in the next 18 months, according to Michael Ortlip, senior vice president of Grandbridge Real Estate Capital LLC in Charlotte.
Ortlip will be a featured speaker on a panel entitled 'Capital Markets Update: What's the Availability, and Cost, of Debt and Equity Financing,' at the 2014 InterFace Carolinas information and networking conference, which takes place Wednesday, June 11 at the Hilton Charlotte Center City. In advance of the conference, Carolinas Commercial Properties spoke with Ortlip about the lending climate in the Carolinas, as well as financial trends in the industry.
CCP: The general consensus is that borrowers and investors have incredible access to debt. Is there sufficient demand from borrowers to utilize the amount of capital that lenders have in their coffers?
Ortlip: The answer for 2014 and 2015 is generally no for debt. That will reverse in mid-2015 through 2017 as the maturity curve steepens and prepayment premiums cross the threshold of acceptability. The present day impact is being manifested in a variety of interesting ways. Demand has been very low for new construction takeouts across all property types, largely because little other than multifamily has been completed during the past several years. Banks, desirous of making construction loans, are defaulting to other types of lending given the lukewarm economy and lack of new build financing. Acquisition appetites remain high, however yields have been compressed and buyers are having difficulty finding attractive opportunities, so trade velocity is lumpy. Natural maturities remain low, and current treasury rates are driving high yield maintenance and defeasance premiums on upcoming maturities -- causing borrowers to delay early refinances until prepayment premiums have lessened to acceptable levels. As a result, spreads across all lender and property types are compressing and lenders are being forced to innovate in order to differentiate themselves beyond price.
CCP: What criteria do lenders look at when considering a refinance, acquisition and construction loan?
Ortlip: Lenders look at submarket dynamics; specific asset location, leasing and performance; and required capital structure (i.e. LTV, speed of amortization). For refinances, stability -- both historic and anticipated -- is key. For new construction financing, pre-leasing and anticipated post-completion pace of leasing are important when attracting development dollars. Lastly for acquisition financing, stability and anticipated ability to drive value enhancement are focal points.
CCP: What's your sentiment about the state of the commercial real estate industry in the Carolinas?
Ortlip: Fair to good, depending on property type and city, and improving. In the long term, I'm very bullish. Some submarkets and property types are in excellent condition. The area's population growth, job growth and demographic trends put the Carolinas in a great situation. Being from Charlotte, I look around here at the incredible positive attributes offered by the city and at the I-85 corridor running from Greenville/Spartanburg, S.C., through Charlotte to the Triangle and I ask myself, 'Who wouldn't want to locate or live here?'
Charleston and Asheville are markets that are tremendously appealing to various groups, and Charleston in particular is receiving solid institutional interest. We are seeing property types beginning to cycle again, with new office and industrial construction occurring in Charlotte, and a wave of multifamily deliveries on the horizon for several Carolinas markets. This cycling is natural, and rational capital structures will win the day for assets in submarkets that soften more significantly.
CCP: As someone who has been in the commercial real estate industry for 25 years, why are conferences like InterFace Carolinas information and networking conference important to attend?
Ortlip: More like 30 years now. Conferences like InterFace Carolinas present a variety of topics and perspectives relevant to current and anticipated market conditions. They are a good opportunity to get caught up in a short period of time and to mix with real estate professionals from a broad competency range.
CCP: Your capital markets update panel at the InterFace Carolinas conference will cover a variety of financial topics. What do you hope attendees will take away from the panel?
Ortlip: I hope that attendees will gain a clearer understanding of the availability of debt options and the underwriting and investment perspectives of the various lender genres active in today's market. Best case scenario: the information gleaned from the panelists' comments would help attendees form and manage their expectations regarding the use of leverage in their businesses.

CAROLINA ROW AT CRABTREE VALLEY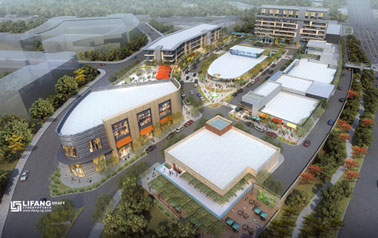 Carolina Row at Crabtree Valley will feature a mix of retail, restaurant, hotel and residential space in Raleigh, N.C.

RALEIGH, N.C. -- Trademark Property Co. plans to develop Carolina Row at Crabtree Valley, a mixed-use development on Glenwood Avenue in Raleigh. The property will feature 125,000-150,000 square feet of retail and restaurant space, a hotel and 700 residential units. There will also be a pedestrian/bicycle bridge connecting Carolina Row to the nearby Crabtree Valley Mall. Construction is set to begin in spring 2015, and the property is expected to open in late 2016.
DOMINION REALTY TO DEVELOP
CLASS A OFFICE BUILDING IN RALEIGH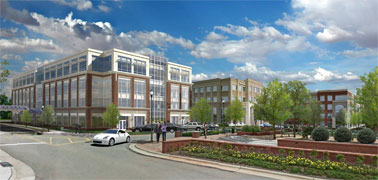 The 105,000-square-foot Wade III office building is slated
for completion in summer 2015.
RALEIGH, N.C. -- Dominion Realty Partners LLC will partner with Prudential Real Estate Investors to develop Wade III, a 105,000-square-foot, Class A office building in Raleigh's PNC Arena district. Dominion is set to break ground on the four-story office building in mid-summer, with completion slated for summer 2015. The office building is designed to achieve LEED Gold certification. Features of Wade III include card access control systems, an outdoor plaza courtyard, underground parking, park amenities, green building efficiencies and an on-site restaurant. The project team includes architect Rule Joy Trammell + Rubio, general contractor Choate Construction, civil engineer Piedmont Land Design and leasing agent Avison Young.


RECON TAKEAWAY: RETAIL, TECHNOLOGY, SOCIAL MEDIA LINKED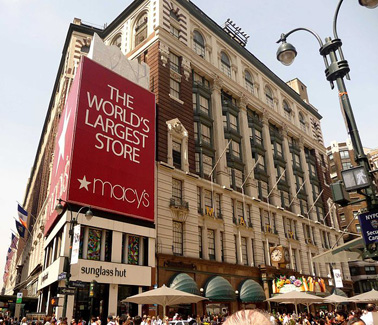 Macy's may be "the world's largest store," but it also has superb
social media presence, according to ICSC panelists.
Above is perhaps its most famous bricks-and-mortar outposts,
on 34th Street in New York's Herald Square.

LAS VEGAS -- Some of the nation's largest shopping center owners and managers took a break early this week from discussing the physical attributes of their properties to focus on their technological infrastructure during RECon 2014 at the Las Vegas Convention Center.
While the shopping center is still the priority, much of the conference's talk so far has focused on the properties' unseen attributes -- its Wifi capabilities, omni-channel presence, appreciation for social media, data analysis, sophisticated information technology systems -- in the quest to get more shoppers in the store and ring up more sales.
"It takes a huge shift in thinking to say that we as a property, or we as an owner, value technology enough that we're going to make an investment because we believe that investment is going to keep bringing customers to our shopping centers," said Corbett Guest, CEO of Dallas-based Imaginuity, a digital marketing agency that works with business-to-business and business-to-consumer companies.
"If you just throw a bunch of money at different things and hope they stick, you're going to spend a whole bunch of money," said Guest.
Therein lies the problem that panelists addressed during an educational session, titled The New Math: 1 + 1 = 3: Leveraging the Omni-Channel Shopper, on Sunday, May 18.
To read the full report, click here.
JLL: GLOBAL OPPORTUNITIES ABOUND FOR AMBITIOUS RETAILERS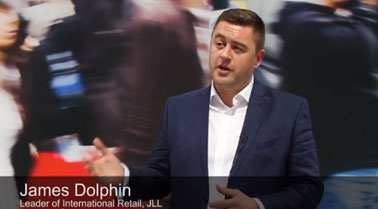 Click on the above image to view a video
about global opportunities for retailers.
LAS VEGAS -- The way retailers use real estate around the globe is fundamentally changing in response to shifts in consumer preferences, spending patterns and robust growth in e-commerce. International retailers are focused on acquiring high-quality retail space in markets with healthy fundamentals. London, New York, Miami, Houston, San Francisco, Hong Kong and Shanghai continue to attract top retailers and are outperforming their regional peers. Yet, these markets aren't the only pockets of opportunity, according to global retail experts at JLL. The international retail market is taking center stage at this year's ICSC RECon show in Las Vegas, which has drawn more than 33,000 retail and shopping center professionals, as well as 1,000 exhibitors.
RECON

2014

KICKS OFF WITH
VIVA BEST-OF-THE-BEST AWARDS

By Matt Valley


LAS VEGAS -- City Creek Center, a mixed-use development in the heart of Salt Lake City, is this year's VIVA Best-of-the-Best Award winner in the sustainable design/development category, the International Council of Shopping Centers (ICSC) announced this week.
The VIVA Best-of-the-Best Awards presentation at the Las Vegas Convention Center capped the opening day of RECon on Sunday, May 18. More than 33,000 retail and shopping center professionals from across the globe are gathered here this week to network, do deals and partake in educational sessions. The largest convention of its kind in the industry, RECon also features 1,000 exhibitors.
The VIVA Best-of-the-Best Awards recognize the most outstanding examples of shopping center design and development, sustainability, marketing and community service worldwide. VIVA stands for "vision, innovation, value and achievement."


To read the full report, click here.


CRCBR Commercial Spotlight: May 28

Charlotte Region Commercial Board of REALTORS's industry tradeshow and networking event.

Wednesday, May 28; 5:00 - 7:0pm
525 N. Tryon St.,
7th Floor
InterFace Healthcare RE Carolinas: June 11

InterFace Conference Group's 4th Annual Healthcare Real Estate Carolinas Conference.

Wednesday, June 11; 2:15 - 6:15pm
Hilton Charlotte City Center
InterFace Carolinas: June 11

InterFace Conference Group's 5th Annual Carolinas Commercial Real Estate Conference.

Wednesday, June 11; 8:00am - 1:30pm
Hilton Charlotte City Center
Do you have an upcoming event you would like to see listed here? Send an email to ccp@francemediainc.com.

Contact Us
Carolinas Commercial Properties
France Media, Inc.