$70M WESTIN PEACHTREE PLAZA RENOVATION IS NOW COMPLETE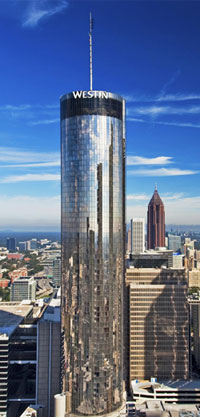 The $70 million renovation included a complete makeover of the revolving Sun Dial Restaurant, Bar and View.
ATLANTA -- The final phase of $70 million in renovations at The Westin Peachtree Plaza in Atlanta is now complete.
Architecture firm Cooper Cary, interior designer Carolyn Auger of Blackdog Studio and contractor Balfour Beatty, all based in Atlanta, revamped every interior element of the 73-story hotel. Renovations include a redesigned lobby, 1,073 remodeled guest rooms and suites, and a complete makeover of the revolving Sun Dial Restaurant, Bar and View.
"The Westin brand is about living well, and the changes that we have made to this renowned Atlanta property are designed to inspire well-being in travel, work, meetings and vacations," says Ron Tarson, general manager of The Westin Peachtree Plaza. "This renovation has redefined the Westin Peachtree Plaza, ensuring we will stay on the map as a premier travel destination and meeting location."
The lobby now features 85,000 square feet of meeting space, including the Peachtree and Savannah ballrooms. For larger conventions, the hotel has direct access to more than 400,000 square feet of exhibit and additional meeting space at America's Mart and 200 Peachtree, an adjoining premier event facility. The hotel's lobby was also revitalized with an upgraded Starbucks and lobby bar, renamed Bar 210 and is now home to FedEx Office.
Guest rooms and suites have been refreshed with new carpet, paint and wallpaper, new ergonomic desk chairs, lamps, phones, environmentally-friendly climate controls, 42-inch flat screen televisions and new window treatments.
The hotel's popular tri-level rotating dining complex, the Sun Dial, received a complete makeover in mid-2013. The restaurant's lower level includes banquettes featuring intricate millwork.
The restaurant's view level includes four new Digiboards, each displaying highlights of the landscape and history of landmarks such as Centennial Olympic Park, East Atlanta and the Georgia Dome.
Atlanta's world-renowned architect John Portman designed the Westin Peachtree Plaza in 1976. At a height of 754 feet, the hotel was Atlanta's tallest building until 1987 when it was surpassed by One Atlantic Center. Today, The Westin Peachtree Plaza is the fifth tallest building in Atlanta and remains the tallest hotel in the Southeast.
-- Danielle Everson
NIAGARA BOTTLING PURCHASES
49-ARCE PARCEL IN NEWNAN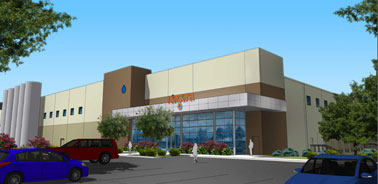 The $57 million, 450,000-square-foot bottling facility
is slated to open in later this year.
NEWNAN, GA. -- Ontario, Calif.-based Niagara Bottling has acquired 49 acres of land at the Shenandoah Industrial Park in Newnan for an undisclosed price. The company plans to develop a $57 million, 450,000-square-foot facility on the site. Once opened in late 2014, the facility will be used to bottle and distribute private-label water and related beverages, as well as the Niagara label. The facility will feature one high-speed bottling line and up to four production lines are planned for future build-out. Niagara Bottling currently has 18 bottling facilities across the United States. Tommy HIles of Lee & Associates' Atlanta office, along with Paul Earnhart of the firm's Ontario office, represented the buyer in the transaction.
CORTLAND PARTNERS PURCHASES ATLANTA APARTMENTS FOR $24.9M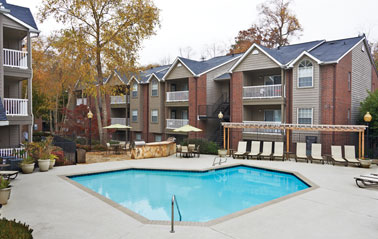 Cortland Partners plans to renovate the 271-unit Pointe at Lenox Park in Atlanta's Druid Hills neighborhood.
ATLANTA -- Cortland Partners has acquired the 271-unit Pointe at Lenox Park, an apartment community located in Atlanta's Druid Hills neighborhood. The property features a business center, clubhouse, fitness center, wood-burning fireplaces and private balconies. Cortland will implement renovations to the apartment units and updates to the common areas. Cortland purchased the asset, which was built in 1988, from a local private owner.
28 RETAILERS, RESTAURANTS CONFIRMED FOR BUCKHEAD ATLANTA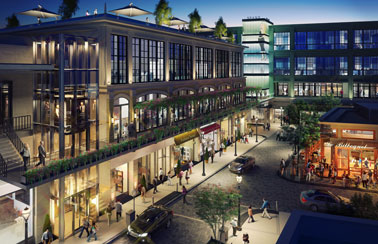 Buckhead Atlanta, a 1.5 million-square-foot mixed-use development, will open in September.
ATLANTA -- OliverMcMillan has confirmed the names of 28 tenants that will join Buckhead Atlanta, the new 1.5 million-square-foot mixed-use development under construction in Atlanta's Buckhead district. The first retailers and restaurants will open their doors in September, and the remaining tenants will open through the holiday season and early 2015. The tenants include:
Akris (2,164 square feet)

Bella Bag (1,178 square feet)

Brunello Cucinelli (2,491 square feet)

Canali (2,111 square feet)

Christian Louboutin (1,787 square feet)

diptyque (496 square feet)

Etro (2,214 square feet)

Helmut Lang (2,116 square feet)

Hermès (4,100 square feet)

Jimmy Choo (2,162 square feet)

L'Occitane (2,784 square feet)

Moncler (1,899 square feet)

Scoop NYC (2,461 square feet)

Spanx (2,999 square feet)

Theory (2,580 square feet)

Tod's (2,101 square feet)

American Cut (10,000 square feet)

American F+B (6,370 square feet)

Corso Coffee (1,596 square feet)

Doraku Sushi (2,725 square feet)

Georgetown Cupcake (2,700 square feet)

Gypsy Kitchen (3,750 square feet)

Le Bilboquet (3,686 square feet)

Lugo Caffé (6,050 square feet)

Shake Shack (2,500 square feet)

The Southern Gentleman (3,750 square feet)

Thirteen Pies (4,300 square feet)

Qing Mu (2,725 square feet)
Law & Risk Management Accelerated Course
BOMA Georgia's Law & Risk Management Accelerated Course
May 14 - 16; 8:30am - 4:30pm
BOMA Georgia Conference Center
5901-C Peachtree Dunwoody Road NE, Suite 300
Atlanta, GA 30328
2014 BOMA Show
BOMA Georgia's annual trade show. Free for property managers, facility managers and building engineers.
Wednesday, May 21; 9:00am - 4:30pm
Atlanta, GA 30339
BOMA Georgia May Luncheon
BOMA Georgia's May Luncheon. Free for members, but registration is required.
Wednesday, May 21; 11:30am - 1:00pm

Contact Us
Atlanta Commercial Properties
France Media, Inc.
3500 Piedmont Rd., Ste. 415
Atlanta, GA 30305